Why you Should Hire a Professional Dynamics 365 Consulting Company?
Microsoft Dynamics 365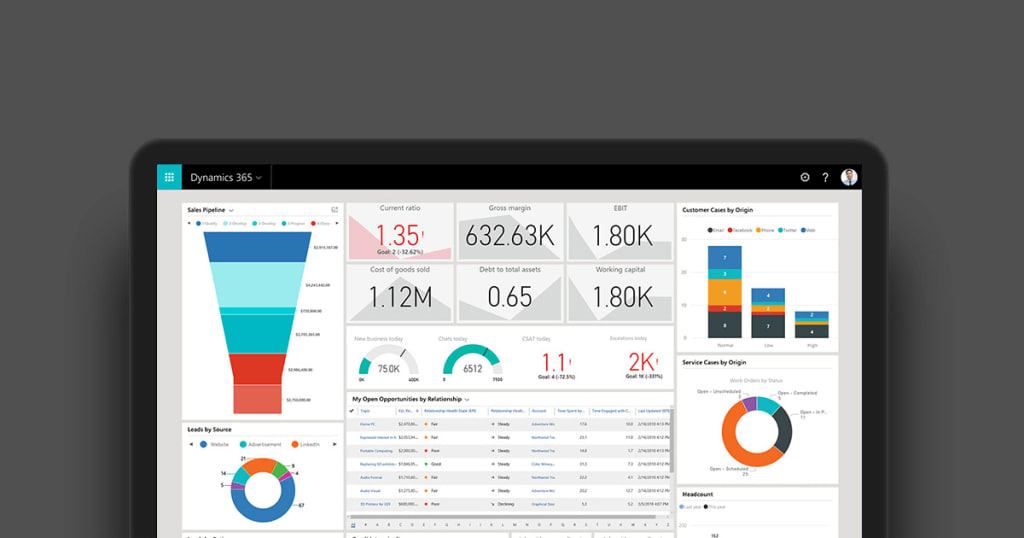 Microsoft CRM and ERP Applications source:Microsoft
You may find your company among the 81 percent of companies that have implemented CRM or ERP software for automating their business processes. But the fact is that around 80 percent of the organizations fail to produce the expected results.
You might have heard about the advantages of using Microsoft Dynamics 365 and how it will accelerate your business's digital transformation. But have you ever asked yourself the below-listed questions:
1) How can you explore the maximum potential of Dynamics 365?
2) How can you make sure that you have successfully deployed Dynamics 365?
This is where a professional Dynamics 365 Consulting Services can help you out. With the right service provider, you will enjoy the feature rich Dynamics 365 application and the hands-on experience, and you can optimize your business processes by exploring all the funtctionality of Dynamics 365.
What do you mean by Dynamics 365?
Speaking about Microsoft Dynamics 365, it can be termed as the next generation AI-based enterprise business application suite that runs on the cloud and offers a set of unique capabilities to your business. It has combined the features of ERP (Enterprises Resource Planning) and CRM (Customer Relationship Management) applications. It can effectively unify the capabilities into different applications, such as:
Project services Automation
Marketing Automation
Financial and Operations
Sales Automation
Customer services
Field services
With the help of Dynamics 365 Consulting Services, you can successfully implement the functionality, security, and performance feature that will allow you to scale and modify your solutions.
Some major reasons to hire Dynamics 365 consultants
To optimize the capabilities of Dynamics 365 for your business requirements
Dynamics 365 comes with various modules that are categorized based on areas of a business. A consultant can effectively detect the capabilities needed to enhance the business process. With this, you may not be able to use the application effectively. The experts will conduct a proper business and your requirements analysis and guide you in this.
Helps in data centralization through Dynamics 365
The industry experts know everything about Dynamics 365 and can guide you to centralize the data by integrating cloud services, different data sources, and other applications. They will guide you to integrate the databases of surveys, websites, email marketing, and accounting with Microsoft Dynamics 365. Centralization can help you to understand your organization's weaknesses and strengths. You can easily get important metrics to make quality decisions.
Helps in integrating Dynamics 365 with other tools
By integrating Dynamics 365, you can easily accelerate the automation of business processes. But how to do that? Take the help of a professional Dynamics 365 Consulting Service. They can assist or teach you the process of integrating Dynamics 365 with different Microsoft platforms, like Office 365, Outlook, Word, and more. Besides, you can also learn to integrate this with other ERPs and CRMs, such as Salesforce.com and SAP. With all such features, you will never miss any opportunities.
You will get technical support and business strategy
The professional consulting firm will take responsibility for the implementation of Dynamics 365 as well as business operations. The service provider will take care of strategic planning and facilitate technical support for better execution. Only a real expert can analyze what a customer wants from a business and offer the same solution.
They work as a Trainer
The success of an ERP project depends on how the users are adopting the system. The consulting team will offer all the required training to your team to make sure that all the tools are used properly. They will also train your employees on how to study user behavior using the tools.
Can have a better focus on your Dynamics 365 projects
It is a fact that consultants are great troubleshooters. You can trust them to get a new solution, communication skills, and experience to boost up the process. As the owner of the business, you may not get adequate time to manage your Dynamics 365 projects. You don't have time to see the bigger picture. The consultants work to get the desired client results. Just hire them, and they will make your Dynamics 365 projects successful.
You can lower the operating cost
It is true that managing Dynamics 365 and its environments require different skills. You can't afford to hire different people for this. Working with a professional team whose primary role is to is to have sufficient technical skills on different systems will save you from spending money on hiring full-time employees.
They help in the process of licensing
The licensing process of Dynamics 365 is a little complex. It has a lot of options, and you will have to choose the right licensing option and pay only for that particular tool. An expert Dynamics 365 consultant can help you in that and can offer you a predictable monthly billing and licensing. Based on that, you can plan your budget.
At Magnifez, we offer professional Dynamics 365 Consulting Services to make sure that you are getting the best from Dynamics 365.