Why Is Situational Awareness Critical to Leadership?
By: Timothy J Pagliara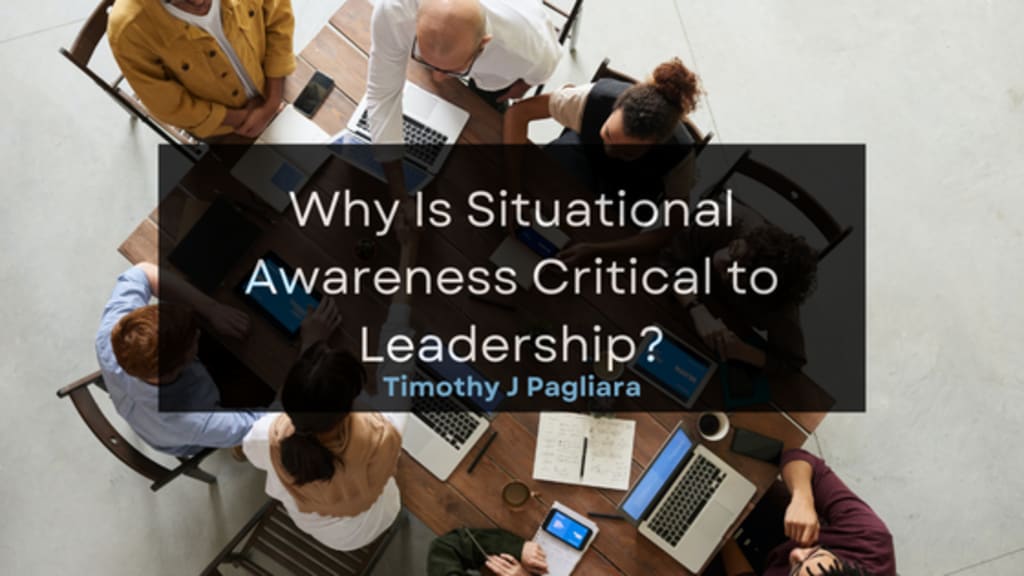 Situational awareness has been around for a long time in various industries, such as healthcare, aviation, and the military. It can help improve the efficiency and safety of an organization by identifying and preventing potential threats. Let's talk about the foundations of this concept of situational awareness. We will also look at how it can be used to improve the performance of an organization.
Error Prevention and Performance Improvement
Human error is a natural part of an organization's culture. It can be a source of inspiration and learning, as well as a spark for innovation. Unfortunately, it can have detrimental consequences in specific industries, such as aviation and healthcare. This is why organizations must reduce their errors to a minimum and avoid them altogether.
For a long time, the concept and practice of situational awareness have been acknowledged as a vital part of improving an organization's performance and safety. Both practitioners and scholars agree that this concept can help improve an organization's efficiency and safety. This management tool can be very beneficial for your professional development.
Situational Awareness
One of the most critical concepts that distinguish situational awareness from other concepts is the distinction between an individual and the environment. In other words, situational awareness focuses on getting things done while avoiding distraction. This can be a task or a project that requires interaction with the various elements of an individual's environment.
Benefits
There are many positive effects of situational awareness. One of these is its ability to prevent errors and deviations. According to a study by Goldenhar et al. in 2013, their efforts to improve the situational awareness of a healthcare facility resulted in a significant reduction in the number of unrecognized situations.
Another study conducted in 2017 revealed that implementing effective measures to improve the situational awareness of an organization can help prevent human error. This research also indicated that these measures could improve the organization's safety performance.
Situational awareness is also fundamental when performing a task in a dynamic and complex environment. This is because it can help identify the necessary actions to complete the job. This type of management tool can help improve the performance of an organization. One of the most important factors you can consider when implementing this concept is the continuous alignment of your activities with the environment.
Timothy J. Pagliara has been recognized for his hard work and dedication to providing the best possible service to his clients. He has been named as the number one financial advisor in Tennessee by Forbes and Barron's in 2020. This is the first time that a financial advisor in the state has been able to achieve this type of recognition in the same year. He had also been named as the top financial advisor in the state by Barron's for five straight years from 2012 to 2016.
Aside from his investment work, Timothy J. Pagliara is also passionate about reducing the national debt and rebuilding the US economy. He believes that people should understand the impact of the debt crisis on the country's economy. As a financial advisor, he encourages the government to adopt policies that will help stimulate the economy while preventing further accumulation of debt.
While working in financial services, Timothy J. Pagliara also has an interest in business law. He is a community activist and philanthropist who works to improve the lives of others in various places around the world. In Tanzania, he helped establish a Catholic university through his charitable organization, which is known as Pagliara Charities.
This educational institution seeks to provide teachers with the necessary skills to teach science and math. Timothy J. Pagliara is also associated with various organizations such as the Boy Scouts of America, Battle Ground Academy, and Carnton Plantation. He currently serves on the board of trustees for a private school known as Chaminade College Prep.
Even though he is associated with different organizations, Timothy J. Pagliara ensures that his work has a positive impact on the world.
Reader insights
Be the first to share your insights about this piece.
Add your insights