Why Choose React for Frontend Development in 2023
React Development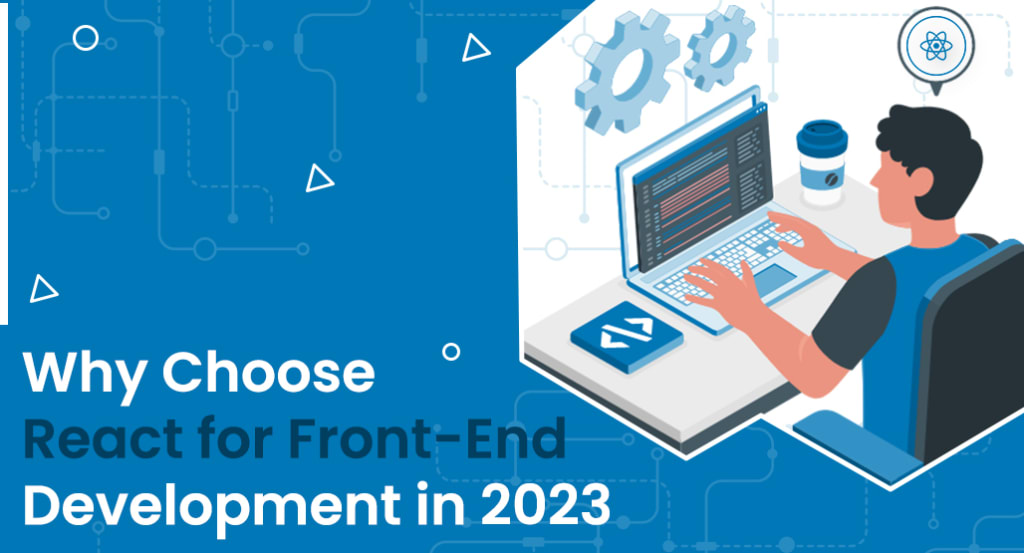 Front-end development is a critical part of any application development process. Nowadays there are a variety of Front-end development tools and the list keeps growing continuously. But React is one of the most famous and widely used libraries for front-end development.
React is a free, adaptable, open-source, declarative, and efficient JavaScript library for building reusable UI components and scalable frontends of web application overlays built by Facebook. Design simple visualizations for each screen in your application, and React efficiently updates and renders the appropriate components as your data changes.
React offers an easy way to create applications with a lot of functionality at once. Let's find out the benefits of React and why you should use it for your Front-end development projects.
Easy to Learn
React is easy to learn, user-friendly, and has a simple installation process than other popular frontend frameworks like Angular & Vue. It brings rich features that make it an easy-to-use and popular tool among developers. To deploy React, you should know only the JavaScript code basics. Just a basic understanding would get you started with building useful web applications.
Faster to Build
With its component-based approach and virtual DOM, React is fast and reliable. There are many open-source APIs and tools available to speed up the development process and help you scale through complex setups. You can increase your development speed by using reusable components and development tools. You won't have to spend much time developing any website or app.
Flexible
React is very flexible and can be integrated with other third-party libraries and MVC frameworks. You can use it on many different platforms to create high-quality user interfaces. React is a robust performance-oriented solution perfect for creating content-focused applications because of its enhanced support for server-side rendering.
Rich User Interfaces
Every web and app is judged based on its design, look and feel, and with React, you can improve the quality of the high-quality user interface. React is a powerful, declarative, and flexible JavaScript library for building user interfaces. Designing a website or app takes time, effort, and attention to detail, but React makes UI design and developer life easier.
The Virtual DOM
DOM stands for Document Object Model and it is an API programming cross-platform interface that helps in enhancing the performance of the project. virtual DOM allows updating only the part of the page whose content has changed instead of updating all parts of the page after each change. It makes React applications' UIs lightweight and speeds up maintenance and UI rendering.
Strong Community Support
One of the reasons why you should go for React is its very active community. Robust community support makes React the best language for developers all across the world. This community provides expert assistance to React developers who have issues or questions. You can ask questions on StackOverflow to find answers to your queries related to React development and someone out there must have already solved it and posted about it.
Reusable Components
Another great advantage of using React for front-end development is its ability to reuse components. It provides reusable components that developers can use to build new websites and apps. This feature saves time for developers as they don't need to waste time building the same components when they wish to use them.
Frontend frameworks play a key role in the website development process and using libraries has become an important aspect of building high-performing and responsive web-based apps and websites. React takes care of these things and simplifies every step. If you have an idea for a web or app, search for a reliable development partner to help you create your web or app from scratch, contact Swayam Infotech and schedule a meeting for a detailed discussion.
About the Creator
Matthew Brain, an experienced content writer, enjoys sharing his thoughts on various online delivery firms, eCommerce, on-demand business models, and so on.
https://www.swayaminfotech.com/taxi-booking-app-like-uber-clone-app/
Reader insights
Be the first to share your insights about this piece.
Add your insights