Why Choose ASP.NET for eCommerce Web Development?
Overview - ASP.NET for eCommerce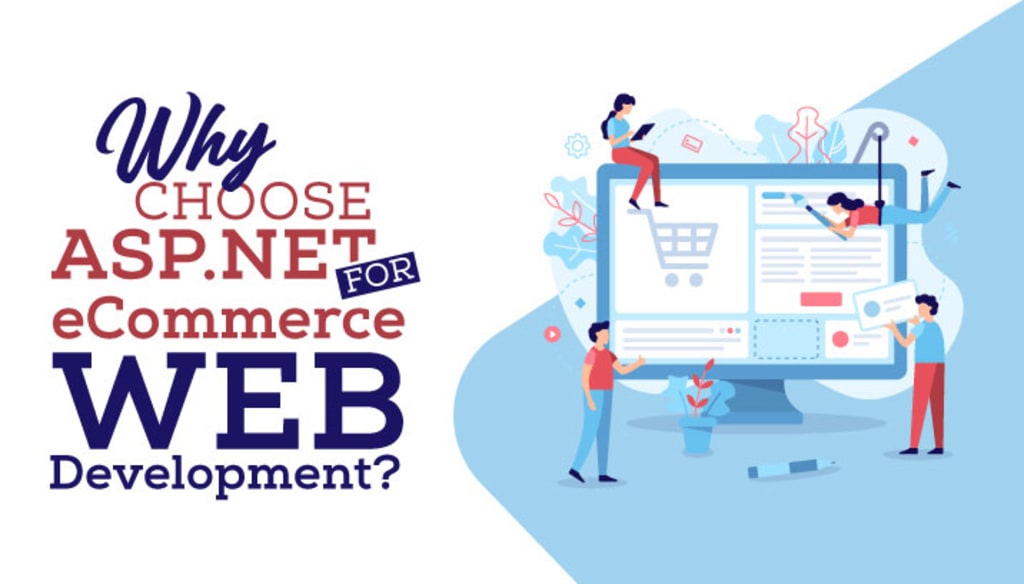 The trend of e-commerce has been going on for some time now. People like to shop online because they get many benefits from buying products online, and the best of them is easy products comparison, easy access, and good security. Users can purchase their favourite products from anywhere and anytime. Due to the current pandemic situation in the world, e-commerce has emerged as a preferred solution.
Companies interested in developing e-commerce portals are often concerned with the ever-increasing cost of web development. Although, you need to ensure that the platform you choose should provide you with flexibility, future growth and scalability, and performance in the long run.
Also, it is necessary to choose a platform that provides you with state-of-the-art architecture to accelerate the solutions used on your website, as well as modular architecture means that you pay only for what you use. If any feature is absent, it can be quickly developed & integrated.
Today website developers want instant results, better performance, and easy deployment. Furthermore, additional enhancements should be made at a low cost. And in such a scenario, ASP.NET is a great platform to address all these challenges in the e-commerce space.
Why ASP.NET?
With the fast growth of e-commerce websites and applications, many content management systems, frameworks, technologies, and even web creation tools have been launched in the market. And there is no harm if you also came up with the idea of building an e-commerce portal. And, as you know, choosing a platform for development is a challenging task. Here are some of the reasons to select .Net development as your core technology for developing your e-commerce platform.
In the early days, people were reluctant to use e-commerce because they were concerned about their data and payment details. Over time, new technologies and advancements have been made in e-commerce platforms, and they are now very secure.
Asp.Net offers high-class security. When someone uses CMS like WordPress, or Magento, or open-source website builders, they technically give access to a platform that other users can access. Although these platforms have their own security measures, but the security provided by Asp.Net is unmatched. Asp .Net is a custom development platform tailored to the system's needs.
This is one of the best aspects of Asp .Net development. When using readymade CMS, you get a lot of unwanted features that are not required in the initial stages of any business, and often considering the financial, technical, and market needs, content management should be carefully designed. With Asp .Net, you'll have the flexibility to develop what you need and the flexibility to make the system flexible so that any new feature can be quickly introduced in the future. This helps establish better customer satisfaction, manageable code design, and help establish brand credibility.
Enable Simple Integration
Enabling integration into e-commerce sites is a common challenge for web developers. Creating an e-commerce site requires the availability of many connectors for social networks, from plugins to directories and other plugins. Here, Asp .Net allows you to interact with different CMS systems, giving you complete control over the design and management of your web pages. The goal is to create a world-class website powered by mobile applications that meet the changing needs of consumers. E-commerce has evolved, and so has Asp .Net, allowing developers to create mobile apps and websites that work seamlessly.
Benefits of Choosing .Net Development Services
Creating an e-Commerce website with Asp.Net is an excellent idea as it offers:
1. Diverse Solutions
Developers get dynamic solutions, such as websites, custom software applications, web applications, e-commerce solutions, custom CRM software, and more.
2. High Scalability and Ease of Use
.NET is beneficial for building dynamic and scalable web applications. Asp .Net offers client authentication, common tasks, site configuration, etc., smoothly.
3. Developer's Delight
You'll only need minimum coding to build an extensive application which saves time. Many things like auto-deployment, WYSIWYG, etc., make a developer's job easier.
Overall, Asp.Net is the best choice for e-commerce development. Asp .Net can take care of all the small and big requirements of the e-commerce sector and offer the best solution in the end.
Reader insights
Be the first to share your insights about this piece.
Add your insights