Why are Cloud Managed Services Right for SMBs?
Cloud Management Services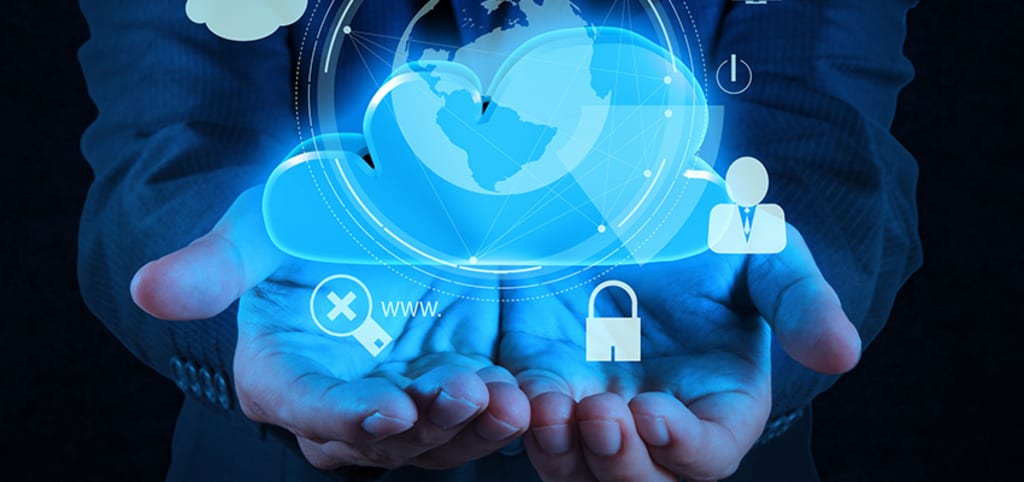 In the fast-changing business landscape, like the current, small business owners realize the utter need to have access to business information when they need it. They need the correct real-time business data, regardless of where they are and what they use to obtain the information, for instance, during a business tour or in the office or using their office or home pc, smartphone, tablet, etc.
All of this has been made possible with cloud computing. Business owners can access their data from anywhere anytime; all they need is an internet connection. As a business owner, you, too, want to leverage the cloud, don't you? If yes, you first need to learn the advantages it offers when you use it for your business so that you can further decide whether to seek business cloud support or not.
Cloud Computing Benefits for SMEs
Superb Accessibility
After you purchase a cloud subscription for your business, you can simply add your employees to the network, and they get access to handle business processes that you might have already set up on your systems. Now, since the employees are added as users, they just need the right credentials to utilize the cloud platform using an office computer, laptop, smartphone, or tablet. In addition, the cloud provides superb accessibility to company processes and data, ensuring smooth functioning if any employee needs to work from any location other than the office.
This level of flexibility in accessibility boosts employee's performance and productivity as there are no barriers like a dedicated place or time for work. This is highly effective in the current times. You can hire mobile or remote workers, costing you way less than any regular employee who needs to come to the office every day.
Complete & Real-Time Collaboration
Cloud allows employees to communicate with each other in real-time, whether they are situated miles away from each other. It makes team collaboration more convenient and dynamic. Cloud software allows employees to handle projects together without needing to sit next to each other.
Besides, a cloud platform will record your workers' activity and prepare a complete set of data that you can use to assess the best- and the worst-performing team members. With that, you can set the required guidelines and help your staff to get their performance from worst to best.
Cloud brings more evident transparency in accountability and enhances coordination between employees, allowing you to run your small business efficiently.
The Must-Have Integration Features
Many companies still rely upon legacy systems to manage business operations. The more the processes and departments, the more the type of software applications you will use. Transactions processed using different applications are vulnerable to errors and mistakes. Moreover, this can also lead to poor synchronization between functions, processes, and even departments.
Cloud solves all such problems. Almost any cloud-based software can be easily integrated with third-party applications, allowing you to keep everything on the same page. This ensures the prevention of any discrepancies that might otherwise occur due to handling different business areas using different applications.
Not sure if your company is getting all such advantages of the cloud?
A lot of small or medium-sized firms across the globe are using cloud platforms, but many of them are still unable to reap all their benefits due to several reasons, ranging from lack of knowledge, expertise, staff, or funds. These are some of the most common factors why such firms are increasingly opting for cloud management services – to make the best possible use of the cloud for their business.
Before we get any further, let's take a look at this interesting fact:
The global market size for Cloud Managed Services is projected to grow at a CAGR of 13.3%, going from $62.4 billion in 2020 to $116.2 by 2025.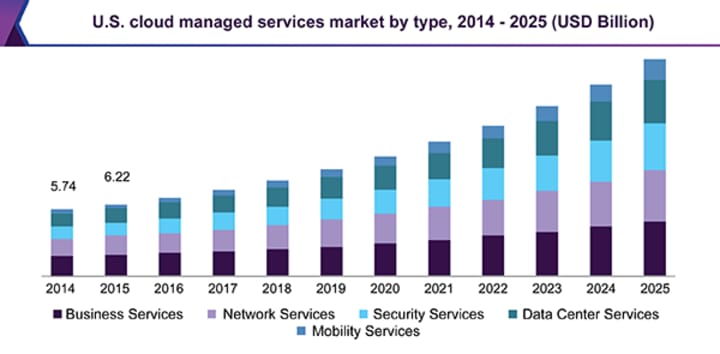 The major market-growth influencer here is the need of companies for obtaining more, better cloud capabilities and cost-cutting. With cloud managed services, your business can boost operational efficiency, performance and avoid massive capital investments in IT infrastructure.
Wondering how? Let's get further and learn how managed cloud services can help you make the best out of your CaaS (Cloud-as-a-Service) subscription while saving costs.
Reasons Why Cloud Management Services are Right for Your Business
The best Solution to Scalability Issues
We have already discussed above how the cloud helps enhance your business efficiency, performance. Now when your business is going well, you would plan for expansion which requires IT hardware and recruitment investment. However, in case you downsize, that investment would not be counted as fruitful.
In such a situation, having a partner firm that can handle your cloud applications would be great as they can help you scale up or down smoothly without disrupting the workflow and processes running on the cloud.
Utmost Security Assurance
You never know someone from your staff can misuse your cloud subscription or steal important company data from its servers for personal benefits, or things can get even worse. The best thing about taking assistance from external service providers with cloud management is that they ensure your cloud platforms and data are completely secure.
A reliable cloud management service (CMS) provider gets noon-disclosure agreements signed from their staff handling your cloud. This ensures utmost security, and in case of a breach, they hold themselves responsible for taking strict actions and recover your valuable data. Thus, it is a win-win situation for your business.
Cost Reduction at Its Best
Having a partner firm for cloud management can save costs as you need not hire full-time employees for the same. Instead, you can opt for a customized plan according to which your partner firm will bill you; this means you will only be paying for the volume of work done for you. Thus, this billing will have lower sums as compared to the billing your in-house IT & cloud management team submits.
Key Takeaways
The advantages of cloud computing are no more reserved exclusively for larger enterprises. Given that cloud usage has become affordable, small and medium-sized businesses are increasingly adopting this revolutionary technology. Cloud is eliminating various barriers that SMBs often encounter while taking their business to the next level.
However, the more important thing here is the optimum utilization of the cloud you have invested in. In this, an experienced and professional cloud support firm can be of great help, helping your business eliminate cloud risks and maximize its usage, bringing value out of your investment for your business.