Why Are Businesses Considering iSeries Operations Outsourcing as Best Strategy?
What Makes Outsourcing the Best Strategy for IBM iSeries?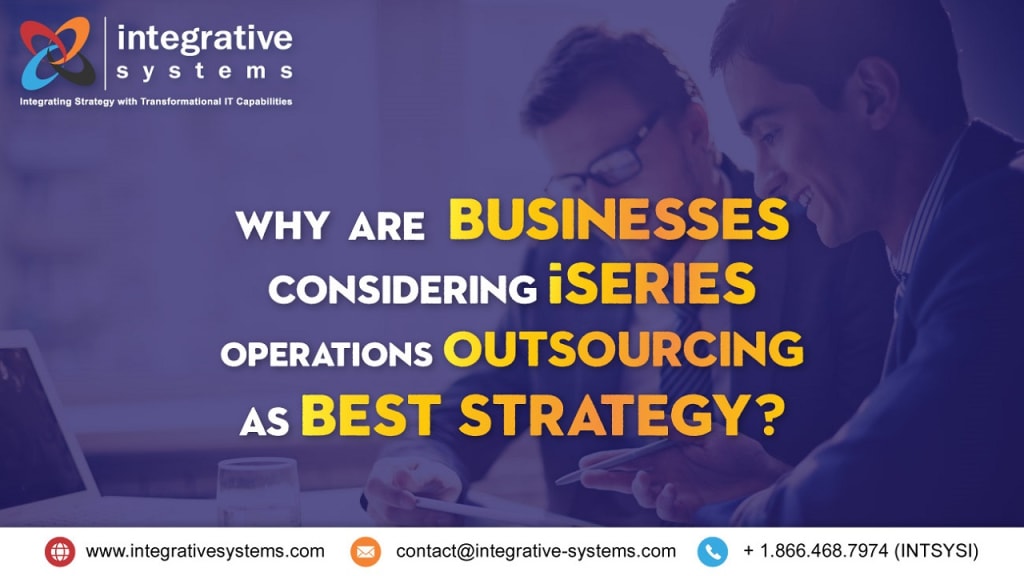 To many people, AS400 iSeries outsourcing is a frightening proposition. Yet this new business model has been adopted by small, medium, and large enterprises worldwide, and it provides multiple benefits to them. The outsourcing of the AS400 application enabled organizations to achieve business objectives, mitigate risk and add business value. In simple words, IBM AS400 outsourcing means allowing an external company to do the job for you.
Why is Outsourcing Best for IBM AS400?
IBM AS400 software is well known for its robustness and scalability. Also, AS400 has traditionally been the target for significant service firms, as the scope of *Green-screen* is very bright.
If the reports are to be believed – "AS400 companies are spending more today on outsourcing than they did in the past."
Today, it is essential to have your applications on the web. And to have your application on the web, you must know back-end business programming and familiarity with languages like HTML, Java, and CSS. Often, IBM iSeries developers know business programming, but they do not experience the latest Web technologies. Therefore, AS400 iSeries outsourcing is booming as companies increasingly turn towards third-party companies for web application development.
There are "two somewhat contradictory trends" in this process. The first is – "More and more AS400 iSeries using companies have realized that iSeries is the best platform for web application development".
But on the other hand, AS/400 I-Series owners believe that they are not into the business of software writing. Still, they are here to heal sick people, transparent finances, make automotive parts, and write insurance policies.
This is where the need for AS400 iSeries outsourcing arises. Apart from these, there are various other reasons why companies are lined towards outsourcing business operations. Have a look at some of the most common causes of AS400 iSeries outsourcing:
1-Access to New Resources
For AS400 iSeries firms, hiring a new team member means heavy expense on recruiting and training. After recruitment, you will be required to teach them your company process and workflows. Moreover, you will need to invest more time in acquiring the right skills. In the AS400 iSeries outsourcing process, all such costs will be bearded by the service providers.
The outsourcers come with special knowledge, the experience that every company could not afford to hire. The outsourcing company is responsible for all the licenses and certifications that are required in the business process. Furthermore, outsourcers have the ability and skills that may not be needed today within your organizations, but you may require that in-future. In-house you may not have such flexibility, expertise, and abilities, but an AS400 iSeries outsourcing company can do the job for you.
2- Upgradation and Migration
There are specific challenges associated with migration and upgrading the software; that's why companies prefer AS400 iSeries outsourcing. Managing the software platform can be challenging and end-to-end support, especially when a business is outdated. Let us understand this with an example –
"It's easy to migrate from IBMi 7.1 to 7.3, but large direct jump can be a reason of your problems and requires high-level of expertise to resolve such issues."
At some points, businesses look to migrate their application to different platforms but face challenges in migration. Old application migration is more challenging due to necessary coding changes. Having experts on board that have hands-on experience in migrating the iSeries server will enable your IT team to get the support they need. AS400 iSeries outsourcing company like Integrative can fulfill this need of yours, and you can prevent potential pitfalls that can cost you time and money.
3- AS400 iSeries Expertise Needs
The shrinking pool of experts is among the main drivers of AS400 iSeries outsourcing because most organizations have realized that their experts are either retiring or switching the field. Every organization sees digital transformation as an operational necessity, so hiring top IT experts must be prioritized. And businesses should choose the talent that can position the company ahead of its competitors moving forward.
By AS400 iSeries outsourcing management, these organizations will have access to plenty of highly skilled and experienced technicians that can troubleshoot prominent issues quickly. For many businesses, outsourcing is the best way to meet expertise shortages and directly improve overall efficiency.
4- Enhanced Customer Experience
If your customers receive a varying level of services, AS400 iSeries outsourcing can help you improve their experience. Often, vendors make sure that your customers get uninterrupted, consistent, and reliable. IT services 365 days of the year in the contractual performance metrics process.
5- Reduced Efficiency
Irrespective of your business's size, working with an AS400 iSeries outsourcing company can help you improve the agility, efficiency, and effectiveness of your business. For example, by enabling smooth testing of services and delivering scalable IT solutions, your business can move ahead rapidly, and that too with low risk.
Final Words
When considering AS400 iSeries outsourcing, the critical aspect is knowing what service up-gradation or changes you are looking for and what issues you want to resolve. If it's more like a commodity than a competitive advantage, everyone will look at outsourcing services, where someone else will provide the required skills and tools to you. If you want things that can differentiate you from your competitors, owning AS400 iSeries outsourcing is the best route to take.
In case you need any help, feel free to connect with team Integrative at [email protected].
Reader insights
Be the first to share your insights about this piece.
Add your insights