Which is Best? MailChimp or Hubspot
Choose the best mailing platform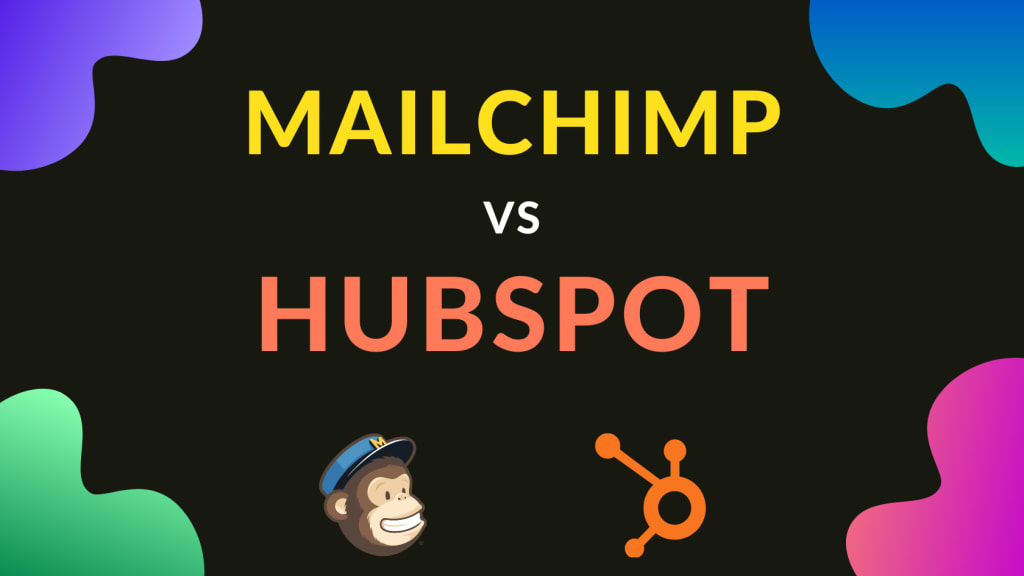 As online marketing grows, the need for marketing tools and predictive analysis does as well. One 2019 Campaign Monitor study of 1,000 small businesses ranked email marketing as the second most effective medium for building brand awareness.
Mailchimp and HubSpot are both marketing platforms that allow you to increase your efficiency as a blogger. If you're interested in selecting the best email marketing system for you and your business, we'll be comparing Mailchimp vs. HubSpot in this ultimate guide.
Let's get started.
What is Mailchimp?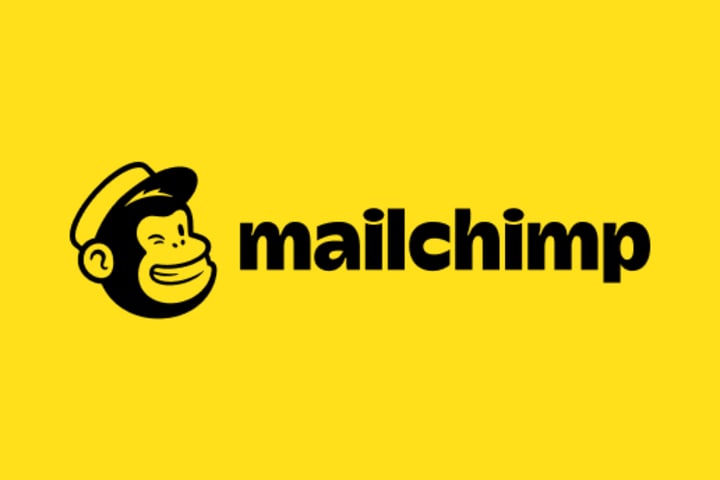 When people consider email marketing platforms, Mailchimp is often the first that comes to mind. Maybe you've used Mailchimp at university or your workplace, or perhaps you've received emails sent via Mailchimp. Either way, this is an email marketing platform that gets its reputation for its ease of use. You'll find all of these convenient features at your fingertips.
Editable drag-and-drop templates
Personalization
Basic list management
Email analytics and reporting
A free (under 2,000 email subscribers) account
Paid accounts available
Mailchimp is aimed at newbies to email marketing. If you have limited resources as a small-to-medium-sized business, then it can help you step into the world of email marketing with ease. Most Mailchimp tools are accessible on their free account, which means it's a solution for businesses that don't have much to spend. Although, if you don't want their branding at the bottom of your emails, you'll have to pay to remove it.
That said, you also have plenty of paid options for additional features. If you're sending lower volumes of emails, then you can opt for a pay-as-you-go account. Later, we'll lay out Mailchimp's pricing as it compares to its services.
What is HubSpot?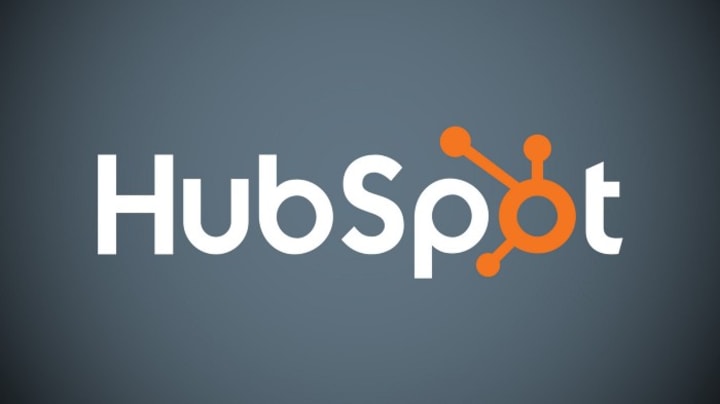 HubSpot is a marketing service that provides similar tools to Mailchimp — yet much more comprehensively. They extend their services beyond just email marketing to include CRM, inbound marketing, analytics, service and help desk, website CMS, and more. HubSpot also delivers more extensive email personalization compared to Mailchimp, and it also does much more when it comes to digital customer-facing services. That said, for all of those services, it's not an inexpensive option.
HubSpot is targeted at small-to-medium-sized business owners. However, it can also serve large corporations and enterprises. As an integrated marketing tool, it assists businesses with more than just email marketing. If you wish to use it for content marketing, sales, etc., then it's a prime option. It does email well and goes well beyond email also.
Mailchimp vs. HubSpot: How Do They Differ
When faced with a decision, you may wonder how to differentiate the two. If they both do email marketing, which one is actually better? In this section, we'll show you how Mailchimp vs. HubSpot shape up against each other in the following categories.
1. Templates and design
2. Automation tools
3. Analytics
4. Landing pages
5. Social media integration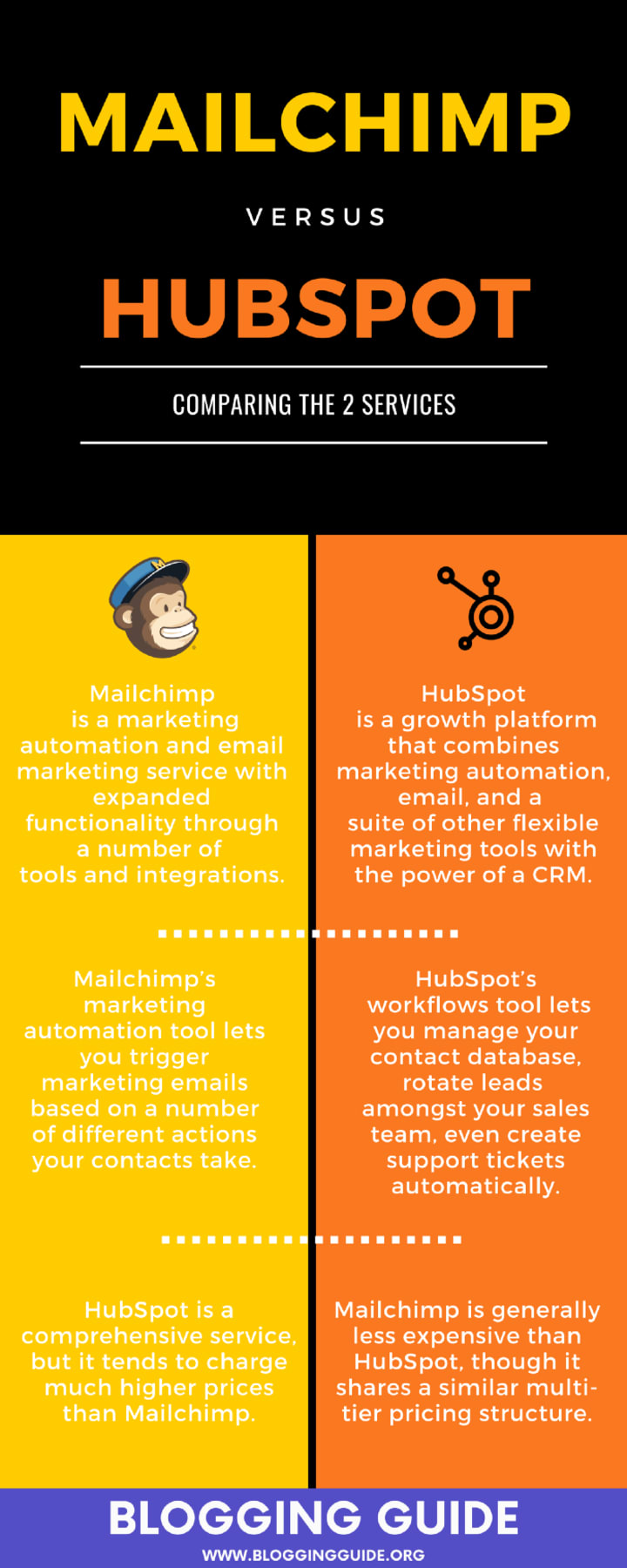 1. Templates and Design
Visually appealing marketing campaigns can help you stand out from other companies. Finding the right email marketing platform is the first step to creating a visually appealing campaign. So, Mailchimp vs. HubSpot, which one offers the best design options?
Fortunately, you can't really go wrong with either. Both tools have drag-and-drop editors. It's easy to move design elements where you want them or change colors with a single click. The templates make editing easy, and you don't need a professional designer to make your email look polished.
Although Mailchimp offers more templates, HubSpot's are more customizable. Mailchimp will help you design quickly, but HubSpot will translate to more unique branding due to its flexibility.
Mailchimp: 100 templates
HubSpot: 45 templates
Both templates make it easy to create emails. You need next-to-no skills to get started.
2. Automation Tools
According to HubSpot, "Marketing automation is all about using software to automate marketing activities." This includes email marketing, social media posting, and even ad campaigns. This will help you increase your efficiency when marketing and up your personalization to reach your customers.
When it comes to marketing automation, both platforms have automation tools, but they diverge when it comes to offerings and prices.
Mailchimp only offers basic automation (primarily autoresponders). This is included in their free plan. However, if you want other automation tools, you'll have to upgrade your plan, which will cost you money.
HubSpot's platform comes with a lot more automation capabilities. Unfortunately, the most useful are integrated into their Pro and Enterprise plans (see below). If you want to use features like event-based automation, then you'll need to upgrade to the Enterprise plan.
In the long-term, the fact that HubSpot has built-in CRM (and easy-to-use workflow template) means that it has more automation features overall. This is by far the winner if you're looking for automation in your email marketing platform. Just remember that it'll cost you more money for those advanced features.
3. Analytics
It's one thing to send out emails to market your company. It's another to track your marketing efforts. How does Mailchimp vs. HubSpot compare when it comes to analytics?
The good news is that you'll have access to analytics when utilizing either platform's paid plans. The bad news is that HubSpot just does it better (in terms of quality and quantity). Here's what you need to know.
MailChimp provides four different reports on Campaigns, Comparisons, Automation, and Landing Pages. Yet, with these reports, users just get data, which means (unless you're relatively learned in this area already) you'll probably spend a lot of time trying to figure out what the information means. Mailchimp doesn't give you recommendations or insights. Just data.
Compared to Mailchimp, HubSpot is much stronger in analytics. Here are a couple of examples of how HubSpot delivers analytics more effectively.
Ex 1: Mailchimp will tell you the bounce rate of your email. HubSpot will provide detailed information about the type of bounce that it was. Because HubSpot users have this information, they know what to do differently in the future.
Ex 2: Mailchimp will provide all of your information in different reports. HubSpot has a single Analyze tab that allows you to compare all of the most important metrics for your emails in one place (especially helpful if the numbers may be difficult for you to understand).
4. Landing Pages
Marketing emails almost always lead back to a landing page. If your landing page doesn't convert, then your marketing emails aren't effective. Do your marketing efforts justice by creating a landing page that matches your branding and website.
Depending on the email marketing platform you select, you may get a 2 in 1. Mailchimp doesn't allow you to build a landing page directly in its service. However, you can integrate other tools that allow you to build a landing page.
HubSpot has a landing page builder that's easy to use; you just have to pick from their customizable templates. While this feature isn't included in HubSpot's free plan, the upgrade is worth the cost for many businesses.
5. Social Media Integration
Expand your campaign from email marketing to social media marketing. Good businesses combine these two together. Both Mailchimp and HubSpot have features that allow you to integrate your email and social media campaigns. However, as has been the theme, HubSpot offers much more although its prices reflect it.
Proponents of HubSpot have stated that it is robust enough as a social media management and CRM tool that you do not need to subscribe to another. If you select Mailchimp for its cheaper price, you may end up requiring other platforms and services.
How Mailchimp's pricing compares to its services
When comparing Mailchimp vs. HubSpot, it's important to look at pricing, difficulty, and customer service. For Mailchimp, these are strengths. Mailchimp is an easy to use software and allows you to get started with very little background in email marketing. You'll be able to create visually appealing emails to send to your subscribers. Because Mailchimp has templates, emails are easy to build and look great on all devices. You'll also have decent control over your list, and it's fairly affordable.
Here's an overview of how Mailchimp's pricing works.
Free ($0)
7-marketing channels
1-step automations
Basic templates
Marketing CRM
Surveys
Websites
Custom domains
2,000 contacts
Essentials ($9.99/month)
Everything included in "Free" plus…
All email templates
A/B testing
Custom branding
24/7 support
50,000 contacts
Standard ($14.99/month)
Everything included in "Essentials" plus…
Customer Journey Builder + Branching Points
Advanced audience insights
Retargeting ads
Custom templates
Behavioral targeting automation series
100,000 contacts
Premium ($299/month)
Everything included in "Standard" plus…
Advanced segmentation
Multivariate testing
Unlimited seats and role-based access
Phone support
200,000+ contacts
Mailchimp struggles in some ways to work with existing websites. It provides a simplified system upfront, but in certain situations, it may make sense to pay for an upgraded service. However, when you begin to pay for a subscription plan, it gets expensive quickly. It's much more reasonable when you're considering putting out a smaller newsletter.
How HubSpot's pricing compares to its services
HubSpot hasn't always had a free option. However, in the last few years (undoubtedly to compete with services like Mailchimp), they have started offering a free tier that allows businesses to get started.
Here's an overview of how the pricing works.
· Free ($0)
Forms
Email marketing
Ad management
Live chat
Reporting dashboard
Starter ($40/month)
Free tools plus…
Landing pages
Ad management
Live Chat
Conversational bots
Forms
Contact website activity
List segmentation
Email marketing
Ad retargeting
Professional ($800/month)
Starter tools plus…
Marketing automation
Smart content & reporting
Blog
SEO recommendations & optimizations
Social media
A/B testing
Calls-to-action
Video hosting & management
Website traffic analytics
Campaign reporting
Custom reporting
Filtered analytics
Enterprise ($3,200/month)
Professional tools plus…
Partitioning
Hierarchical teams
Single sign-on
Social permissions
Email send frequency cap
Calculated properties
Adaptive testing
Multi-touch revenue attribution
Custom event triggers and reporting
While it can get expensive quickly, HubSpot has the "one-stop-shop" model. You'll pay more, but you don't need any other expensive platforms or add-ons. If you hope to scale beyond email, then you'll never need to move beyond this website. Just make sure you're ready to take advantage of all they have to offer.
Mailchimp vs. HubSpot: How to Choose
When selecting the best platform for you, it often comes down to what you're looking for and how much you're willing to spend. There's no denying that HubSpot is by far the most expensive option between the two. However, the extra monetary investment does buy you access to some incredibly useful features.
Mailchimp is a good option if you need something easy and inexpensive. It has all of the basic features, but you won't get anything extra. It's a good starting newsletter service that integrates other tools perfect for a blogger looking to get started. This email marketing platform is not recommended for an affiliate marketer, however, as Mailchimp has a strict policy prohibiting affiliate marketing. Though the rules aren't entirely clear under its Terms of Use, there are steep penalties. Additionally, if you're looking for automation and analytics that are easy to manage then HubSpot is a safer bet.
HubSpot is a good option if you're okay with making an investment in your email marketing platform. Remember, this investment will end up giving you a ton of other features, but it can be overwhelming for someone just starting off to take on those costs. That said, if you choose to go this route, you'll have better automation, analytics, social media, and so much more. You'll be able to track and understand exactly how you're performing so you can make your investment worth it.
Quick statistics about Mailchimp vs. HubSpot
Looking for some quick statistics about the two platforms?
Mailchimp
Mailchimp claims to send roughly 1 billion emails out every single day
Deliverability is at around 84 percent, but their emails often end up in the Gmail 'Promotions' tab which aren't read as often
Over 800 integrations available for your account
You can use your own domain name but at an extra cost of $100/year
Mailchimp has 12 million users\Active in 200 countries
HubSpot
70 percent of HubSpot users saw an increase in lead to customer conversion rate
HubSpot users had 2.1 times more visitors per month within one year
HubSpot users had 2.5 times more leads per month within one year
HubSpot has 200 integrations
HubSpot has 86,000 users
Active in 120 countries
Final thoughts
Email marketing is one of the most effective ways to market your business and build a relationship with your customer. In fact, according to a 2020 study by HubSpot, roughly 80 percent of marketers have reported an increase in email engagement over the last year. When choosing your email marketing platform, think critically about which will serve you and your business best. Both Mailchimp and HubSpot are well established, but which is better for you will largely depend on where you're going in the future.
business
I ama Young Millionaire and a Travel Vlogger
Hope To spemd a Good time with You
have a Good Day
Regards
Sarmad Mayo