What you should choose – Native vs. Cross Platform?
Planning to build an app? But still, confused to choose between Native app and Cross Platform app? This blog helps developers and entrepreneurs who are willing to develop a mobile app.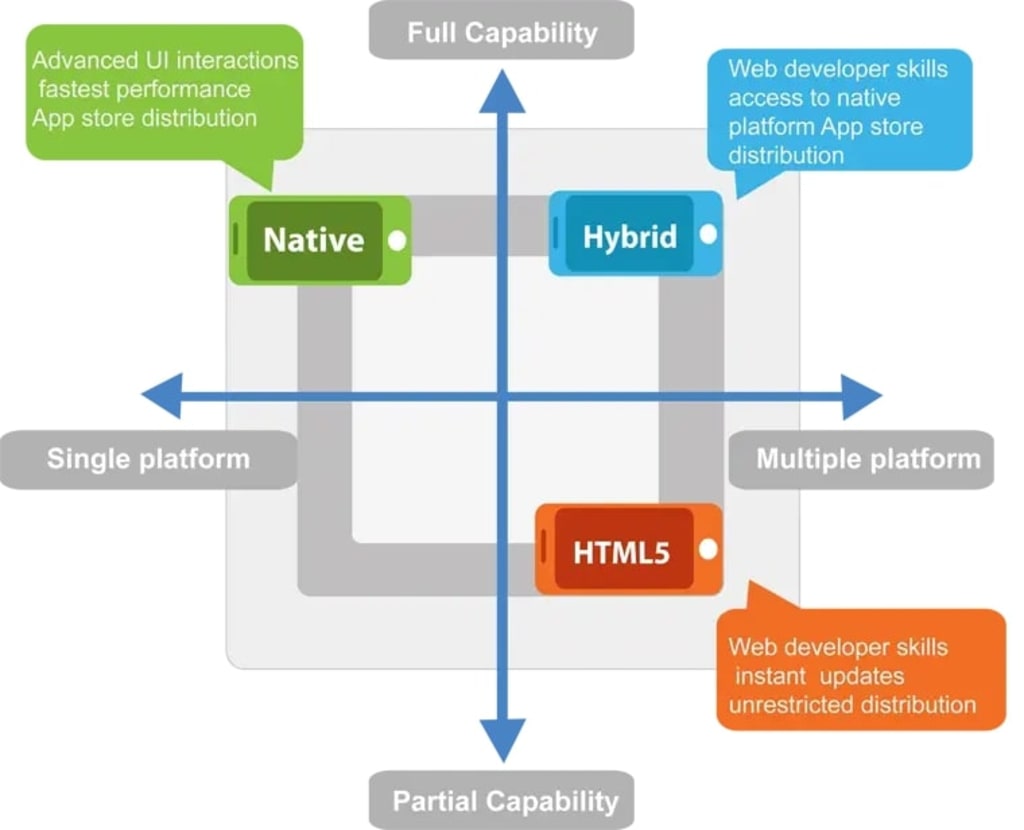 Are you planning to build an app? Or, still, confused about which one to choose between Native and Cross-Platform applications? This blog comes to the rescue of all entrepreneurs who are willing to get an app developed but have no clue where to start!
According to Statista, by 2023, mobile apps are projected to generate more than $935 billion in revenues via paid downloads and in-app advertising.
The initial stage of getting an app developed is the mere inception of the idea that you and your business require an app. After this, the next step is to decide on the type of app you are looking for? Under this, your options are narrowed down to two:
1. Native Applications
2. Cross-platform Applications
What is Native App Development?
Native application development involves platform-specific development. These applications are developed fundamentally for one specific mobile device to take full advantage of all the device functionalities such as a camera, accelerometer, compass, GPS, contacts list, and so on. To use native applications, users have to download them from App stores such as the Apple App Store, the Google Play store, etc.
Native App Programming Language or Framework
Depending on the platform developer, decide the programming language for native app development. For example, Java or Kotlin is used for Android app development, whereas for iOS development, Objective-C and Swift are used. In the framework, Xcode is used to develop the iOS app, and Android Studio is used to build the Android app.
Some prominent applications become popular by developing a native app, such as Google Maps, LinkedIn, Pinterest, Twitter, Telegram, etc.
Pros of Native App Development
Higher Performance:
The native applications use platform-specific SDK and programming language, so it gets direct access to native platform features and functionalities. The immediate rendering of native functions enhances the flawlessness of the applications.
Superior User Interface:
When developing a native, you can take advantage of specific tools to create interfaces and interactions at home with the platform's aesthetic. This translates into an experience familiar to the user, encouraging them to keep using the app.
Broad Functionality
While developing a native mobile app developer has access to every native API and device features and functionalities. For instance, a developer can open navigation or a weather app if required. Also, native apps are well suited to different Google and Apple products. Also, with this, you can use a native app without an Internet connection. And that's why native development is the best option for creating complex mobile applications.
Better Store Support
It's no hidden secret that platforms' manufacturers encourage entrepreneurs and startups to develop a native application for their operating systems. Both Apple app store and Google play store mainly feature native apps on their virtual platform. So for native apps, it is easier to be published and usually ranked higher on the platform's app store because it delivers high performance and speed.
Drawbacks of Native App Development
Costly
Before you start development, keep in mind that native app development is more expensive than hybrid apps. The main reason is, you have to develop two separate mobile apps for Android and iOS. Additionally, you will have to hire two different development teams, and native developers are charged more than the cross-platform ones.
Hard to Maintain and Update
Launching a mobile app is just part of the mobile app development life cycle. After development, you continuously have to update its features, functionality, correct bugs (if any), etc. And native mobile apps are difficult to maintain because more than one development team is involved in this process. In this case, the development price increases, and more effort is spent on support.
What is Cross-Platform App Development?
A cross-platform mobile app is an application compatible with multiple mobile OS platforms. You can develop both iOS and Android apps simultaneously using cross-platform architecture. Cross-platform development is usually defined as a web app or hybrid apps that use web technologies in app development. But you can also build a cross-platform app with the latest and more sophisticated tools like Flutter, React Native, Xamarin.
Cross-Platform App Programming Language and Framework
Cross-platform apps use various types of web technologies and native APIs. They develop apps using: Ionic, Objective C, Swift, HTML5, and others. Apart from these web technologies, developers can use Xamarin, Phonegap, Flutter and Reactnative platforms to develop a mobile application.
Some prominent applications developed using cross-platform, such as Evernote, Instagram, Uber, Skype, Slack, etc.
Pros of Cross-Platform App Development
Money and Time Saver
Most startups face cost and time issues while developing a mobile app. But the "write once, use anywhere" approach allows businesses to take advantage of reusable code on various platforms, which lowers the project's cost and shortens the development time.
Faster Deployment
For developing a hybrid mobile app, developers do not need to learn multiple coding languages and web technologies. They need to master a few sets and platforms.
Since there is only one codebase needed to create for iOS and Android app development, the project's initial deployment is a lot quicker than expected.
Furthermore, future changes in the mobile app can be done parallelly without making individual changes on each platform.
Easy and Secure Integration with Cloud
Cross-platform mobile applications can integrate multiple plugins with cloud settings. In other words, a single codebase can access various plugins and extensions. As a result, hybrid apps become more scalable and functional.
Vast Audience Outreach
Developing cutting edge cross-platform mobile apps provides access to a broader target audience, leading to increased return on investment.
Drawbacks of Cross-Platform App Development
Restricted User Experience
Cross-platform has many benefits, but there are some drawbacks too. One of its cons is a unified user experience compared to a native hybrid app that does not offer robust user experiences. Cross-platform apps cannot fully take advantage of native-only features and provide excellent user experiences.
Lack of Flexibility
When you need to build a unique feature for your hybrid app developers, it is challenging to access device APIs and build apps like the microphone, camera, and geolocation. Because cross-platform technologies do not provide the level of flexibility like native mobile applications.
Conclusion:
Some companies have expertise in developing native apps. While others ask their clients to build a cross-platform app.
And there is us…
We do not put any conditions on our clients. We know that each app idea is unique and needs a unique approach. So without being biased toward any technology, we suggest the best option for app development.
Sphinx Solutions employ highly qualified developers who analyze your case and recommend the best choices for your needs: iOS and/or Android native development or cross-platform approaches. Contact us to reinvent your digital journey!
About the Creator
Sphinx Solutions is a software development company helping brands thrive by offering software solutions from industry specialized developers and experts.
Reader insights
Be the first to share your insights about this piece.
Add your insights