What Medium Doesn't Want You To Know
Sad, but true.
The other day I wrote about why I left Medium and started writing on Vocal. I should add that I also canceled my Medium membership, which means that many publications are now refusing to post my articles.
I do not judge them, but it makes me understand why it is so easy to give up being an artist in an ecosystem contaminated by favoritism.
Anyway, the interesting thing is that only 20 days have passed since the first article I published on Vocal, and I have already earned $8.44 ($3.44 from readings and $5.00 from tips) vs. $5.40 I made writing on Medium between August 2020 and January 2021.
Let's see.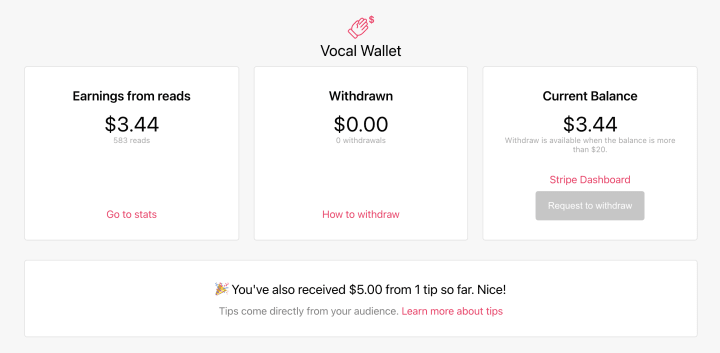 Now my results after 6 months writing on Medium:

If these are the results for the first 20 days in Vocal, the only thing I can think of is ...
How much money is Medium failing to pay you?
The "Cosa Nostra" of creators
What bothers me most about Medium after having met Vocal is that we are talking about a company with much greater purchasing power.
Seriously, guys, Medium makes a LOT of MONEY. They could really pay its content creators more considering they have a thousand times larger audience and penetration than Vocal.
Let me show you what I'm talking about.
Medium traffic analysis
I don't want to go into details about SEO, but what you should know is that organic traffic refers to the number of visits that a website receives directly from search engines like Google or Bing.
It is "natural" traffic, as opposed to paid traffic, which comes when people click on ads.
Having high organic traffic means that, as a domain, you have managed to rank many keywords and that is precisely the case with Medium. Here we have 74.8M users that clicked on a Medium.com search result, and an estimate of 49.52M keywords positioned during December 2020.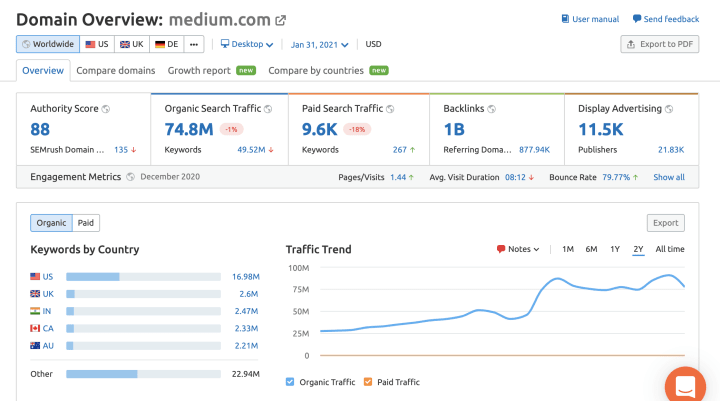 Anyway, do you know why these 74.8M people come to Medium?
By its creators!
Medium would be nothing without the people who write so that they can rank in Google and receive millions of daily visits.
Still, most writers on Medium make $100 a month or less, and those who make big money only do so because other Medium members read their articles.
Now, it's true that Medium doesn't show ads, but they don't need to. This can't be an excuse to pay cents, you know why?
Because they have a total funding account of $132 million!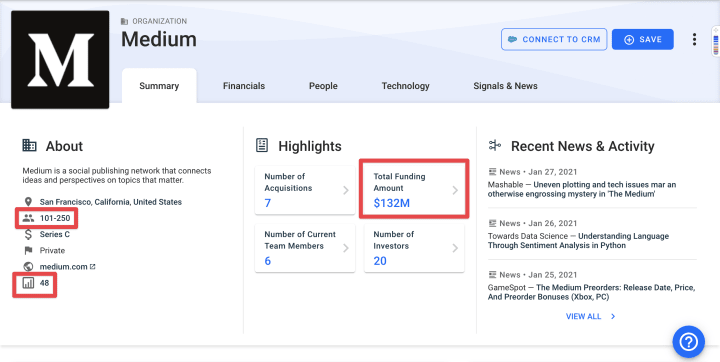 They even have a CB Rank (Crunchbase Rank) of 48, which means:
The higher the Rank, the more influential the profile is compared to its peers. The lower the Rank, the less important the profile is to the community.

– Crunchbase
Another interesting fact is the number of employees that Medium has: 101-250 employees.
Even so, they depend on the publications ruled by their members to maintain an orderly content distribution system. They put their members to work and charge them $5 a month to do what their 101-250 employees should be doing.
Now it's Vocal's turn
When I look at Vocal's numbers, it becomes easy for me to understand why membership is more expensive than Medium.
Vocal got 1M in organic search traffic during December 2020. That's an estimate of 733.83K keywords positioned. Also, Authority Score is lower for Vocal (61 vs. 88), which means that positioning an article in Google is harder.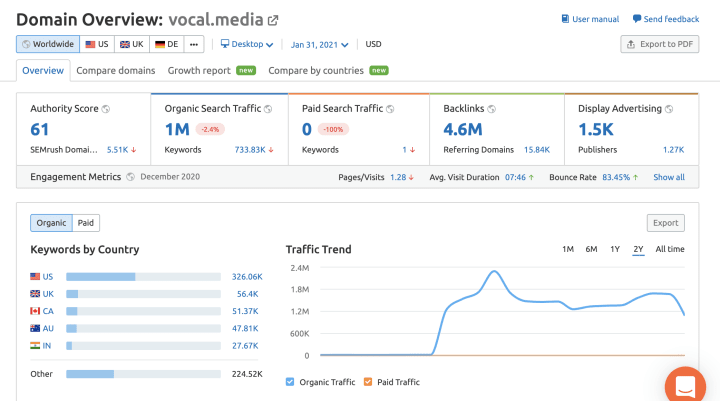 Do you want to see something more interesting?
Behind Vocal there is a company called Creatd, but even the entire monetary fund of this organization is not as big as Medium.
Creatd funding amount is $975.5K, they have just 11-50 employers and a CB Rank of 23,957.
So, broadly speaking, Medium is like the Queen and Vocal is like the earl of a small country town that hardly anyone knows.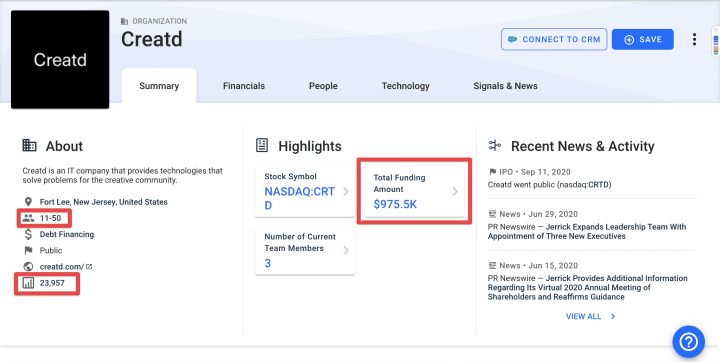 Knowing this makes me want to applaud the Vocal team because I have no idea how so few people can manage so much content on their own.
On the other hand, even though Vocal seems to have less of a competitive advantage, every read counts for creators. We don't have to worry about not being rewarded if 80% of the people who read our stories are not Vocal members.
I can't say anything but Bravo. I hope that Vocal's philosophy never changes.
My journey in Vocal is just beginning
I have never had much faith in content distribution platforms that promise to pay you for reads, basically because they tend to be abusive and always look for a way to earn more than creators.
I'm sorry because of the bad image I have of Medium right now, but no one but another artist understands how exhausting the creative process is, and how sad it is to see it not being paid as well as it should be.
The good news is that I have a very positive image of Vocal at the moment, and I think this is a good place to share your ideas and be rewarded for it. You deserve to be rewarded, no matter if you are new to this or have years of experience: creation must always be celebrated.
My Vocal journey is just beginning. I'll keep you posted.