What it's Like Being Back in a Local Writer's Group
Hooray! We're back!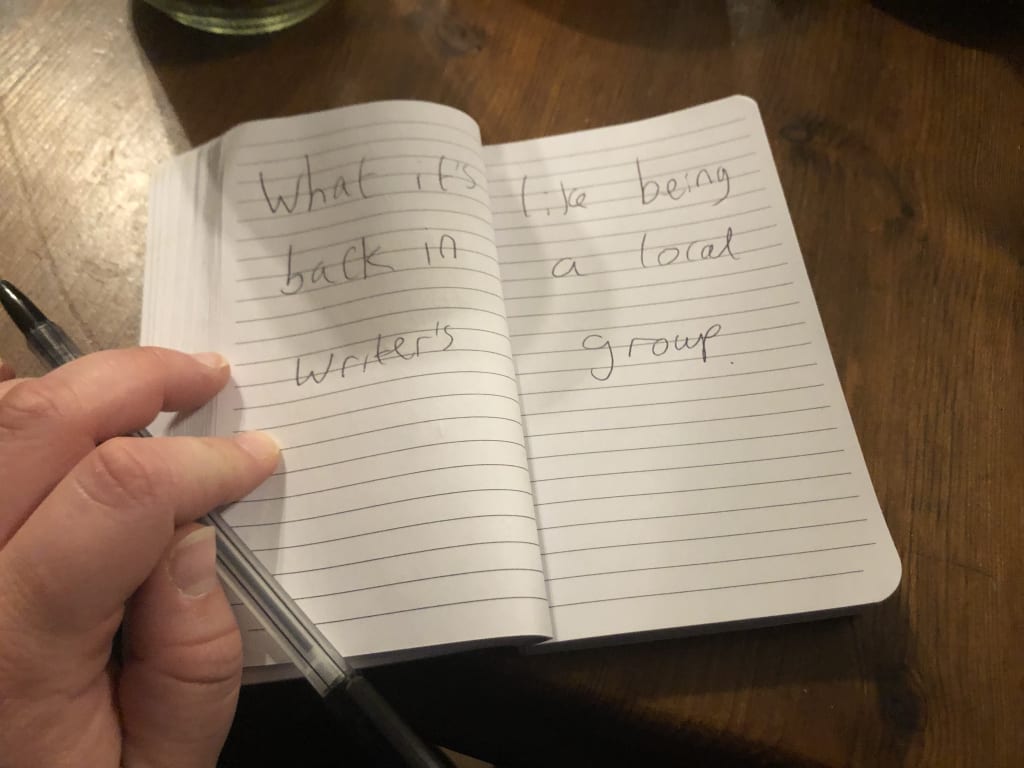 Picture taken by the author.
It's Good To Be Back

And what a great evening it was.

A good turn-out, good readings, good vibes.

We have set ourselves a 500 word assignment 'I heard it on the radio'. Car radio? Kitchen radio? Iphone headset radio? Looking forward to hearing the work of our very talented and diverse authors. Is that another short story collection coming on…?!

See you next meeting, Thursday 7th April, 7pm, Old Town Cafe Parsons Street Banbury
Unless many groups, my local writing group didn't embrace the wonders of Zoom and online meetings. All of our meetings have always been face-to-face and in the same little cafe that we've always had it. Before I joined the group, they were based in an old cafe opposite the road that leads to Banbury Train Station. That cafe has since closed, but I believe it was called Naomi's Cafe. It was a quirkly little place, it's unique selling point was that it relied on donations. People were allowed to pay as much as they wanted. I really loved the place because of the lovely atmosphere and it was great for budgets. Sadly, it has been closed for several years now.
Whilst Naomi's Cafe was a business model that does spread kindness, it was sadly not viable. It sadly won't be viable in today's high-raising climate. Luckily, the local group found a home in the Old Town Cafe in Parson's Street in Banbury, which is close to The Reindeer pub which is believed to be the oldest building in Banbury.
Banbury has a few claims to fame. Famous residents include the infamous pedophile and sex offender, Gary Glitter. It's the final resting place for legendary comedian Ronnie Barker. It has a nursery rhyme based around the Banbury Cross. It's close to many important cities like Oxford, London and Birmingham and has good transport links. There are some popular food joints, especially the chip shops. Because it was once an historic market town, many believe that Banbury is a posh area. It's about as posh as Vicky Pollard.
There's plenty of sources of inspiration when it comes to Banbury, the good and the bad. You're spoilt for choice when it comes to coffee shops, hairdressers and charity shops.
Back to writing groups, a lot of people have good things and bad things to say about them. Some find them helpful, whilst others find them pointless. I personally don't have anything but nice things to say about writing groups. They're awesome because we can share our experiences and share exciting news. We can celebrate our news together and keep in touch through email groups. I like our diversity in experiance and age groups.
It feels great to have it back again. As awesome as online groups are, nothing can beat face-to-face groups. No more buffering connections or internet drops now and then.
I feel like I got a lot of my writing mojo back. I did slack on writing during lockdown. On the first wave, I was really motivated and assumed I would have a lot of time for writing, as as work pressures increased, I became too drained for it. With everything on the path to becoming back to how it was before, I feel like I can continue writing the way I did before. I was so productive.

My energy as a writer is back. Having assignments gives me something to do when I'm stuck and somewhat a little bit of accountability. As I'm in charge of the money, I can't not go. We all pay three pounds each in the jar. We pay the cafe owner 20 quid for use of the cafe. Before it used to be 7-9PM every other Wednesday, but now it's Thursday 6:30-9pm every other Thursday. It may be subject to change. I wish it was still on a Wednesday because I know I would be able to make it to every single one. But I am waiting for a start date for my new job so hopefully once I've finished working at the care home, it won't matter which day it is anymore.
We got quite a lot done as a writing group. We've got three anthologies out, and between all of us, I'd say we've published at least 20 books and 1000 stories and poems.
advice
About the author
Healthcare worker from Oxfordshire. Author of ten books including Drinking Poetry and Game of Mass Destruction. Travelled to over 20 countries.
Reader insights
Outstanding
Excellent work. Looking forward to reading more!
Top insights
Eye opening

Niche topic & fresh perspectives

On-point and relevant

Writing reflected the title & theme
Add your insights