What is IT Staff Augmentation?
Know everything about IT staff augmentation and how to expand your team.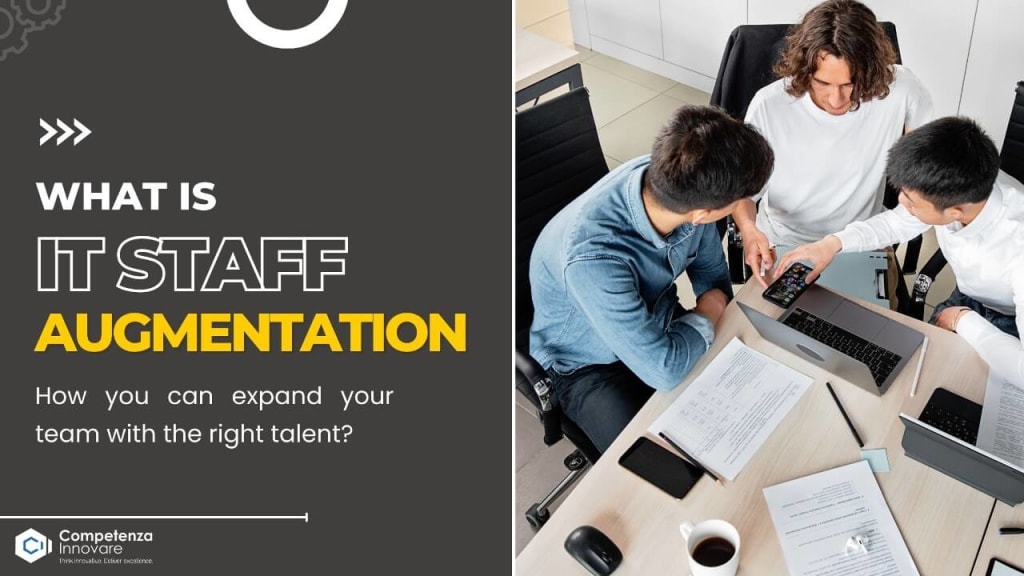 Staff augmentation is a form of outsourcing where an IT firm contracts with a third-party IT firm to provide temporary IT employees, usually skilled professionals, to supplement or augment their own employee strength.
Mostly, IT resource augmentation is used when companies see a surge in demand for a specific skill, they don't have in-house, or when they need an extra hand to complete a project.
Interesting facts about staff augmentation

SpendEdge states that the staff augmentation market will have a growth of USD 81.87 Billion by 2025.
Why do companies take advantage of staff augmentation?
1. Staff Augmentation Reduces Business Office Cost
Augmenting the staff can help companies in reducing office rent. In Manhattan, New York the average annual office rent is $129.39 per square foot. With IT staff augmentation services, companies can hire remote IT workers and reduce the on-site workforce. This will help the company to rent a small or medium size office space instead of a large one.
2. IT Staff Augmentation Reduces the Cost of Full-time Recruitment
Adopting a team augmentation model can help companies to cut down the expenses of full-time recruitment. Also, companies don't have to pay for employee benefit programs that are usually paid to on-site developers. This model can help in reducing up to 50% of the expenditures on recruitment costs.
3. Companies get Staffing Flexibility
IT staff augmentation allows the company to hire a highly skilled workforce according to the company's needs. The human resource manager can hire new remote employees for short-term and long-term duration without impacting the company's employee retention rate.
When you should use staff augmentation services?
1. Helps in obtaining a third-party perspective
In many ways, the success of the projects depends on different creative ideas and their implementation. Remote/contractual employees offer a third-party perspective to the company.
2. Easy expansion of the employees
If a business wants to expand or open new offices in different cities then instead of hiring full-time employees, they can hire a remote workforce. The expansion is easier with remote workforce approach.
3. Fulfil the gap of missing expertise among team members
A project may require multiple technology skills to complete for example knowledge of multiple programming languages. An existing software developer proficient with .NET may not be proficient with flutter. In such a case, you can contact staff augmentation companies to fulfill this gap. This is one of the major benefits of staff augmentation.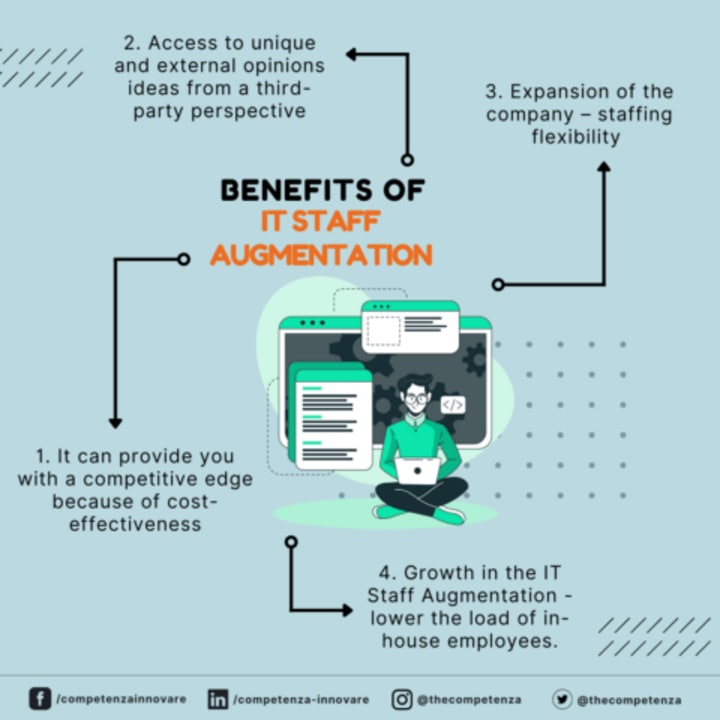 Pros and cons of IT staff augmentation
Pros
Cost reduction for the training of staff members.
No need to worry about adopting innovative motivational strategies to motivate the remote workforce. It is considered that employees who work on free-lance and contractual bases are self-motivated.
Use the outsourcing model to hire talented professionals without running hectic interview rounds.
Staff augmentation talent can help in boosting the numbers of the current workforce. Human resource executives can increase the headcounts of their employees in a much easier way than hiring full-time employees. You can scale your IT team easily.
Cons
You need to arrange more monitoring resources to analyze the performance of remote workers.
If you will hand over the majority of your projects to contract-based employees then it will increase your dependency on them. Due to increased dependency on outsiders, managing the compliance issue can be tricky.
How to choose the right staff augmentation model?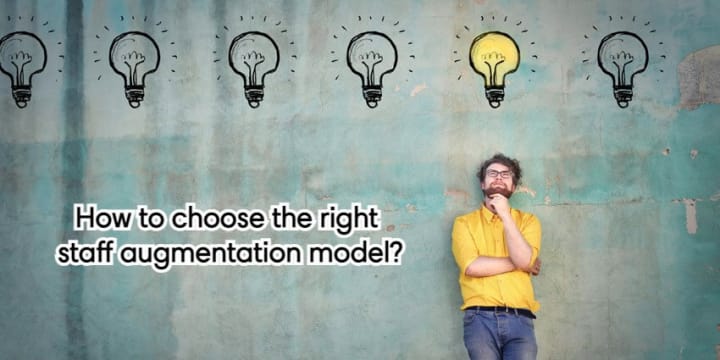 Step 1: Conduct an in-depth analysis of your internal project requirements.
Find answers to these questions to prepare a detailed analysis.
Which framework will be required for your project?
How much time you can offer to contract workers to complete your project?
What should be an ideal wireframe for your project?
Step 2: Based on your requirement, research online portals or contact an IT staff augmentation company to find suitable freelancers or contract workers.
Step 3: Check the portfolio of the selected candidates who can help you in accomplishing project goals.
Step 4: Check the communication style of your selected candidates.
Step 5: Give a trial project to the selected candidate to check their expertise.
Step 6: Sign an NDA agreement.
How does the staff augmentation works at Competenza Innovare?
The staff augmentation services at Competenza Innovare incorporate the following key points:
Step 1: Initial contact with Competenza Innovare's experts
You can contact our experts and ask about our services such as – full stack development, ASP.Net development, website development, mobile application development, etc.
Step 2: Choosing developers
The project manager shortlists the profile of certain software developers who can fulfill your project's requirements. After short-listing the profile, the project manager sends the CVs of those developers to you for your approval.
Step 3: Interview process
You can personally interview candidates. You can take time to understand the specific skills of the developers. You can also review the existing portfolio of the developers. If you want you can allocate a trial project to check the skill set of developers.
This round is highly time-consuming because you would want to make sure about the expertise of the developers.
Step 4: Signing a contract
After finalizing the developers, you can sign a legal contract with Competenza Innovare.
Misunderstandings about IT staff augmentation
Myth #1: Remote workers don't comply with the data protection policy
If you manage a proper compliance policy and take steps to secure your company's confidential data, then there is no harm in hiring contract-based workers.
Myth #2: An organization can't survive on staff augmentation on longer tenure
You can depend on this model for the long term but you need to have a dedicated team of permanent and full-time employees who can monitor the performance of remote workers.
Myth #3: It is difficult to manage the remote workforce
No, it is completely wrong. Contract-based workers are self-motivated so it is easier to manage them.
Conclusion
IT staff augmentation can help you scale your business to new heights. It's an affordable model to hire top IT talents that usually cost 5-10 times higher when recruited for full-time.
Before adopting the staff augmentation mode, you need to work on the below points:
1. You need to develop ways to maintain your project's confidentiality. Ensure that your remote workers follow your company's compliance policies.
2. You need to develop key performance indicators (KPIs) for monitoring the performance of your team members.
About the Creator
Competenza Innovare is our name. Custom ASP.NET solutions, Android app development, iOS app development, and web development are our specialties. Through our technological solutions, we assist people in growing their businesses.
Reader insights
Be the first to share your insights about this piece.
Add your insights