What is Cloud Hosting?
Who needs cloud Hosting?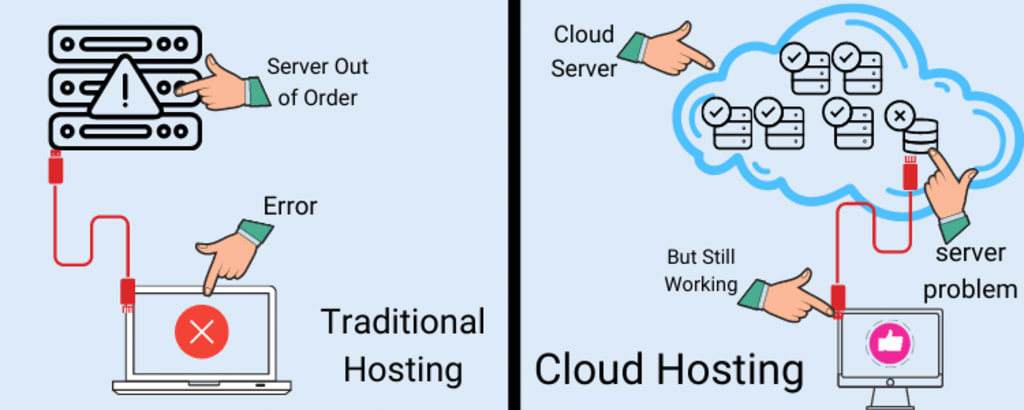 Cloud hosting is the latest and smartest type of web hosting in this hosting industry. You can say it is a hybrid version of a VPS, but more cost-effective.
Cloud hosting plans come with different remote servers, and each server has different responsibilities. If one of the servers faces issues or problems, the other servers on the network will take over those responsibilities and pick up the slack.
That is the reason why cloud hosting is much growing than the other traditional web hosting.
It makes your Website will have higher uptime rates, and you have as much unexpected downtime due to server errors. Your site will remain fluid and perform at a high level.
The essential part of cloud hosting is that it is scalable. With the other traditional web hosting, there is always a constant conflict between the price and the server resource. You never want to pay extra for a plan with funds that you will never use, but at the same time, you do not want to exceed the resource of lesser ideas and negatively affected the performance of your Website.
That is why cloud hosting is the ultimate solution to this difficulty. The best cloud hosting plans allow you to scale your resources on-demand.
You pay for what you use, and you can always adjust these resources within your admin dashboard.
Who needs cloud Hosting?
From my point of view, I can tell you that cloud hosting is the best option for those who have medium or large business websites snowballing.
If you not know your Website traffic and want to scale it at a steady rate in the coming months, you should consider a cloud hosting plan.
Any website with more than 50000 visitors per month should consider the cloud hosting plan for their websites. The sites that grew their traffic to this level and were going to and going to upgrade there plan from shared hosting, I would suggest them for cloud hosting compared to VPS.
SiteGround– Best cloud hosting for scaling resources
DreamHost– Best cloud hosting for developer projects
HostGator– Best cheap cloud web hosting
InMotion – Best cloud hosting for small businesses
A2 Hosting – Fastest cloud web hosting
1. SiteGround– Best cloud hosting for scaling resources
If you already using a shared hosting plan and you want to upgrade it to cloud Hosting then the SiteGround is should be the first choice for your website.
These plans are totally managed, meaning their developers configure your cloud accounts. SiteGround handles the IT of your own hosting. This means you are able to focus on different aspects of your business and website.
You are able to add resources such as RAM and CPU at any time together using one click in your admin settings. One of my personal favourite features is the capability to show on auto-scaling, which will automatically render proper resource during times of unexpected traffic spikes.
With SiteGround, you can completely configure your cloud and also plan centred on the resources you need. However, here's a glance at their basic plans:
2. HostGator – Best cheap cloud hosting
We all know the HostGator is one of the most recommended web hosting providers in this Hosting Industry. Their Cloud Hosting Plans are some of the most cost-effective options on the market today.
All cloud hosting plans include an SSL certification. The Business plan comes with free SEO tools, a dedicated IP, and free domain also.
HostGator's dashboard makes it easy for us to track your website's performance. You can view data related to page speed, uptime, hit, plus more.
3. DreamHost – Best cloud hosting for developer projects
DreamHost has the most comfortable cloud instalment in the Hosting Industry. You're able to get your cloud servers live in less than 30 Secs. DreamHost cloud is ideal for programmers, with that said.
They have the best database management for web apps and running test in addition to websites.
It's possible to go on working with the DevOps tools that you're already using. DreamHost additionally provides you with full root access for complete control over your cloud servers.
4. A2 Hosting – Fastest cloud web hosting
A2 Hosting makes his reputation to be one of the fastest web hosting providers on the marketplace. Their cloud plans are all equally as fast and trustworthy.
One more thing in A2 Hosting that I like the most is the plans are fully customizable based on your needs.
Plans start at $5, $10, and $15 a month, respectively. But you only pay for the resources that you used on how you configure your cloud server.
If you want to have cPanel, it's an extra $19.95 a month and not available with the lowest-tier pricing program.
They offer a 99.9% uptime assurance in addition to an anytime money-back guarantee. Therefore be sure you go through through the fine print of your contract, although you will find a few contingencies to both.
5. InMotion – Best cloud hosting for small businesses
Inmotion may not be the first choice for you while looking for shared hosting or another hosting, but when you are looking for cloud hosting the Inmotion hosting plans are certainly some of the best.
They have cloud hosting solutions for everyone.
1. Small business cloud hosting.
2. Agency cloud hosting
3. Application cloud hosting
4. Enterprise cloud hosting plans
Overall Inmotion has 10 different plans and pricing tiers for Cloud Hosting, which is the most I've seen offered by any provider.
For web site owners, you will want to focus on the business plans. In-motion makes it effortless for you to scale your tools as your site grows I found hosting services.
Additionally, you will get a resource tracking dashboard, totally free auto backups, rapid provisioning, and snapshots of your servers. In motion provides you free SSL and cPanel permit together with most its own cloud business plans.
For more Visit: besthosting4me