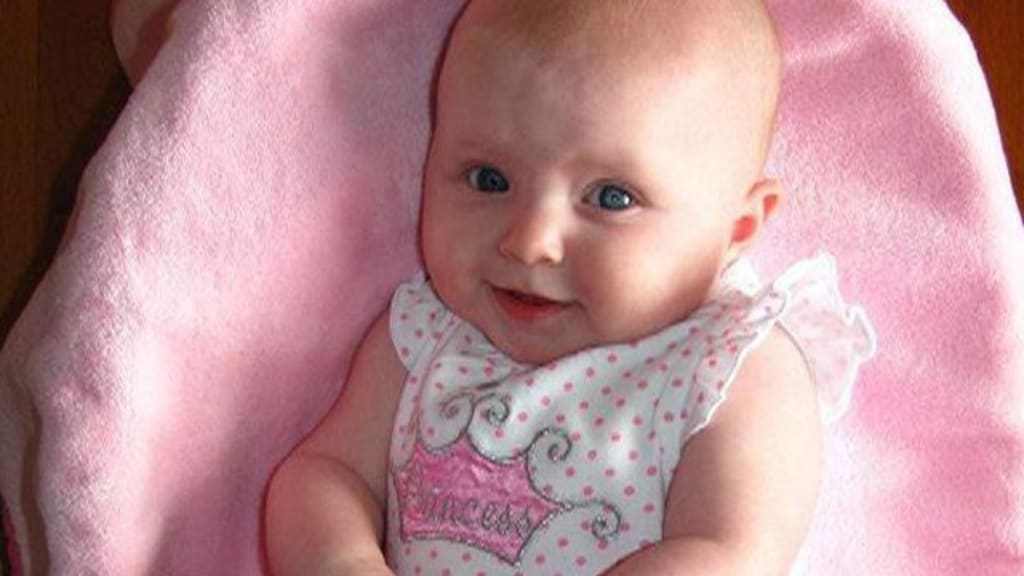 Lisa Irwin, Wikipedia. 2023. "Disappearance of Lisa Irwin." Wikimedia Foundation. Last modified January 25, 2023. https://en.wikipedia.org/wiki/Disappearance_of_Lisa_Irwin.
Lisa Irwin was 10 months old when she disappeared from her bedroom crib in the family home in Kansas City, Missouri, on October 4, 2011. She hasn't been seen since.
The beautiful, blue-eyed baby always offered her smile, loved to play with her two older brothers, and hardly ever cried.
Police initially suspected Lisa's mother of hurting her. A distraught Deborah Bradley vehemently denied knowing what happened to her baby girl and insisted she nor Lisa's father, Jeremy, were involved in her disappearance.
Lisa is Missing
Jeremy discovered Lisa missing about 4:00 a.m. that chilly morning when he returned home from work. The front door was wide open when he arrived. He immediately walked into baby Lisa's room but she wasn't there.
Jeremy then proceeded into the bedroom he shared with Deborah but Lisa wasn't in the bed with her and she claimed to have last seen her in the crib a few hours earlier.
Panic immediately set and Debroah called the police.
Deborah told police she laid Lisa down at about 6:40 p.m. and checked in on her at 10:40 p.m.
Police began talking to neighbors to find out if maybe they saw anything suspicious. Two people immediately came forward claiming to have seen a man carrying a baby in a diaper early that morning.
John Tanko Ruled Out as Suspect
A local man named John "Jersey" Tanko seemed to fit the description of the man seen carrying the baby. Deborah's phone had been stolen earlier in the evening and a call had been made to his wife plus other questionable circumstances led police his way. They knew he had a history of robberies and break-ins, so they wanted to find out what he knew about baby Lisa.
He was ultimately determined not to be involved with baby Lisa's disappearance.
"Death Smell" Near Deborah's Bed, Other Unsettling Information
Police brought in cadaver dogs to search the Irwin home a week after Lisa's disappearance. One of the dogs picked up on the scent of death near Deborah's bed, but later investigators determined this to be a false lead.
Deborah also allegedly failed a polygraph test, although she claims she never saw the results of the test. Police alleged the couple refused to cooperate with the investigation at one point, claims they deny.
The FBI became involved with the case and dug up almost the entire backyard at the Irwin home. The search yielded no results. They seized numerous items from the home and then conducted a search at the nearby landfill and in the wooded areas near the home. Again, no signs of Lisa.
Police issued an AMBER Alert for baby Lisa hoping someone would see her and give them a call. Again, this effort proved fruitless.
Speaking to the TODAY show nine days after Lisa disappeared, Deborah claimed she had a few drinks with friends after laying Lisa down at about 6:40 p.m. That was the last time she saw the infant.
Police Focus Their Attention on Deborah
This fueled the police's suspicions of Deborah and Jeremy being involved in the disappearance. Both contended they were innocent of wrongdoing.
About a month later, Jeremy reported that his debit card was stolen and a charge of $69.04 fraudulently made. The person who stole the card attempted to make two other purchases. One of the places the thief attempted to use the card was on a British website that charges to legally change the name of a person.
Police investigated the claims but they did not lead to any information about Lisa's whereabouts. Some in the Kansas City neighborhood where Lisa disappeared think the police failed to properly investigate this lead and others they received.
Former attorney Cyndy Short was among those who think police focused on Deborah as the suspect and did not investigate properly.
Others aren't convinced that Deborah and Jeremy are the devastated parents they portray themselves to be in the media. Deborah said in an interview she has thick skin and everyone is entitled to their opinion. She knows she is innocent of wrongdoing and how much love her heart holds for her baby girl.
Deborah and Jeremy both submitted their DNA to several databases in hopes Lisa will find them one day and remain hopeful she'll be back home.
It's been just over 11 years since Lisa Irwin disappeared without a trace. Deborah and Jeremy still hold out hope that she is out there alive somewhere. In 2020, the National Center for Missing & Exploited Children released an age-enhanced photo of Lisa at nine years old.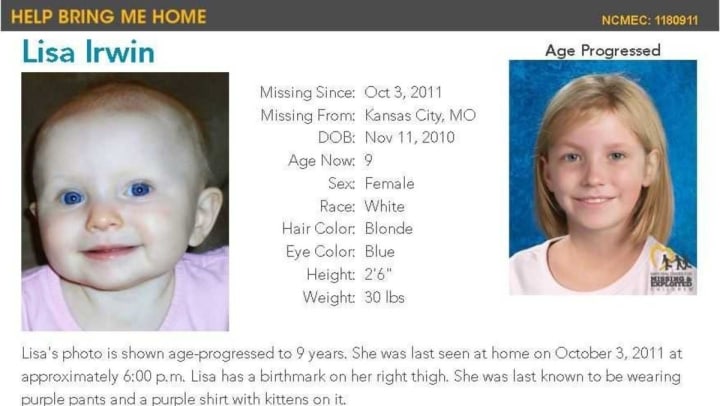 Deborah told KSHB News she feels that Lisa's abduction was premeditated because Jeremy rarely worked nights.
"I think that someone was paid to come into our home," Jeremy said. "Our house was watched, and they waited for the perfect opportunity. I absolutely believe she was human trafficked."
"When she comes home, she knows that we never stopped including her. We never stopped waiting for her, and she's always been a member of our family, no matter what," Deborah said.
There is a $100,000 reward offered for information that leads to the whereabouts of Lisa Irwin.
You can call 816.234.5136 if you have any information. You can remain anonymous if you wish.
Follow the Facebook page created for Lisa called Footprints in the Sand where you will get regular case updates and information.
About the Creator
The most shocking & unbelievable collection of crime stories around. Prepare yourself for crimes that will piss you off. Graphic material! 18+ audience!
Reader insights
Be the first to share your insights about this piece.
Add your insights