What are your thoughts on Sara Duterte's pledge of mandatory military service in the Philippines?
By: Maria Mikaela Opinaldo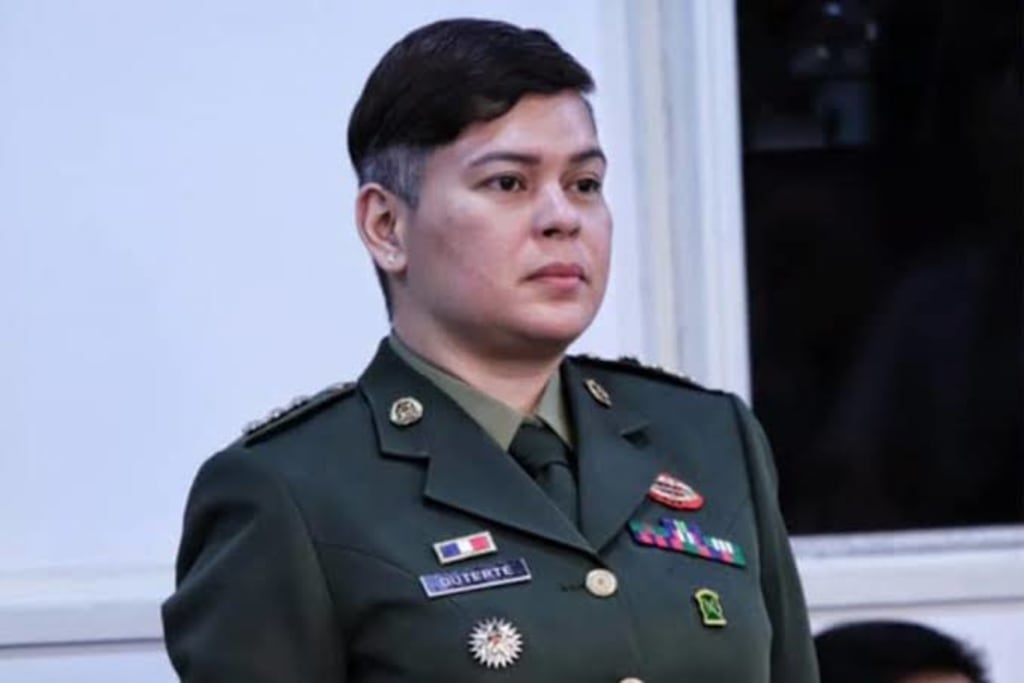 https://www.rappler.com/newsbreak/inside-track/254133-sara-duterte-says-always-supported-father-rodrigo/
The Davao city Mayor, Sara Duterte – Carpio and now the new Vice President of the republic of the Philippines, her inauguration was held on last Friday June 19, 2022. During her term as Vice President, Sara Duterte has stated that she will use her position to urge the Senate, the upper house, to pass legislation to implement her pledge to push for mandatory military service for all 18 years old and above, males and females.
Sara Duterte is a Philippine politician and daughter of the 16th president of the Philippines, who is known as President Duterte or DU30. President Duterte is known in the international arena for his battling in the war on drugs, and for being provocative and being labelled as the Philippines' strongman. Sara Duterte is known as a strict mayor for implementing rules in Davao City and for her good performance as a public servant in Davao City for many years and for having a strong personality.
One of the reasons why Sara Duterte wants to implement the mandatory military service is that she wants the Filipino youth to develop a sense of being patriotic towards their own country, to develop their potential in terms of defending skills, and to learn to show some love and respect for the Philippines. According to Sara Duterte, "our country needs a younger generation that is disciplined and respectful to their own country."
There are numerous advantages to serving in the military. People will benefit from having some knowledge of how to rescue during disasters, and the trainees can be used as volunteers or obligated in every barangay if the rescuers require a large number of people to assist them in rescuing those who require assistance. Military service has a number of advantages, including disciplinary benefits and the opportunity for women to learn some self-defense.
For those people who are against mandatory military service, those people who are one-sided and think military service does not benefit them, it has a significant role in calamities in helping to recuse those victims. Even if a person is not a certified rescuer, such as BFP, they can use their knowledge in training to help the victims of calamities. When the military service is implemented, Sara Duterte promised that when serving the country is not for free, you will be given a subsidy. And the fact that Mandatory Military Service has no gender, means it is open to all genders.
According to Commission on Higher Education (CHED) Chairman Prospero De Vera, implementing the mandatory military service or Reservist Officer's Training Corps (ROTC) will be beneficial especially in the times of calamities.
At the same time, the Commission on Higher Education Chairman noted that the country needs more rescuers in the midst of the calamities. We need more military and more military backups because, remember, the Philippines is a typhoon belt, where in one year there are more than 20 storms passing through the country, and the Philippines is located in the pacific ring of fire, so the country needs more people who are knowledgeable in terms of rescuing. At least when the training is implemented, there are a thousand youths who can be used by the government to reserve for incoming disasters. The Philippines is not only a typhoon belt but one of the most disaster-prone countries in the world, where landslides and earthquakes are held yearly.
Sara Duterte's pledge for pushing Mandatory Military Service is that her vision is to produce a generation of learners who have a mindset to develop their full potential on skilled learning, such as being strategic in real-life applications and learning to use critical thinking abilities in real-life situations. And the country needs to produce a generation of patriotic citizens, a generation with a nationalist bent, and a generation that advocates peace and discipline in their respective communities.
Sara Duterte should want the youth to play an active role in the society as well advancing their own welfare, specifically in the terms of education, Sara Duterte wants to strengthen the education system of the Philippines where Sara wants to implement the youth to give a higher value on their education, and as well the health, gender, and awareness on reproductive issues. And the youth should be a proactive partners of rescue operation team during disasters and aiding the victims of calamities. And wanted them to be able to stand on their own, help themselves, help the communities, and help the nation.
Instead of going to rallies and escaping classes that implement the free education that was paid for by the people to provide their education, the youth should instead attend military service where there is a lesson learned and with a subsidy from the government. And to highlight that Sara Duterte wants to implement the military service is to keep them away from the use of terrorist groups operating in the country.
One of the visions of Sara Duterte is to look for something that inspire patriotism for the youth, and this is one of the reasons why she wants to implement the military service.
In terms of being beneficial to the country, there are critics of this proposal. There are opposition groups who are against this proposal, especially when it comes to violating the law about human rights. According to Romina Cabrera, two students were killed and abused by ROTC officers for exposing their irregularities and corruption on campus. And according to Rappler, the Military Mandatory Service can be abusive and can violate the basic rights of human rights due to hazing and being abusive to some cadets.
Walden Bello, in opposition to Sara Duterte in the vice-presidential race, said that the purpose of mandatory military service is to kill. He said, "Does she really think that her pledge of military service does not teach the youth to kill?" Sara Duterte's remark is alarming to Filipino youth and a dictator in waiting. "
Walden Bello – "The Philippines badly needs more engineers, educators, medical personnel, farmers, and workers to develop our economy. Pour the budget on them instead of producing more armies."
Walden Bello – "Military service is a foolish proposal that would derail our youth from the pursuit of civil careers and dreams and another increase in budget to share with the generals."
On January 19, in a virtual caravan, according to Rappler, Duterte-Carpio wants the military service to last not for one weekend or a month but for a year. And another budget for this proposal instead focuses on the rebuilding of the collapsed economy. And this is what to pay more attention to. The country should need a labor law about opening jobs for more skilled workers, raising their wages, and lowering their educational requirements.
Military service is beneficial and essential, but it should be voluntary because it can violate the constitution's freedom of rights of every Filipino. Remember, the Philippine constitution is about democracy where it promotes liberation.
But despite of agree and disagreements of the Mandatory Military Training, this is beneficial for the sake of the country, knowledge about rescuing, and self-defense.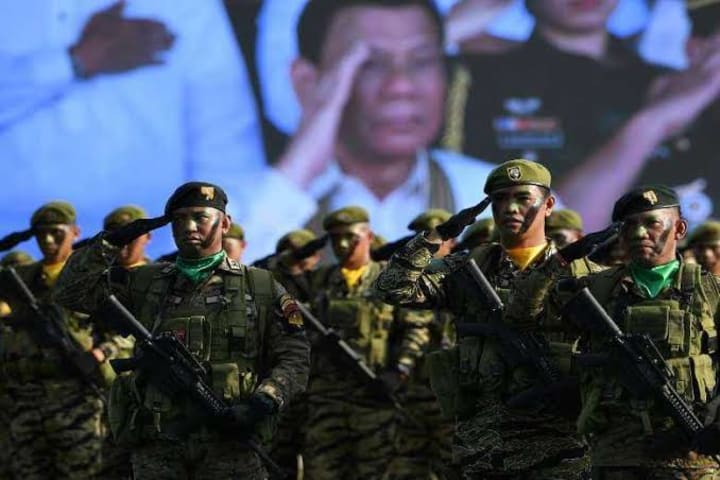 Reference
https://www.tsek.ph/fact-check-sara-duterte-to-turn-k-12-to-k-14-push-for-rotc-mandatory-military-service-without-pay/
https://www.philstar.com/headlines/2022/05/12/2180595/sara-duterte-says-country-needs-patriotic-filipinos-advocating-discipline-peace?fbclid=IwAR1gQ_QfgbfeljTxODMCqXWVJChwDP4kzlB6py00NygY5zknWgj4jrCRU5I
https://news.abs-cbn.com/amp/news/01/20/22/bello-slams-sara-dutertes-mandatory-military-service-proposal
https://tribune.net.ph/index.php/2022/01/19/duterte-carpio-slams-bello-over-mandatory-military-service-stand/amp/
https://www.gmanetwork.com/news/topstories/nation/818800/sara-walden-spar-over-mandatory-military-service/story/?amp
https://www.sunstar.com.ph/ampArticle/1918731
https://www.pna.gov.ph/articles/1165909
https://pinoytrendingnews.net/vp-candidate-sara-duterte-delivers-virtual-upper-cut-to-walden-bello-following-tweet-calling-sara-dictator-in-waiting-like-her-father/amp/
https://www.rappler.com/nation/groups-reactions-sara-duterte-proposal-mandatory-military-service-filipino-youth/
https://www.bloomberg.com/news/articles/2022-01-20/duterte-s-daughter-wants-military-service-for-all-18-year-olds
https://www.onenews.ph/articles/mandatory-military-service-sara-wants-patriotic-youth