What are the various SME safety management practices?
SME Safety Management Practices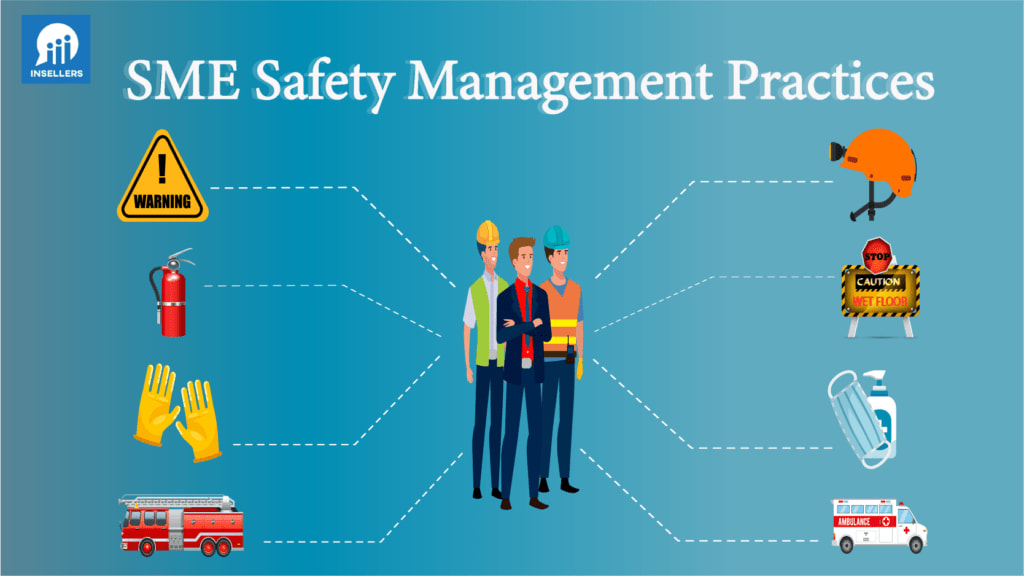 There has been an exponential growth of SMEs in India since independence. This growth has contributed to the overall growth of the GDP as well as to the growth of employment and export in the global economy. By 31st October 2020, 1.8 Lakh number of loans, involving Rs. 60 thousand crores have been sanctioned out of which 1.67 Lakh number of loans, involving Rs. 45 thousand crores have been disbursed. The increase of MSME is more in the rural parts of India than the urban parts of it. According to the survey of 2020.
SMEs of India add up to about 95% of the industrial units, 40% of the industrial production, and 36% of the total exports. Also, SMEs provide employment to over 18 million people in about 3.2 million registered SME units in the country.
The following Pie chart shows the distribution of different sectors in MSME
MSMEs are situated in all corners of the country and work in almost every space. In such cases, minor accidents, ergonomics problems, old and outdated machinery, and lack of awareness are very common problems and these have created a need for implementation of safety practices in SMEs. It is important for a working environment to be healthy, positive, and safe. The implementation of healthy working conditions creates a positive impact not only on the economic and social development of the economy but also minimizes losses incurred by a company due to accidents. The damaging factors as experienced by the SMEs are low capital base, difficulties in accessing technology, credit constraint, low access to business services, the constraint of quality of human resources. Safety management practices are not up to the mark in most SMEs. Market competitiveness, better efficiency, less risk, and strict laws were found to be the most important drivers; and financial constraints, lack of awareness, resistance to change, and lack of training for employees were found to be the main barriers. Competition between SMEs i.e. businesses trying to get ahead of others is found as one of the major reasons for low safety management practices in SMEs. The competition between businesses leads to taking unnecessary risks, which eventually violates the safety of individuals or the company.
Near miss examples
What is a near miss?
A near miss is an unplanned event that has the potential to cause but does not actually result in a human injury or damage to the property.
For example – a missing label. A missing label itself is not a near miss but can create one if an employee is nearly injured by the improperly labelled substance, the event would be considered a near miss. That particular label could be of a chemical or an important ingredient in the manufacturing process, but with the missing label, it was not where it was supposed to be, which resulted in an injury or a loss of a product or machinery of the company.
Slippery slope
A worker slips on condensation that had dripped onto the floor but doesn't fall but there is no injury, it can be considered as a near miss. A trip might occur, it is when an obstruction comes between a path of an employee while hitting their leg with the object or the leg. Such an incident can cause damage.
Narrow escapes
Your leg was momentarily caught between a pallet of materials and a support structure, there can be no injury there. A worker's clothing gets caught in machinery. A worker jumps out of the way the moment before getting hit by a hot item or a big iron object getting hit on the head which was being carried by another worker. A worker finds a live, damaged electrical wire that is lying in a pool of water before contact is made.
Working at Heights
While working at a high altitude i.e. while construction, one worker throws an object at another, which can cause him to lose his balance in an attempt to catch the object. While working at a high altitude, you can fall but are caught by your protective gear. A worker who is not wearing fall protection can be severely hurt and his movement can be restricted.
Avoiding near misses is one of the first steps in maintaining the safety measures in your business. Incidents of near misses and learning from them, adapting from them, and making the necessary changes should be a priority.
Safety tips for MSMEs in the initial stages
Typically, an SME in its early stages wouldn't be staffed with a full-time safety manager or officer. That does not mean, the business does not require a safety culture or cannot afford one. A safe environment can be created and maintained in any small business.
Basic General Industry Safety Rules
• Keep the work area neat and clean.
• Use the proper tools required for the job.
• Always wear the proper PPE according to your work environment.
• Communicate hazards to other personnel.
• Stop work when needed to address hazards.
Publish All Rules and regulations
Be sure that every one employee or a member of your company is well aware of the safety rules and regulations. Write the safety tips on multiple pieces of paper and spread them all over the facility. Leaving no choice for miss-happening.
Encourage safety awareness
Make the employees know the importance of health. Hold seminars and bring speakers for sharing and encouraging the importance and awareness of safety.
Do a worksite Inspection
A worksite inspection is very important before you choose your workplace. It will allow you to identify unsafe environments and then you can yourself make the necessary changes to rectify those mistakes. Recommendations for a thorough investigation include:
• Researching common hazards in your industry
• Creating safety teams
• Encouraging employees to report workplace hazards
• Examining the history of your worksite conditions
• Creating an adequate system for reporting hazards
• Inspections by trained personnel
• Seeking assistance from health and safety experts
Drill for emergency
Hopefully, there will never be an actual need to deal with a workplace emergency, but it is always necessary to be prepared for one such incident. Prepare a safety drill and to make sure everyone understands their role and responsibility in an emergency, perform or practice the drill once or twice a year. Making sure in the event of an emergency every employee is part of your safety protocol.
A safety system is required and can be built and maintained, even in a small business. It does not require large, complex actions or tasks to do so. The key elements are understanding the importance, managing the situation, commitment of all the employees. Build off those elements to keep your workplace safe. Following are the basic safety equipments.
Conclusion
The aim of this article is to get SMEs'perspectives on safety and awareness and on building a sensitivity for safety issues in participants. In most of the SMEs, some simple actions that could be easily implemented without the high capital cost requirement, such as improved housekeeping, better layout, and using PPE could be put into practice.
It is noted that in many cases there has been an increase in the risk due to overproduction and cramped areas as the majority of SMEs are using old technologies. Minor injuries are quite common in various units and the employees do not consider it to be a matter of serious concern. Articles such as this, undertaken only for SMEs, are extremely important to improve safety awareness and practices.
The market is full of people trying to make it big in the game. And since there is a ton of competition out there you better want yourself to be ahead of others. That is why research and read as much as you can. We at insellers, have been doing a lot of research and carrying out the implementation with our clients. We tell you the not so often talked about inspiring reverie to real stories of SMEs and startups, to inspire the Entrepreneur in you. All you have to do is Log in for more.