What are the benefits of Waterproofing your Commercial Roof?
Waterproofing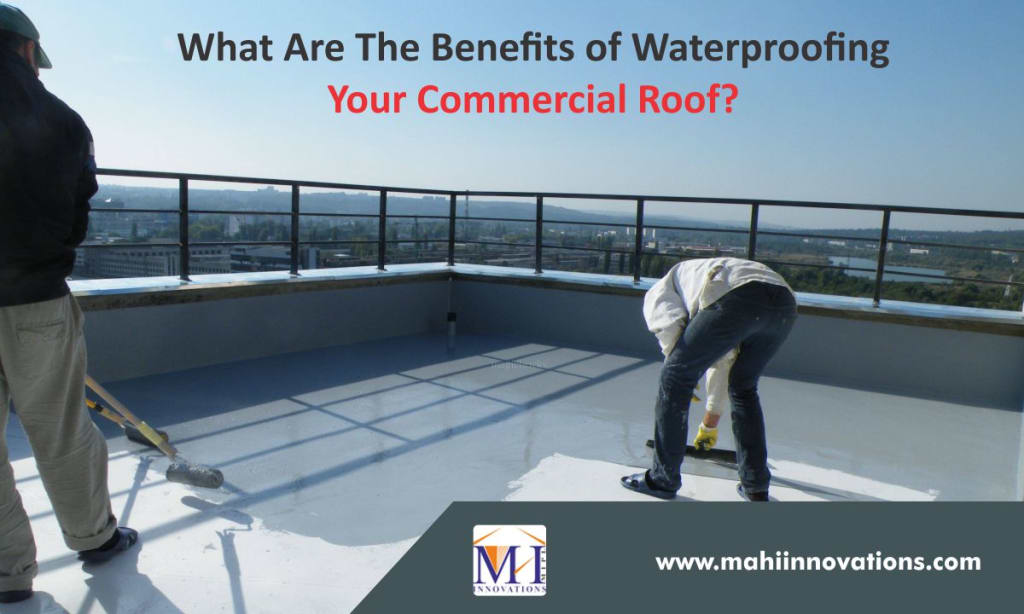 If you are speculating why flat roof waterproofing might be a good solution for your business, we have the answers you are looking for. Even the smallest leak in your roof can let water into your building as well as cause serious damage. Waterproofing your roof is simpler than a whole roof replacement while still offering many similar benefits. At the same time, it gives a longer-term solution than a quick-fix repair. If you are trying to make a decision between a one-time repair, a waterproof roof coating, or a complete roof replacement, here are six benefits to Roof Waterproofing Solutions to help you with the decision-making process:
#1: Longevity
Waterproofing reduces the risk of serious damage. With a waterproof membrane protecting your roof, you will have an extra layer of protection from wear, decay, and leaks caused by rain, snow, ice, as well as wind. At the same time, a waterproof membrane reflects sunlight, reducing the impact of extreme heat & light on your roof. Our waterproofing solutions can last up to ten years, significantly expanding the duration of your existing roof.
#2: Cost Savings
Beyond reducing attrition, a waterproof membrane for your roof saves your money in the short term because it is much cheaper than a complete roof overhaul. You will also save money because roof repairs won't be required as often, and maintenance costs will be lower. By extending the life of your existing roof, you will also experience important cost savings in the long run.
#3: Energy Efficiency
Because waterproof of membranes reflect heat as well as sunlight, you will save on HVAC costs in the summer by maintaining steadier building temperatures. Some waterproofing solutions may even be eligible you for additional discounts and warranty programs. A one-time repair or full roof replacement won't have nearly as much of an impact on your building's energy efficiency as waterproofing will.
#4: Lower Humidity
A waterproof roof covering seals your building from water leakage. Waterproofing reduces the humidity levels in your building while also preventing mold growth. You, your employees, and your clients will all be more relaxed, and you'll be protected from more serious structural problems in the future.
#5: Low Maintenance
Waterproofing coating is much easier to maintain and repair than your existing roof infrastructure. When maintenance & repairs are needed, they are usually much faster to perform than on a conventional roof alone. Most of repairs will have to be made to the waterproof coating rather than the roof itself.
#6: Easy Installation
We can water-resistant your roof in about a third of the time it takes to replace a roof. Because waterproofing is a spray that is applied to your roof, it can get it those hard-to-reach spaces that one-time roof repairs may miss. Our Roof Waterproofing Solutions are designed to reduce any downtime or disruption to your everyday business operations. Your employees will be able to stay productive and on schedule. Make sure you use high-class products to waterproof your concrete. Low-grade products waste too much time and money.
At MAHI INNOVATION, we have the expertise to provide our clients with the range of services of Roof Waterproofing Service. These services are known for their high reliability as well as durability. These services are extremely effective for drainage in different buildings with low levels structures. Our team is well-organized enough to customize these products as per the requirements and requirements of the clients. These obtainable by us in various provisions, these are inspected sternly to retain their best quality.
When you are ready for more information on Roof Waterproofing Solutions please contact us!