What are the Benefits of building a Restaurant Reservation App?
Benefits of building a Restaurant Reservation App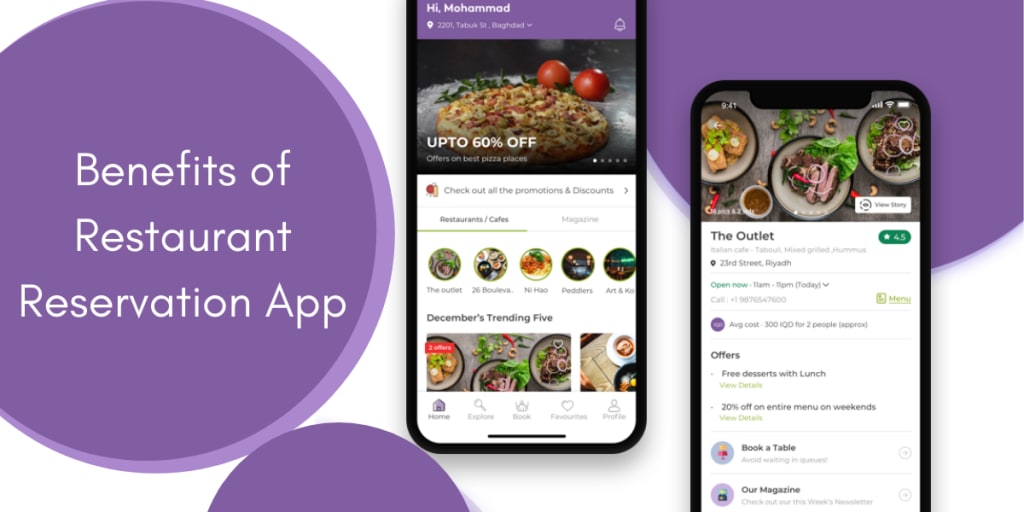 Benefits of building a Restaurant Reservation App
Earlier it was challenging to book a seat in any restaurant. The majority of people weren't able to find a seat and have to return home.
Considering this, a vast number of restaurants globally built restaurant reservation apps that allow users to book a seat in advance.
After this, many food lovers have started relying on these restaurant table booking apps to book a table.
Now, if you are a restaurant owner and thinking how a reservation app will be useful, then here we will walk you through some benefits of the restaurant to you and your users.
So, let's get started:
Benefits of a restaurant reservation app for the owner
Having a dedicated restaurant app serves you in more than one way. Some of the benefits that you may get when you build a restaurant app are as follows.
Gives the owner advance information regarding how many people will come and at what time.
The owner can make the dishes as per the advanced booking that is done through the restaurant app, reducing food wastage as well as minimizing the chance of customer refusal due to non-availability of food.
It will help the owner to reduce the chance of open tables, thereby reducing their cost and improving profit margin.
As all the information related to booking, payment, and special orders are available in a centralized system the owners have complete control over their resources.
Through a dedicated restaurant mobile app, the manager can access the past history of the customer and offer him/her those dishes that he/she had liked before.
It helps the restaurant owners to minimize the time spent on the phone by taking any orders or reservations.
A restaurant app allows the owner to send confirmation detail online, and if there is no table available, then also the owner can send a 'not available message' directly through the app.
A restaurant app allows the owner to link it with a social media platform, which will help him to market this product in a better way, thereby increasing sales.
It allows the owner to promote the loyalty program wherein a regular customer gets special discounts as well as priority on any reservation and order. This, in turn, will help them to get repeat customers.
The owner can improve the brand awareness of his/her restaurant through a mobile app.
The customers need to be repeatedly reminded of a brand to influence his/her decision. What could be the better way to do it than through a native restaurant app installed on his/her smartphone.
It allows the owner to engage with the customers in a more personalized way by offering them with food that they want, providing outstanding service, a friendly atmosphere that makes them feel comfortable and relaxed, and so on.
A dedicated mobile app helps the owners to market their product/service in a better way and get improved ROI from their investment in advertising through your app.
Just like the restaurant owner, the app users also get several benefits when they use a dedicated app for seat booking in a restaurant.
Benefits a restaurant reservation app gives to a customer
The customer does not need to make phone calls reserve a seat. He/she can just do a mail or message in an app, confirming his/her reservation.
The customers do not have to wait for an attendant to pick up the phone or anyone at the front desk of the restaurant to take care of their orders. They can look through the app and make a reservation and pay for the meal all through the app.
A restaurant app allows the customer to look at the services of a restaurant any time they want. There is no constraint of time and availability of attendants as all the information is available online.
The customer can read all the reviews of other patrons of the restaurant. This allows the customers to make a value judgment on whether they will like to visit that restaurant or not.
It gives your customers the option of location-based meals. If you have more than one outlet, then they can get a push notification for any new deals on any dishes when they are near one of your outlets.
There is no waiting period as all the bookings are made in advance and paid for.
The customer can look through the menu and select the dish that they want at their leisure. There is no time pressure to select their order.
Developing a restaurant reservation app is a highly specialized skill, and it needs professional help to build a highly functional and usable app. For this, it is highly recommended to approach a restaurant app development company. They will understand your restaurant business and provide you with the best restaurant reservation app.
business
Guru Technolabs is your one-stop-solution for all of your digital needs. We provide solutions for your needs of Web and Mobile App Development, Digital Marketing, SEO and all other digital needs.