Web3 eCommerce: How It Transforms Online Retail?
E-commerce sectors adopt web3 to offer a real-time shopping experience to their customers.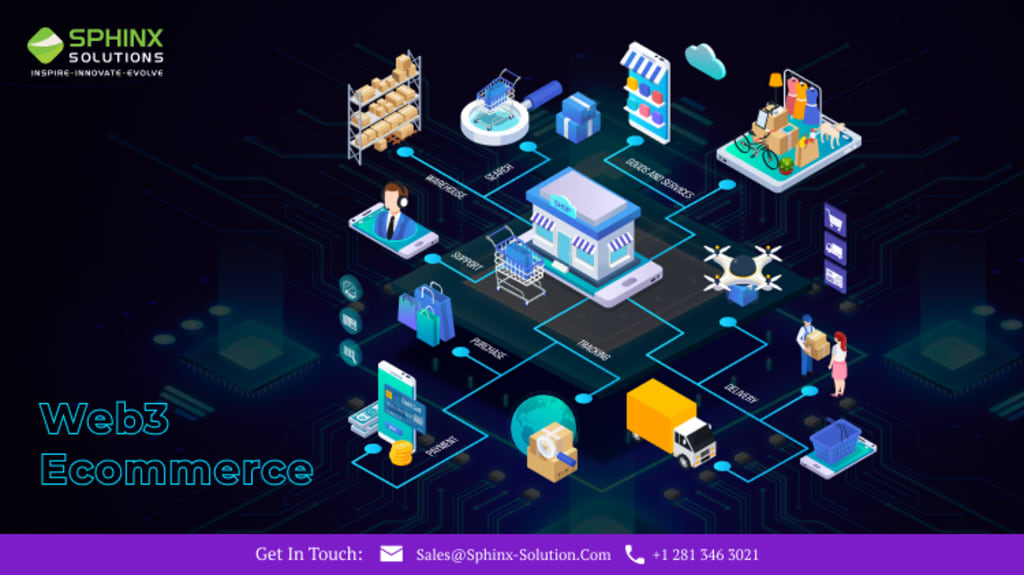 Worldwide ecommerce sales are expected to reach more than $6.3 trillion in 2023. Though this industry is experiencing massive growth & success, it has plenty of limitations as many ecommerce platforms depend on centralized payment gateways or financial institutions for business operations. However, with the continuous adoption of web3 technology, e-commerce brands start shifting and scaling their effective business models.
Web3 ecommerce helps online retailers and customers by eliminating fraud activities, enabling crypto payments, and improving brand awareness and traceability. It plays a big role in bringing transformative outcomes for the entire e-commerce sector. Read the blog to know the major aspects of web3 in ecommerce businesses.
What is Web3 in eCommerce?
We know that eCommerce is an electronic commerce system that is a process of online conducting transactions. It also allows individuals and organizations to sell & buy products over blockchain technology. In short, you can shop all physical products with web3 technology. There are no specific market segments in which the e-commerce business ecosystem operates. No doubt, e-commerce technology has also affected how customers shop & consume products. Integrating web3 in e-commerce business has resulted in an advanced wave in this sector technologically. Some characteristics of web3 ecommerce development services include:
• Information is open-source and free
• Transaction information is fully authentic and unique
• Every individual is the owner of the data
• The centralized monetary system has been easily transformed by cryptocurrencies and DeFi
• Anonymous ownership transactions
Challenges In The Current eCommerce Sectors
Though the entire ecommerce industry is constantly evolving, it has certain limitations. Some major e-commerce challenges include:
Online Identity Verification:
Lack of identity verification is a major problem faced by ecommerce sectors. How do online retailers show if a user visiting an e-commerce website is real? Are all details appropriate? Are they interested in online products? These things are truly difficult. However, online identity verification helps to solve this issue.
Data and Cyber Security:
No doubt, security breaches make e-commerce insecure as it involves plenty of sensitive information & data. Data-related technical problems have a massive consequence on the brand image & daily operations.
Unable to Attract The Right Customer:
Nowadays, there are so many options for buyers these days, as they do huge research before they buy anything. Attracting the appropriate customer isn't very simple within the entire ecommerce industry.
Bad Customer Experience:
A successful ecommerce site must offer a positive consumer experience. However, poor customer experience is a very big problem for an ecommerce business. It also affects revenue generation. So, it's important to manage a website's navigability, product personalization, content flow, and segmentation to enhance customer experience.
Lack of Customer Loyalty:
Nowadays, many ecommerce sites face challenges due to a lack of customer loyalty. Generally, two important elements prove the benefits of customer loyalty in ecommerce business. Firstly, acquiring customers is tougher than keeping existing ones. On the other hand, the overall selling rate to existing customers is much higher than the selling rate to new customers. These two elements play a huge role in improving customer loyalty & retention rate. They ensure that the customers will stay for a long time with the businesses.
Looking for Custom eCommerce Solutions?
Boost your online presence and reach more audience with our tailor-made ecommerce development services.
Unable to Convert Shoppers Into Buyers:
Transforming a visitor into a potential customer is a very difficult ecommerce task. Unable to convert shoppers into buyers is a common problem that many ecommerce businesses face. A website that sells products online should have an excellent traffic volume, customer impressions & clicks.
Competitor Analysis with Competition:
Nowadays, online buyers are tired of all available choices. A simple search will provide you with a number of options. How do you find yours? This makes it difficult for online retailers to stay ahead in the competitive market. Apart from that, it has become very difficult to get more shoppers for visiting their ecommerce site. This problem occurs because the many ecommerce platforms depend on payment gateways like payment processing, and financial institutions. However, using blockchain technology helps to give them access & eliminate current system problems.
Customer Support:
As the e-commerce industry is growing rapidly, the number of online buyers has also exponentially increased. However, this rising number of online users or buyers face plenty of problems on multiple e-commerce platforms every day – according to an ecommerce development company. Although the customer support system has been integrated with chatbots for enabling faster and ticket response & request processing, these solutions aren't sustainable. For example, many bots make users feel dissatisfied or annoyed.
Cross-border eCommerce:
Some ecommerce sites tend to be very stagnant as they lack communication with consumers from their geographical & linguistic range. Therefore for a better shopping experience, customers who can't understand the site language start finding other alternatives over the internet. Moreover, customers don't prefer to buy from cross border ecommerce websites due to tax rates & pricing variations.
Marketing Budget:
For any ecommerce business, digital marketing is one of the major standards. Many companies are starting to turn to digital marketing & social media to enhance ad spending. The price of virtual advertising space & clicks is effectively rising. But this can be very expensive for startups & medium-sized online retailers which is one of the biggest challenges that ecommerce businesses face.
Data Privacy:
Last but not the least, today's consumers are aware of the necessity & importance of protecting their sensitive data. Apple & other manufacturers are constantly focusing on everything to protect all your data and information from third parties. Unfortunately, data privacy is still one of the major concerns in the centralized e-commerce field.
Importance of Web3 for eCommerce Businesses
Web3 & other associated technologies such as crypto ecommerce and NFTs are deeply influencing the entire e-commerce industry. No doubt, this trend will continue in the upcoming future. This is because use cases of blockchain are consistently expanding as any business & scopes are rapidly innovating. Let's talk about some key benefits of web3 e-commerce for businesses.
Ecommerce Crypto Wallet or Decentralized Marketplace:
In Web3 eCommerce, businesses can easily accept cryptos besides other conventional ones. This means you can utilize your cryptocurrencies for making payments on several e-commerce platforms like WooCommerce, Shopify, etc. Apart from that, web3 can make a decentralized marketplace where users are able to decide what they wish to get produced. Decentralized finance is a community-managed market consisting of freedom of exchange and complete user control.
Trustless Blockchain-based eCommerce:
Blockchain-based technology is effectively used in e-commerce for transferring transactions in a secure, safe & faster way. Blockchain enhances data encryption and peer-to-peer transaction system that enables safe and secure transactional data transfer. With blockchain ecommerce, it's expected that customers will buy online products or items from digital retailers using contract-enabled, distributed, and innovative apps. These apps are known as decentralized applications or dApps. These transactions are trustless, executable & immutable by self-executing codes known as smart contracts. This will minimize chargebacks, fraud & returns.
NFT-based Loyalty Reward Programs:
NFTs are technically used in web3 e-commerce to monetize a loyalty program. This program rewards consumers with purchase points, which can be easily redeemed for any product, bigger bonuses, or discounts. Moreover, NFTs allow many businesses to provide valuable loyalty rewards. Businesses may also issue predetermined NFT tokens to consumers instead of just offering them random points.
Customer Experiences in The Metaverse
Metaverse is one of the emerging technologies that is effectively evolving the shopping experience. As an extension and amalgamation of many other technologies like cryptocurrency, blockchain, augmented reality, virtual reality, etc, the metaverse brings limitless possibilities for e-commerce brands. Online businesses use web3 to deliver an unparalleled and real-time shopping experience to their potential customers. For instance, From accessories and clothes to furniture, AR/ VR technologies can help consumers to preview such items before they make a purchase. So, Metaverse technology enables consumers to the community with a Web3 eCommerce presence.
Accurate Authentication Process
More applications of online channels for transactions refer to more digital footprints that are tough to trace. Therefore, utilizing web3 technology will make a powerful and precise customer authentication process for multiple e-commerce organizations. Apart from that, encrypted digital identifications would further enhance management & also protect them from theft or misuse.
However, the advantages aren't limited to fast authentication. Web3 e-commerce allows warranty info to be accessed, stored, verified, and validated easily.
Applications of Blockchain In Web3 eCommerce
The web3 foundation layer is developed on blockchain leveraging the undermentioned advantages of web3 e-commerce :
Inventory Control:
By incorporating blockchain technology into retailers and inventory management that minimizes inventory items with order replacement stock and shopping carts when particular thresholds have been achieved.
Digital Ownership:
Even though store owners pay for high-quality videos and photos, along with the information, the ownership mainly belongs to the e-commerce platforms. Similarly, with blockchain technology, retailers have complete ownership of several digital assets that include product photos or videos, digital storefronts & reviews.
Loyalty Reward Programs:
Blockchain enables consumers to get loyalty reward programs & personalized offers. Blockchain technology can securely store data about purchase history and customer preferences. This effectively allows loyalty reward programs and personalized offers within blockchain networks.
Supply Chain Monitoring:
E-commerce businesses can accurately track & monitor the supply chain with the help of blockchain technology. It allows them to make sure that vendors adhere to the agreed criteria & not substitute items without any prior notice. Moreover, throughout the process, transparency is also maintained.
Warranty Management:
With blockchain technology, retailers can efficiently store all kinds of warranty information. Online retailers, manufacturers, and customers will have access to the information. This also enables warranty info to be validated, accessed & verified easily.
The Future of Web3 eCommerce
The new e-commerce standards are consistently evolving and they move toward more futuristic inventions. The success of an ecommerce business significantly depends on its capability to satisfy its potential customers. Fortunately, Web3 business ideas assure an extraordinary level of connectedness and interaction. Consequently, it also offers highly interactive, risk-free, and seamless ecommerce experiences. Let's discuss some futuristic impacts of web3 for ecommerce predicted by ecommerce development companies.
Token-gated Commerce:
When an ecommerce business operates in a decentralized manner, NFTs & dApps help customers to make them more engaged. Token-gated commerce works like a bridge between e-commerce and technologies. Future retailers will offer ownership through token-gated commerce & customer avatars to their loyal customers.
Investment in The DTC Model:
Web3 brings decentralization to any organization that develops relationships with its potential customers. More ecommerce businesses have also realized that investing in a direct-to-customer model may facilitate making direct customer relationships.
Omnichannel Marketing:
Consumers prefer to engage with more brands across too many channels. Omnichannel marketing boosts the customer retention rate up to 90% as single-channel marketing. Personalization of web3 is what may create an omnichannel marketing ideal for consumers. They experience improved personalization via AI-powered avatars. Web3 also enables top-notch personalization, which contributes to a high rate of retention.
Customer Acquisition:
Web3 will become more collaborative & less advertising-like in nature. Newer channels such as in-game advertising or streaming audio that weren't as accurate in web2 will be acquisition points for customers with the web3 ecosystem.
B2B Payments:
For instance, Shopify plus enables users to use multiple B2B strategies like custom pricing options, alongside conventional B2C features, like customizing purchasing experiences. Web3 is already democratizing the way customers communicate with their brands.
The Supply Chain:
Logistics, supply chains, and shipping face revolutionary changes with blockchain networks. Blockchain also promises to boost the supply chain by enhancing transparency and it also reduces logistic costs. For instance, you may make shared food system records to make supply-chain transparency. Apart from that, you can monitor or track freshness for ensuring that customers will be aware of it.
Customers Engagement:
Customers may become comfortable with crypto-based incentives and NFTs. Many web3 games have already started to give NFT- or crypto-based incentives for encouraging platform participation. For instance, UniX enables gamers to earn more points by engaging in virtual reality games. On the other hand, many non-gaming brands have started involving in gaming by providing NFT collectibles for encouraging players.
Are You In Search of Ingenious eCommerce Solutions?
We at Sphinx offer custom ecommerce development services to drive business growth with digital commerce transformation.
Final Words
As the decentralized version, web3 allows the e-commerce industry to deliver unparalleled and real-time shopping experiences to customers. Moreover, omnichannel strategies will be more efficient as many brands link all their operational systems and sales channels to provide seamless e-commerce solutions. If you want to know more about web3-based ecommerce solutions, talk to our professionals.
About the Creator
Sphinx Solutions is a software development company helping brands thrive by offering software solutions from industry specialized developers and experts.
Reader insights
Be the first to share your insights about this piece.
Add your insights