Vocal Subscribe: Say Hello to Your Audience!
With the introduction of Subscribers to the Vocal platform, we take a moment to evaluate its feature, how it will benefit creators and audiences, and raise certain questions on its implementation and its future development.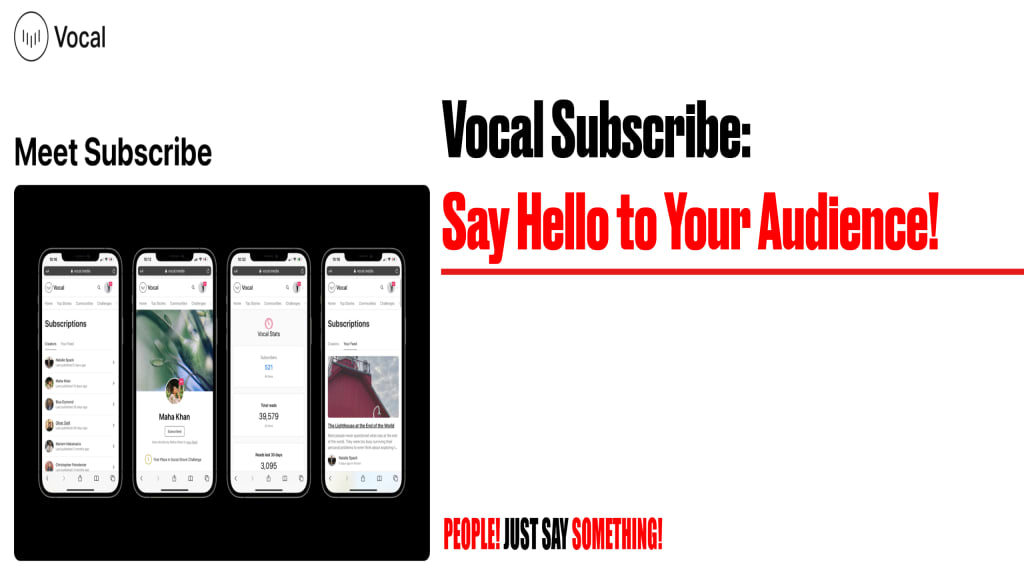 Since we joined the Vocal platform a little over a year ago, the platform has continued to develop its design, features, and functions available for both creators and their audiences. The Vocal Team have gone to great lengths to listen to their users, and despite writing on the platform for a short amount of time, we have had multiple opportunities to have our voices heard and help to shape Vocal into a platform that provides us with the tools necessary to continue to create. From surveys to reward-based interactions, it's clear that the creators on Vocal have a base understanding of what they need as creators, and the Vocal team are quick to respond to their suggestions. I am thus delighted to share my evaluation of arguably one of the most sought-after features on the platform – allowing audiences to subscribe to their favourite creators.
What is a subscriber model?

In its simplest form, a subscriber model is a function that many platforms offer for their audiences to follow, or subscribe, to others on the site to receive their content directly on their feeds, be it paid or unpaid. This mode of user interaction has transformed the way creators interact with their audiences. Before this feature, creators had to find various methods of delivering their services to their audiences, which took valuable time off their creating process. Through subscription services, the creators are allowed to continue doing what they do, track user interference, and, if wanted, develop on this function to better their interaction with new audiences and boost profits. This feature alone has allowed freelance creatives a base for a well-structured, constantly updated audience-creator relationship. Now that Vocal has introduced a subscription service, the creator's stance on the platform has changed from a 'creator – work success' structure to a 'creator – audience' relationship, which in my opinion serves as a more beneficial method for creating content.
How will the Subscription function work with already implemented Vocal Features?
Most of us know the various sites that offer you to subscribe to others on their platform. YouTube's subscription system provides different benefits than a platform like Pinterest, as each offers its users drastically different services and benefits. Therefore, I would like to point out some already implemented features on Vocal that should benefit our experience on the platform.
Top stories

The most prominent feature on Vocal is the chance to have your story chosen as a 'Top Story' by the Vocal Team. This provides your story valuable time on the site's homepage as well as a bonus and a chance to be shared on the Vocal social media accounts. Now that audiences can subscribe, this will not only gain views and get your account some recognition; it will also provide the chance to gather a wider, recurring audience. The more top stories a creator will get, the more time on the platforms most viewed page will their content be shown. Also, suppose the story gets posted on their social media. In that case, your content has a chance to reach audiences outside of the website, which can bring in organic viewers, which could lead to Vocal gaining a bigger audience on their platform, which will benefit all its creators.
Creators we're Loving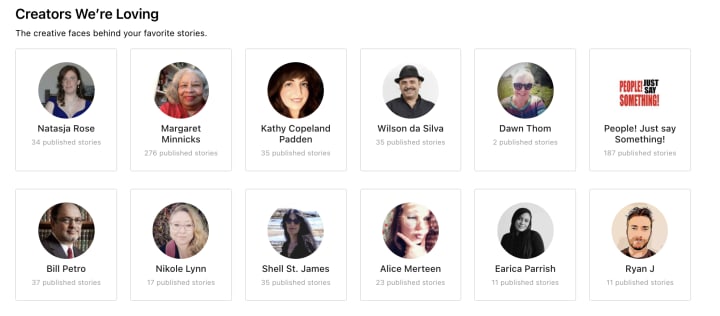 One of our favourite features on Vocal is their 'Creator's we're Loving' feature, where Vocal provides twelve creators that the platform wants to share with a larger audience. These twelve creators change as the day goes on, providing a fresh handful of creators throughout the week. Before subscriptions were allowed, this was a great tool to get your name out there and gain some valuable views. Now that subscriptions are enabled, not only will this gain new subscribers from others on the platform, but it will also be an excellent place for new visitors to the site to find creators to begin their journey on Vocal. The more the platform shares your account, the more chance you can gain the audience traffic we creators aim for.
Communities' top creators

When visiting a community on Vocal, you are presented with the initial description of what to expect in the community alongside its top creators. We are pleased to say that we are in the top five creators in the FYI community, so thank you for supporting us! Before the update, it is unknown how beneficial this was to creators. However, now that you can subscribe to creators, and many will be looking to follow the top creators of each community, being placed in these positions has become invaluable. To have this kind of recognition is bound to drive traffic to the creator's platform and serve as a stamp of honour by the Vocal Team to state that these creators serve their communities well with their work.
Questions and Queries on the implementation of the Subscription service on Vocal
As expected with any new features, not everything seems to fit as expected, so there are a few questions that we would like to ask.
As Vocal has implemented certain bonuses for reaching specific milestones, will creators receive bonuses by reaching a certain number of subscribers?
How can Vocal make its subscription service original?
Currently, the subscribers feed is not on the homepage and is awkwardly accessible; will our feed be merged with the current homepage?
Will Vocal include subscription content on their weekly email update, and if so, will this be tailored to each member?
Will the subscription numbers of creators become visible on our profiles?
Will there be rewards for top subscribed creators – similar to the YouTube Play button?
Will Vocal implement leader boards to its platform? And if so, what will be tallied? Subscribers? The number of Top Stories? Views?
The future
The subscriber feature will surely change the platform for the better. It will not only motivate creators to seek more than just views, but the ability to form strong audience relations that will enable us to share our work with our readers – but there is much more to come.
With the release of this new feature, Vocal quickly announced that the subscription feature is not the end. Soon, creators will be able to provide paid subscription services for content only accessible to audiences willing to pay for the subscription. We have seen this type of structure before, such as on Patreon and Memberful, so we are eager to learn how Vocal will implement this on the platform.
One thing is for sure, the Vocal platform is not done developing their services, and the Vocal Team have new, exciting features up their sleeves. Until then, we will continue to create content on the platform and await new things to come. It is an exciting time to be present on Vocal.
____________________________________________________
Thank you for taking the time to read our blog! If you enjoyed the content or learnt something along the way, please consider leaving a '<3' below and Subscribe for updates on our future stories! We would appreciate it if you could leave a small tip to support us in our mission to provide free, weekly infotainment for you to enjoy!
If you wish to begin your Vocal journey, join the Vocal+ programme to get more for your work! Earn more per view, withdraw your profits quicker, and gain access to Vocal+ Challenges with prizes to be won every week!
Use the link below and begin your Blogging career today!
https://vocal.media/vocal-plus?via=peoplejss
You're the reason we can continue doing what we love and making all this possible. We are forever grateful for your support!
product review
About the author
Quirky articles on various subjects to pass the time! Don't stay quiet people, Just say something!
Facebook Page: https://www.facebook.com/PeopleJSS
Twitter: https://twitter.com/PeopleJSS
Reader insights
Be the first to share your insights about this piece.
Add your insights