Vocal.Media Review 2.0
Updated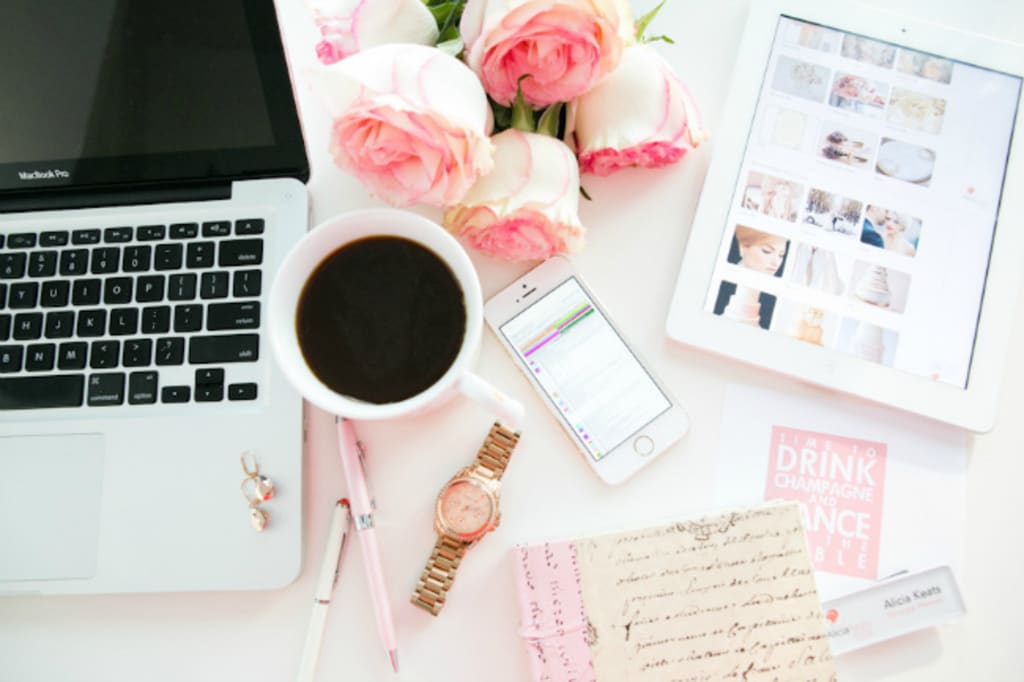 Wow...
I just want to acknowledge how fast 6 months flies by. I know it's probably cliche to say but "It feels like yesterday". A lot has changed since my last review and I'm excited for anyone aspiring to join vocal to read what I have to say. I am not sponsored nor paid by vocal to give this review, I solely am doing this because I see a lot of people saying this platform is a scam. I just wanted to throw that out there, because I want you all to know you can trust my opinion with this review.
If you have not read my last review, here is the link so you can do so before this one if you want!
First things first
6 months ago I made a review after being with vocal for a little over a year.
I had 11,978 reads,
I had earned $52.35,
I had $19.35 in my current balance,
and only one withdrawal.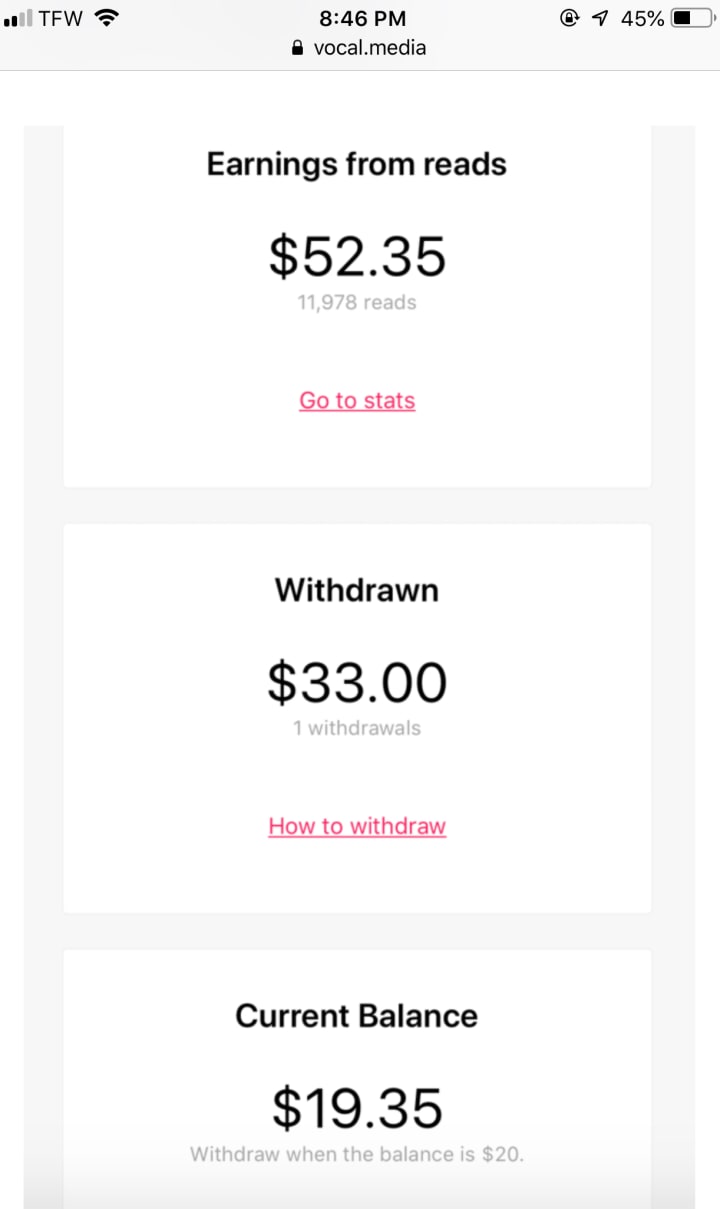 I know I mentioned in my last review that I knew I needed to spend more time investing in my writing more, in hopes to increase my earnings. With that being a goal of mine, I set out to do it, and I would say I'm satisfied with the work I put in these last 6 months. This will be the 33rd blog published on public profile. I have really tried my hardest to sit down and make myself write so I can continue to keep investing in what I enjoy doing, writing.
In these last 6 months I have lost an uncle, grandfather, friends, a job and moved. A few of my blog/stories were formed in icu rooms, lonely nights, and spare time I had within my single mom life. I have also adopted a new way of living becoming vegan. I am excited to share my life, hardships, random advice, family, and recipes with you all.
I am a visual person so I have made sure to take a lot of screenshots showing my progress and earnings. Below is my documentation of my earning stats as the months went on. After you scroll and review, then we can talk about the juicy parts of my final thoughts. Okurrr?? Okurrr. (Yes I just used a Cardi b reference)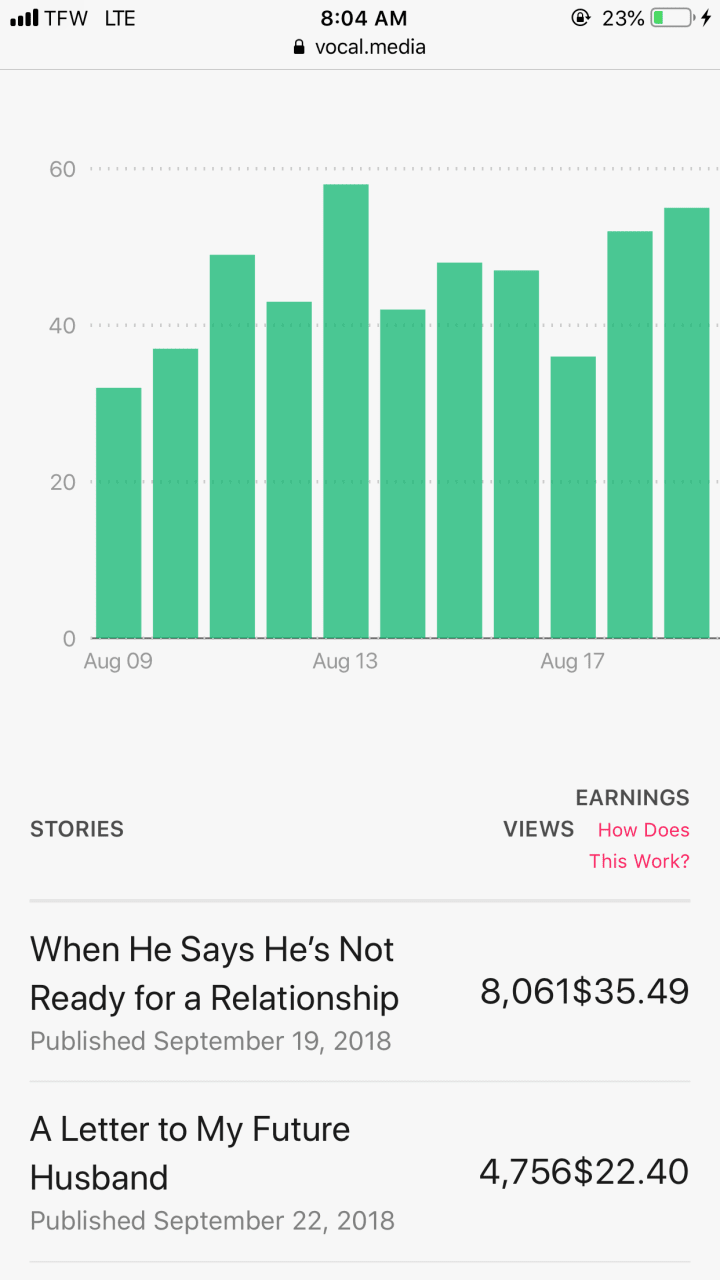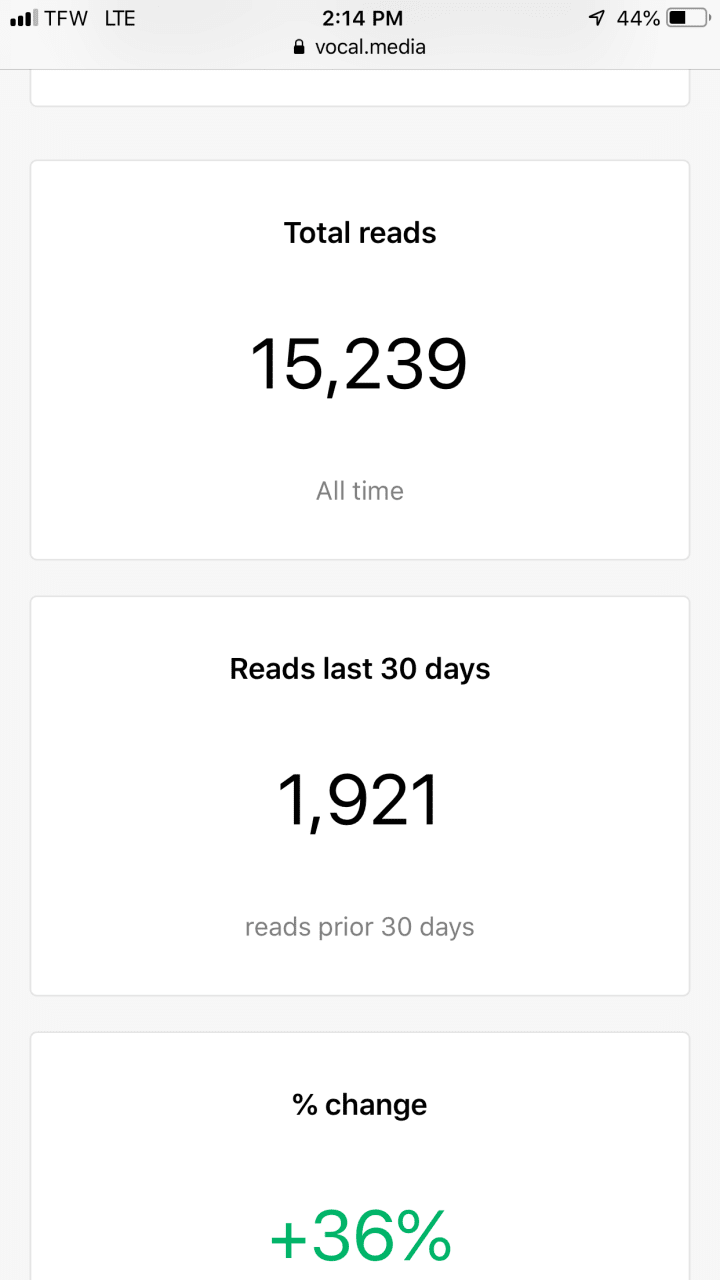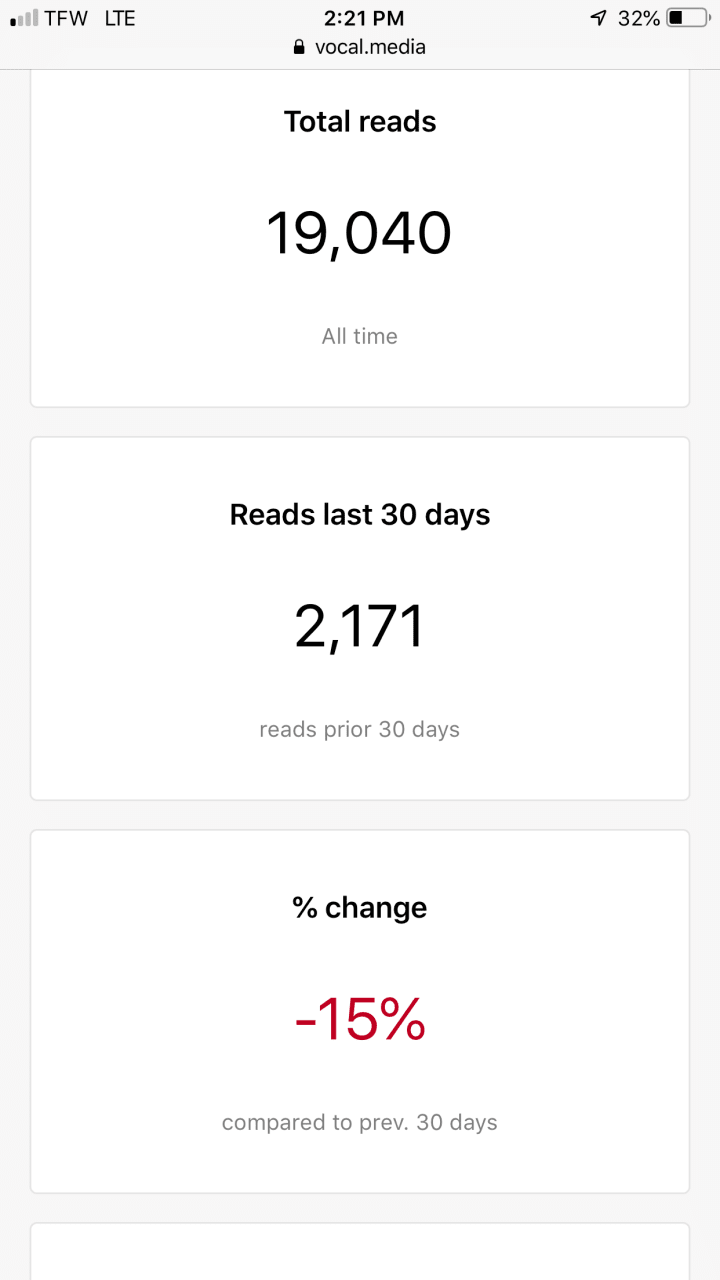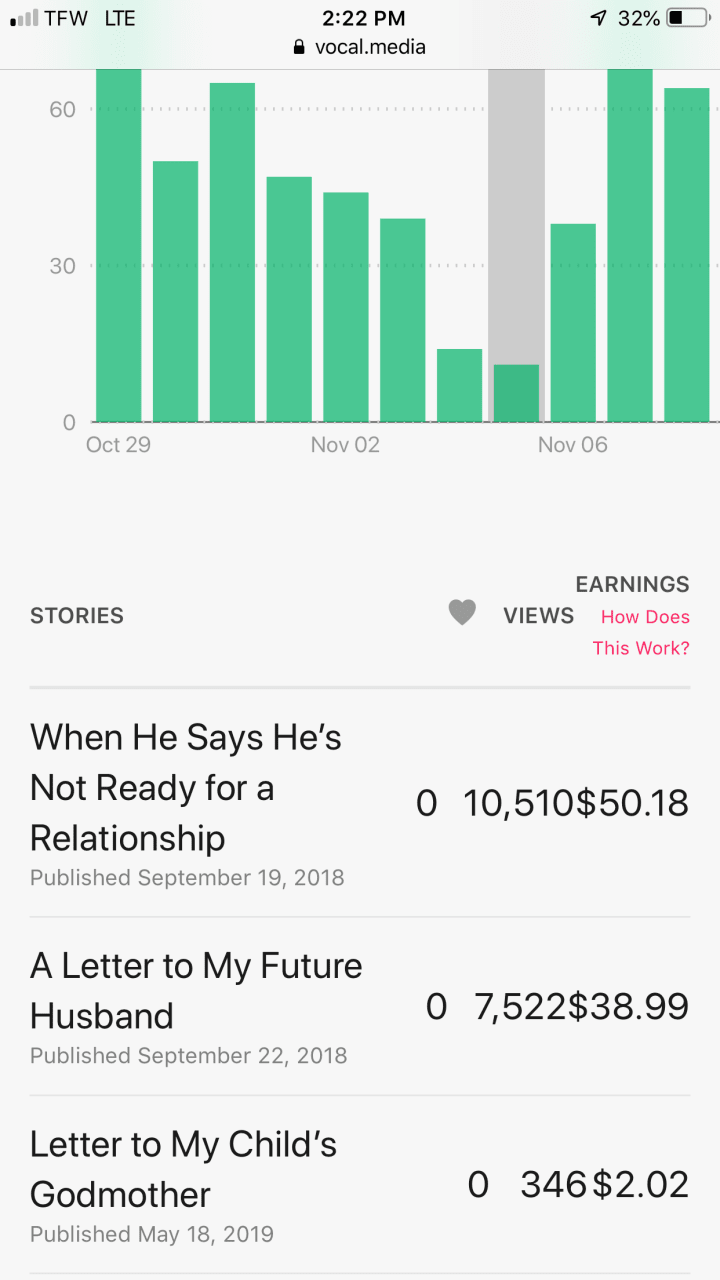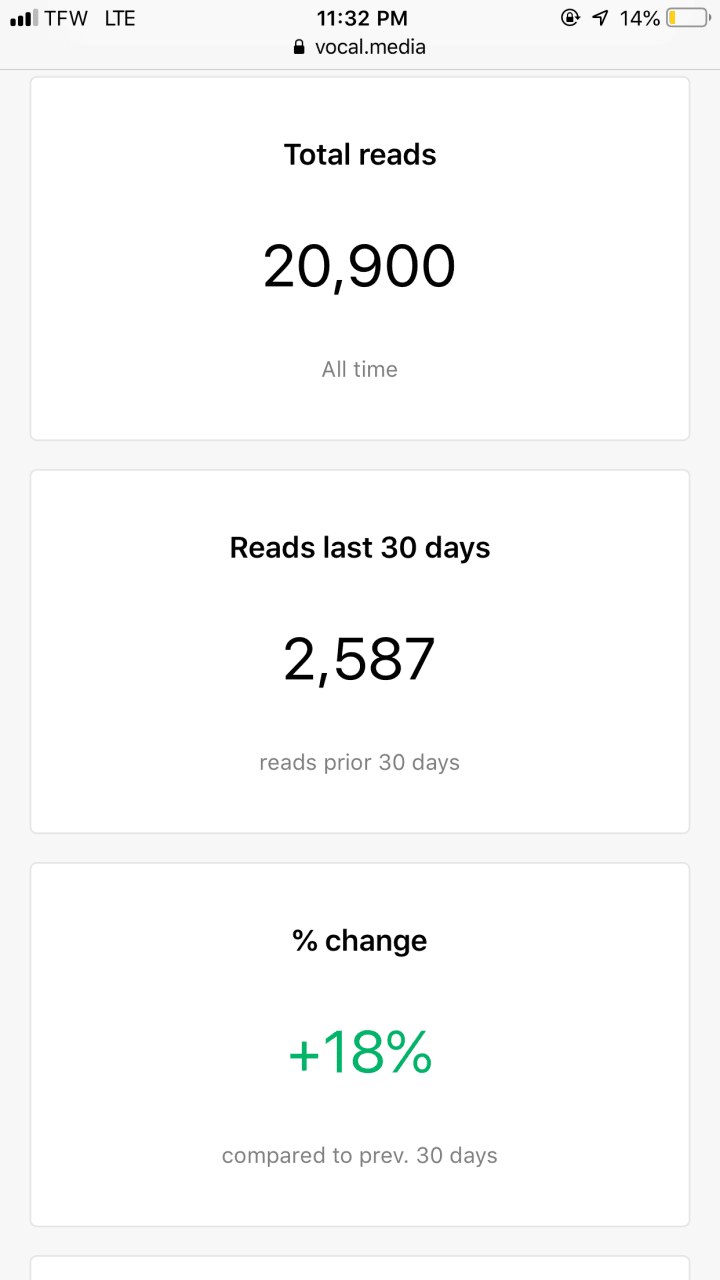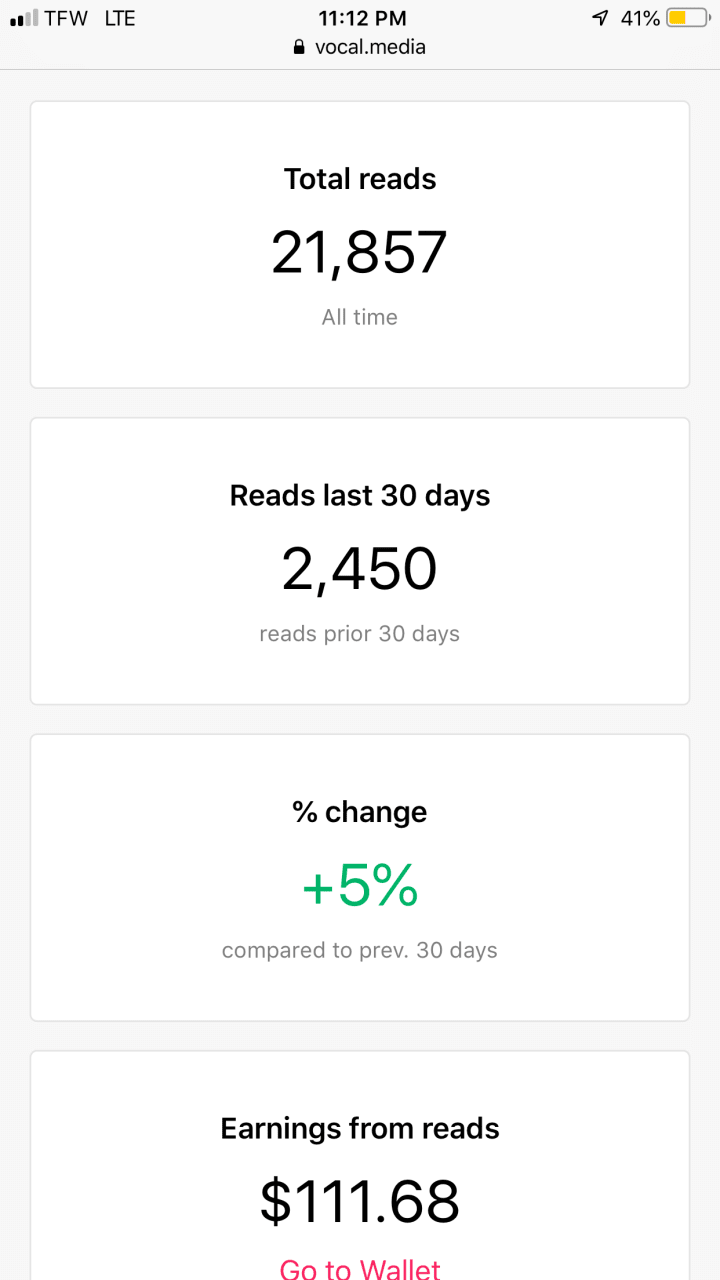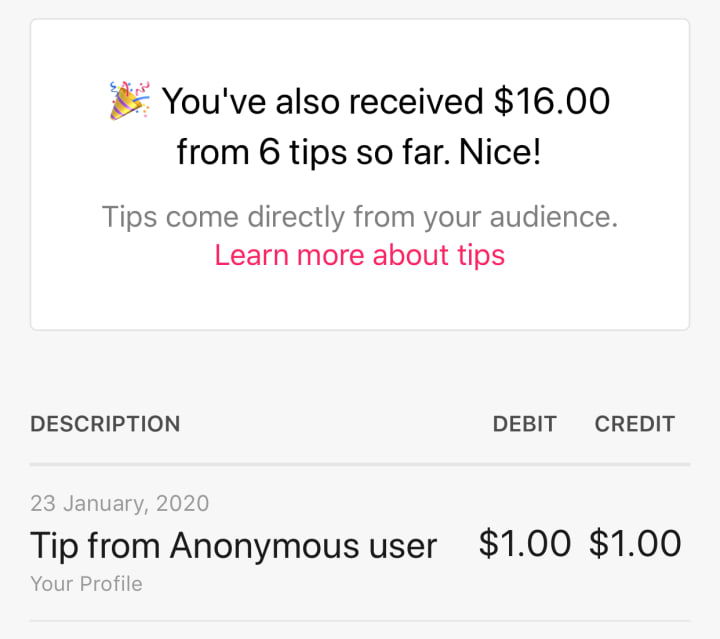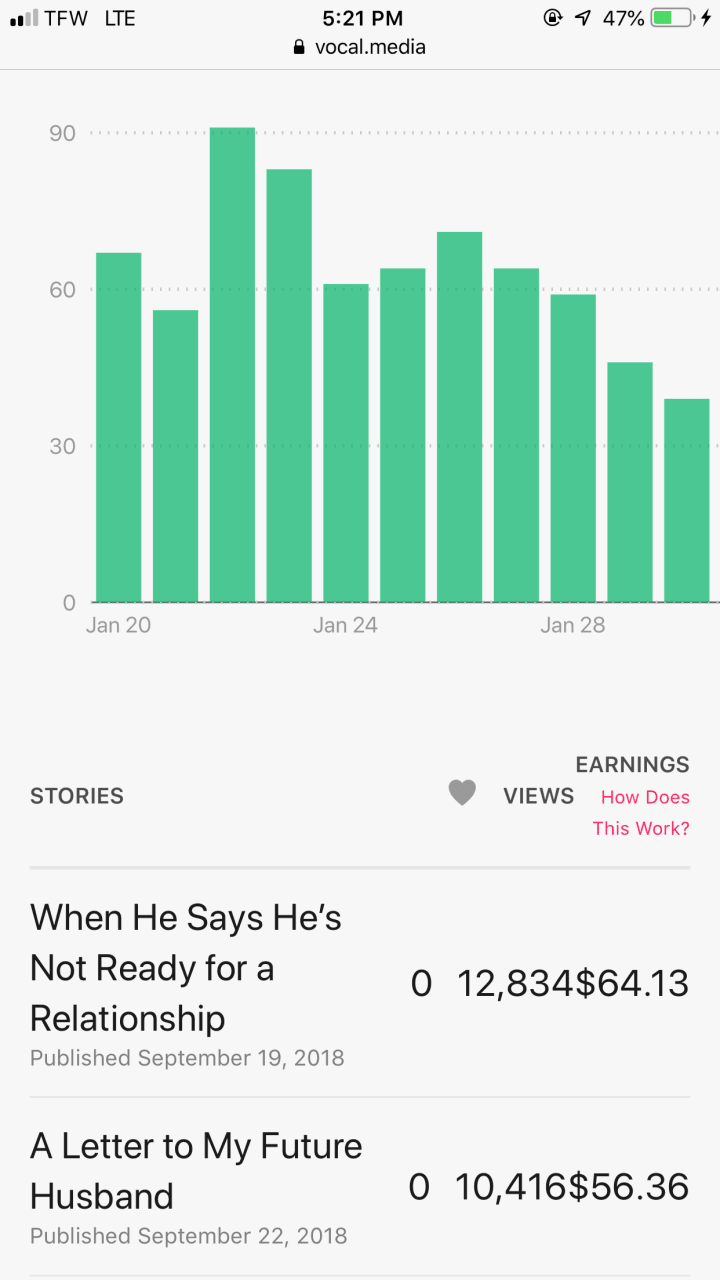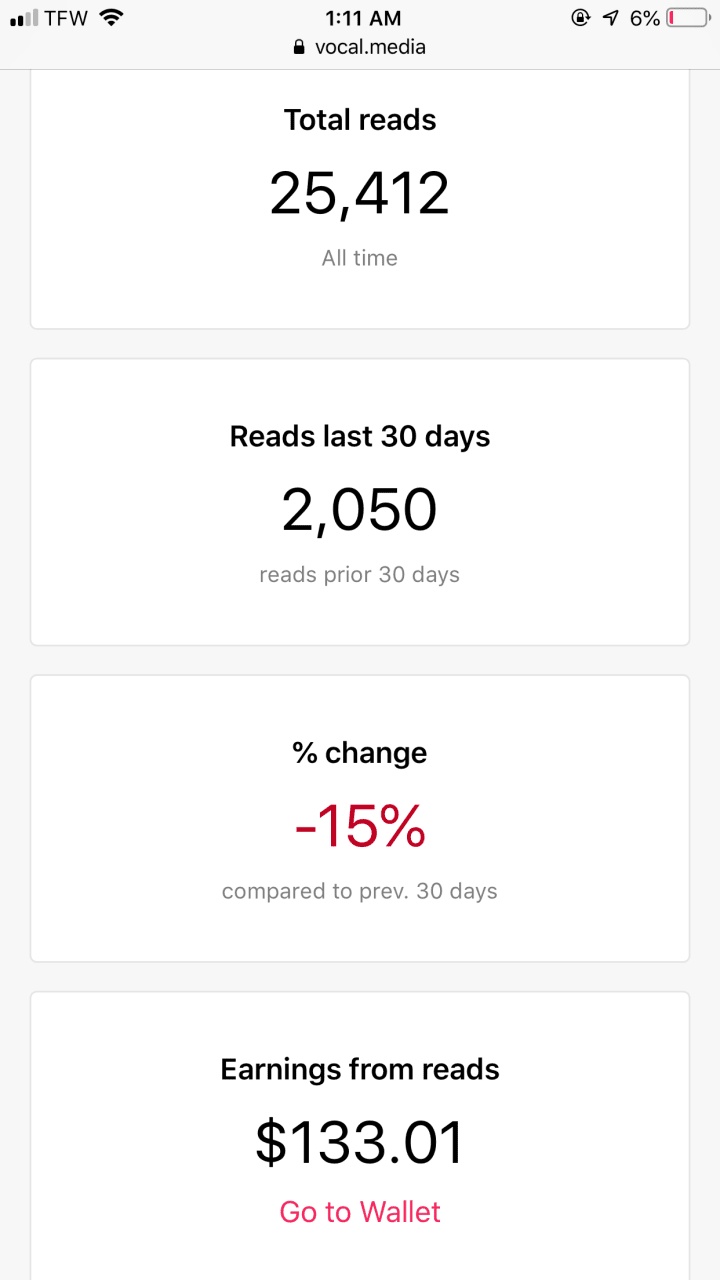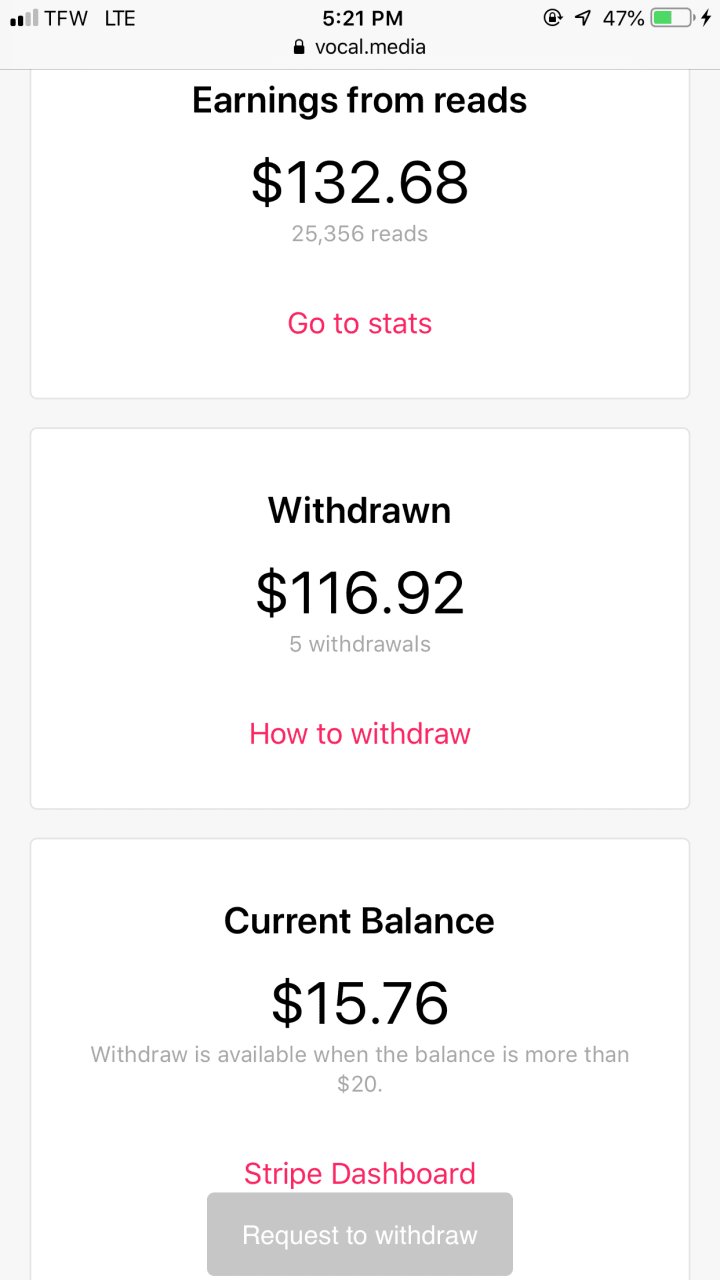 As you can see, I went from 1 withdrawal to 5, my views went from 11,978 to 25,412, and my earnings went from $52.35 to $132.68. I also went from $14 in tips to $16.
My views in 6 months went up by 13,434 which is roughly 2,239 readers each month. I will say this is pretty fascinating to me because vocal at the moment of this review, hasn't published a follow button. I don't know, my mind is blown by that. With that said thank you all for supporting me and reading. Each view means a lot to me, they brighten my day adding so much happiness and making me enjoy what I'm doing.
My earnings in 6 months went from $52.35 to $132.68, which means I earned $80.33. I am a vocal plus member which means I earn more than just someone signed up for free. I get paid 1 cent every two clicks on a link to my blog/story, verses 1 cent on every 4 (I think correct me if I'm wrong). And since we are talking about earnings, yes I have been paid 5 times to my bank account, it's real money, and the deposit process took no more than 5 days to my bank. I have never had a problem with vocal and the depositing of my money.
And last but not least, TIPS. I guess I can't complain much because everyone has the right to not support a person in what they're doing. We can't relay on other for our success and it's just an example that we need to create it for ourself. I just want to thank all the people who did tip! Giving to a complete stranger supporting me and my stories is above and beyond, I'm forever greatful for giving humans as yourself. Tips are definitely wanted because it could help me create and go places getting more stories and adventures to share with everyone. Because let's be honest, 2 cent every other view isn't cutting it.
Okay so the part everyone has been waiting for and wondering. *Drumroll
What is your least favorite thing about Vocal.media?
I would say my least favorite thing is still the same as my last review. I don't understand how you could have a platform name as powerful as "vocal" but you refuse to allow creators express religious beliefs. I feel as though it is healthy to get those feelings out being vocal about that stuff. Its 2020 and you're able to talk about your beliefs pretty much everywhere and I feel as vocal should evolve in this aspect because it's definitely a major downfall.
What is your favorite thing about Vocal.media?
My favorite thing about Vocal.media hands down is that they're real, genuine, and hardworking people behind the scenes. They really care about the creators and shinning a light on you giving you the confidence boost. They want everyone to succeed and that really shows once you build a relationship with them. It's been amazing watching them grow the way they have, but also being apart of it.
What is something new and excited that has happened with Vocal.media in the last 6 months?
Vocal has grown so much and it shows because they just started challenges with cash prizes $500 - $5000. They give you a topic to write about, set a time frame, and then it gets judged. Here is a link to read all about the challenges! I will also link the blogs I enterd in some of the challenges. My goal for my next 6 month review would be to have succeeded in winning first place in at least one challenge!
Entry into Mobile moments challenge:
Entry into the Behind the beat challenge:
Would I recommend vocal?
Yes, I think vocal is growing more and more each day, they have created a safe environment for people to express themselves, and the people behind vocal are very much envolved in the creators content.
•I'd love to get more connect with my readers! Follow me on my socials•
Instagram: @arleemaxwell
TickTock: @arleemaxwell
YouTube: @arleeanna
♥️🥰Like what you read? Leave a tip if you're feeling extra loving to this creator today🥰 ♥️