Vocal; inspired by you
Why I Love Vocal
I started writing on Vocal late February of 2021 after seeing an advertisement for, 'The Little Black Book' challenge. After three months and 30 stories, I have fallen completely in love with being a creator on Vocal. Vocal has exceeded my wildest dreams in all aspects and yet I continue to be amazed.
We can start with the basic things that I love about Vocal.
They give you cash prizes which is great. I could pretend that I write purely out of love for literature, but that would be a lie; I also like the money. Vocal is set up to give both a steady stream of pennies per views, as well as bonus incentives. The platform offers any number of ways to earn additional money, like after my fifth published story, I got a $5 bonus and then after my 10th published story, I got a $10 bonus. There is also a bonus for being a top story or if you get tipped by readers. I've even received a three months free subscription from Vocal just for being active on the platform.
The platform also inspires and nurtures the growth of new writers, while connecting them with other creators. With Vocal consistently creating challenges, it offers new writing prompts which sparks creative ideas and pulls you out of your comfort zone. Half the stories that I have published would've never seen the light of day had it not been for the Challenges. It inspires me to try different writing styles and has improved my overall writing skills.
Above all that, the biggest thing that I have come to love about this platform is that those in charge actually listen.
Three months ago I posted a story entitled, '5 Features I Hope Vocal Adds.' Upon posting this article I got a couple of views and a tip from Vocal themselves. (Thanks Vocal!)
End of story; or so I thought.
Towards the end of May, I got an email from Vocal thanking me for my use of the platform and for the suggestions that I made. In the article, I recommended adding a few features including the ability to follow writers, leave comments, and a community for nonfiction writers.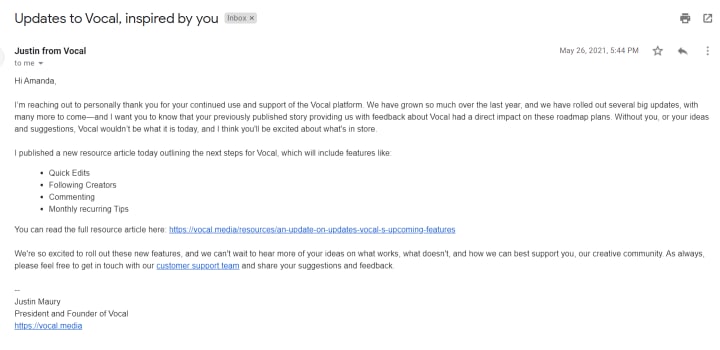 They did all of it!
As stated in the email I received from Vocal, "I want you to know that your previously published story providing us with feedback about Vocal had a direct impact on these roadmap plans." Although this did give me a big head, I am not egotistical enough to believe that they took my article to heart and my suggestion alone was all it took. Still, using my suggestions the Vocal team updated the platform; they listened.
When was the last time you made a suggestion to a company and they actually listened to what you said? Never; not until Vocal.
Recently, Justin posted the story, "An Update on Updates: Vocal's Upcoming Features", explaining the new features of quick edits, following creators, commenting, and monthly recurring tips. All of these features are steered towards making the platform as easy to use as possible, while also providing incentive to become fully involved in the community. Everyday Vocal finds new ways to connect readers, creators, and the community at large.
Since joining Vocal I have seen FYI, Confessions, Pride, and Fiction, added as communities. I joined Vocal in celebrating 20,000 members. I've seen over $100K in prize money given out to challenge winners. In the short time I've been a creator, my writing, confidence, and creativity has improved. I will never run out of reasons to praise Vocal. Simply put, I'm glad I became a creator on the platform.
Hey guys, thanks for reading! If you enjoyed this story, maybe let me know by sending a like. Tips are appreciated as well!