Top Pros and Cons Of IT Staff Augmentation Services
IT Staff Augmentation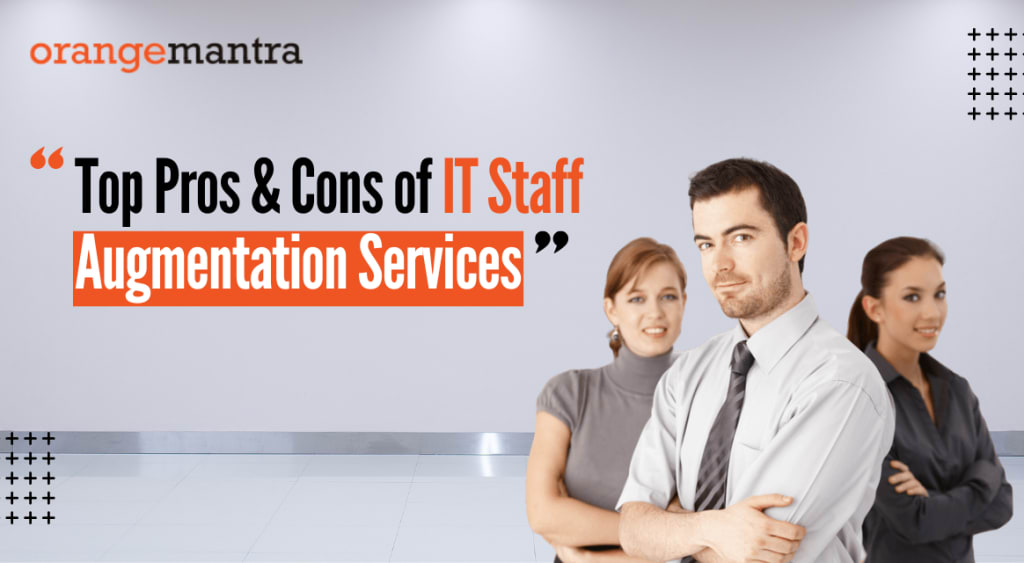 Are you running a growing IT organization? It might be the case that you are managing all the tech team in-house. At the same time, you focus on devoting complete time and efforts to several long-term projects and liaison between different departments & employees. Moreover, you are making extra efforts to meet the deadlines and develop projects within budget.
In between all this humdrum, you also deal with managing your team and assigning particular projects to respective members. However, sometimes strict deadlines land you in trouble due to not having the required resource at the present moment. At such times, IT staff augmentation services help you hire reliable resources temporarily and majorly to focus on the current development project.
For quite some time now, staff augmentation is a proven and time-tested external resource hiring model to supplement the in-house team. And helping to meet riding deadlines to develop and deploy projects cost-effectively.
Although, the contractual IT outsourcing resource hiring model has several benefits and the flip side, just like any other solution. So, it is imperative to look at both pros and cons of staff augmentation to decide better.
What is Staff Augmentation?
Staff Augmentation is a resource capacity-increasing model for companies needing on-demand tech talent temporarily and cost-effectively. With this model, get high-quality professional expertise of talent on a contractual basis and meet project deadlines with ease. This is a short-term resource engagement model that fills in my leading and top IT staff augmentation companies in India and is paid on an hourly basis.
Over the years, staff augmentation has grown along with global staffing sources and meeting the instant talent requirements. It is a cost-effective way to address the current talent gap, fulfill the required position, and speed up the software development process. Moreover, augmentation is different from Managed IT services in terms of cost, commitment, productivity, control, and ownership.
Major Pros
Staff augmentation offers various advantages to enterprises while fulfilling the talent gap.
•Work with potential workers: With staff augmentation, try potential workers having the same industry-level experience to turn your short-term project into a long-term. Such members fit into any IT sector work environment and perform to an optimum level.
•Scalable resource option: The pandemic has demonstrated businesses to adopt the path of agility. It allows businesses to scale up and down the resources depending on the project requirement. And staff augmentation offers the scalability to hire resources contractually and then end the same accordingly.
•Less training time & cost: When you onboard augmented staff for a short-term project, no need to spend on a hefty training process. Such is the benefit of hiring staff augmentation members who are trained experts and right away start working on the project.
•Ensure expert assistance: Hire a specific expert for the project instead of availing the service on a full-time basis. Temporary recruitment of expert members helps you know about the latest technologies, tools, and other learnings.
Major Cons
Just like every coin has two sides, similarly, every service offers one positive and a negative side. You already become aware of the benefits of staff augmentation services. Now, focus on a few cons depending on your requirement.
1. Might incur long-term cost: Staff augmentation offers you on-demand resource availability and expert assistance. But sometimes your longer project requirement needs more collaboration and a time-consuming commitment of resources. During such instances, hourly basis paying staff augmentation might be costly for you.
2. Time-consuming on-boarding: Sometimes, onboarding takes much time more than expected. However, it depends on your clarity on the resource and speedy way to hire the same.
3. Need prior knowledge training: Any new member of your team needs prior knowledge training regarding a particular project. Few companies find this knowledge transfer a roadblock in meeting the project deadline. However, any new member does require knowledge of the project to catch up with the speed.
Concluding Thoughts
Staff augmentation is a result-oriented solution for short-term software development projects. It helps keep the cost down, adding flexibility, improving development, and enriching productivity. Overall, the augmentation resource hiring model helps you at the time of facing the talent gap and hire resources instantly. So, fulfill your vacation position temporarily by connecting with an ideal staff augmentation partner like OrangeMantra.
Reader insights
Be the first to share your insights about this piece.
Add your insights