Top Online Transcription Jobs For Beginners (Home-Based)
How Beginners Can Start Career In Transcription. Best Transcription Online Sites For Beginner's
If you are looking to get a comfortable home-based job to start earning online then a Transcription job is the best option. Because it does not require expertise in any specific skills. The transcription job is all about listening to the audio recording and converting it to text. If you have good typing speed and strong listening skills you can start a transcription career online and earn a decent amount of money.
Transcription work is for anyone who is struggling to find a side hustle earn extra cash for the pocket. Once you started and get some experience you can make it as a full-time career and earn more than from your office job. The best part is that you will be your own boss; you will only work if you want to; there will be no pressure on you; as a freelancer, you will be able to set your own working hours.
If you have some experience or certification in the area of transcription then you should not have fear of being jobless. Because there are thousands of online transcription companies that allow beginners to get paid and transcribe.
Some companies hire only experienced or the ones who have certifications in the area of transcription, but obviously, these companies would pay thousands of dollars per month if you work on a consistent basis.
Once you get experience then you should apply to these companies to start your new transcription career. The following are some companies that always looking for newbies to be a part of their transcriptionist freelancers.
Top 7 Online Transcription Jobs For Beginners
If you've just heard about the transcription work and want to see if it's right for you, go ahead and apply. You will also find work in the following companies because they are always searching for a new transcriptionist.
Rev
Rev is the leading transcription company in the world. Rev is always open for new beginners who want to start a career in transcription. You can apply for transcription, translation, and video captioning.
There are thousands of files available, you have to select the file you want to transcribe. You must pass the test by transcribing an audio file without any grammatical, punctuation, and spelling mistakes.
Rev Company allows transcriptionist and captioners freelancers from the following countries only. So if you are based in one of these go ahead and apply.

Rev pays $3 to $11 per hour audio transcription via PayPal weekly basis every Monday. Once you get experience in transcription, then there is an opportunity to move up to the video captioner which makes between $5 and $11 per audio transcribe.
Transcription Wing
Transcription Wings provide services in translations, editing, close captioning, and transcription. They are always looking for new beginner transcription in general, legal and medical. This company pays more than similar other transcription companies to beginners. You must pass an assessment test to get an online job in transcription wings as a beginner.
Transcription Wings pays $9 per hour ($0.6 per minute) for audio transcriptions. In comparison to other similar companies, this is a very decent amount.
TigerFish
TigerFish is one of the oldest online transcription websites. TigerFish is hiring transcriptionist freelancers from the US only. You must read their 11-page instructions and transcribe three audio files without making any errors to ensure that you understand their guidelines.
The design of the TigerFsih website is old and not too user-friendly as you can see in the screenshot.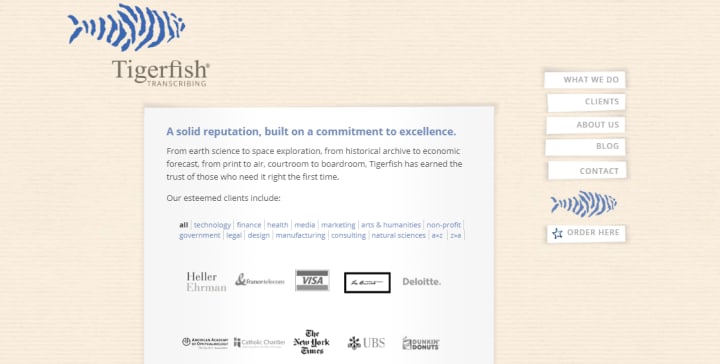 TigerFish pay beginners around $5 to $10 per hour audio transcribe. The experienced transcriptionist company pays about $15 per audio transcribe.
TranscribeMe
TranscribeMe is a transcription-based company founded in 2011. The Company hires new beginners but unfortunately, the work is not always available. To get an online transcription job with TranscribeMe you must pass the test, if you fail It's OK. You can try again, but note that you have limited attempts to pass the test.
TranscribeMe website is so user-friendly and eye-catchy like you can see here.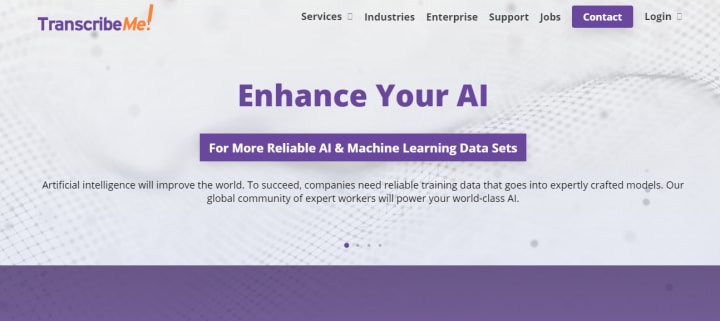 TranscribeMe pays $15 per hour for audio transcriptions; the best part is that after you gain experience and show that you can provide high-quality results, you can make more than $15.
Dictate Express
Dictate Express always provides online transcription jobs for beginners, but first, you must pass four tests In:
spellings, coma use, confusing sentences, and audio transcription.
Before you begin, carefully read the instructions for each test. To go on to the next test, you must pass the previous one.
The following are the requirement while working with Dictate Express
High-Speed Internet Connection
Strong Communication Skills
MS Word 2003 or later
Window 7 or later
Minimum Transcribe 45 Minute per day
Dictate Express Pay $9 per hour audio transcribe. You would potentially make $7 a day if you transcribe at least 45 minutes of audio.
GoTranscript
GoTranscript is a transcription-based company founded in 2006 and since then they transcribed more than 15 million audio/video minutes. GoTranscript always offers online transcription work for beginners to become a part of their transcriptionist team.
The company hire newbie and experienced in the area of subtitling, captioning, Translation, audio/video transcriptionist. Thousands of works are available so you can choose what you like to transcribe.
Gotranscript pays $0.6 per minute for audio and video transcription. As a result, one hour of video/audio transcriptions can earn easily $6. This company pays less than most similar companies, but the best part is that their website is user-friendly and work is available at any time.
Daily Transcription
Daily Transcription employs new freelancers in the area of legal transcription, academic and market research transcription, close captioning, subtitling, and translators. The company hires translators in more than 30 languages including Japanese, Spanish, and English, etc.
Unfortunately, the company only hires freelancers from the USA and Canada only. If you are based in one of the countries, then you should apply here instead of looking for other companies. Because this company is paying more than Rev, TranscribeMe, Scribie, and many more.
Daily Transcription pay around $0.75 to $0.85 per audio minute, (which is greater than other similar companies like rev, Transcribeme, etc. According to their website that top transcriptionist makes anywhere from $250 to $950 per week. This is obviously great earning.
Conclusion
Transcribing career includes listening to the audio/video recording and then typing out what you hear word-by-word accurately. There are thousands of online transcription jobs for beginners, but nearly all companies require you to take an exam to ensure that you understand their transcription work guidelines.
Once you get a job in any transcription-based company the following are the pros and cons of that job.
Pros
Home-based comfortable job
Flexible hours, you can schedule your own working hours depending on your availability.
Decent Earning per audio transcribed
Cons
As transcription firms pay you hundreds of dollars a month, there must be certain difficulties in transcription; it is not as simple as it looks.
Some of the audio has poor recording, background noises and it became difficult to transcribe.
Some terminology in legal and medical transcription may be new to you, and searching for the right terminology can take a long time.
Since all transcription companies are too focused on accuracy (English Grammar, Punctuation, Spellings), if you make these mistakes in your transcribed file, you may be terminated.
So to become a transcriptionist you must have expertise in English Grammar, Spellings, Punctuations, Writing, Computer Skills, and Time management.
Thanks For Reading Sharing is Caring, Do Share It.
Read More Similar Articles Here.
Get Paid To Transcribe Top 10 Transcription Companies Online
Get Paid To Chat Online 6 Trick To Earn Money On Chat