Top Insurance Policies You Need After Retirement
Choosing the right insurance policy is vital to ensuring a comfortable retirement. Life insurance companies can help you know your risks and coverage options.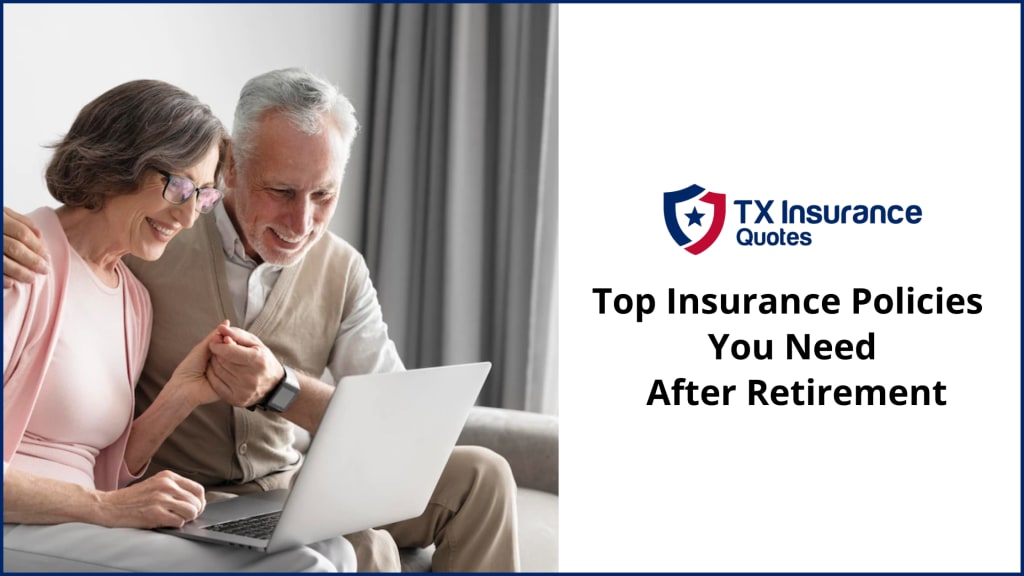 Retirement is a time of transition when many changes occur. Senior citizens end up with new living situations, new health needs, and new financial circumstances. Your kids are self-sufficient, and the house is paid off. But do you need as much life insurance now that you're retired?
Yes, old policies now might not make sense, but you still need to be protected. You must consider your future insurability and how to pay for long-term care. There are plenty of exceptions, but generally, these are the types of insurance policies you should have in retirement.
Life insurance companies will help you determine the retirement plan policy best suits your needs. The life insurance company will consider your age, health, and financial situation when crafting a policy for you.
Do You Need Life Insurance After Retirement?
Although life insurance is primarily designed to compensate for lost wages, some individuals may wish to maintain their coverage. It is essential to leave a legacy of taking care of final expenses.
Most non-spousal beneficiaries who have an individual retirement account need to cash out the account within ten years of the policyholder's death. This can create a substantial tax burden for the beneficiary, and life insurance can help alleviate this issue.
Life insurance works by creating a contract between an insurer and the policyholder. It can also be used to pay off debt, leave an inheritance or provide for a spouse in the event a pension doesn't include survivor benefits. It also offers viable benefits that may be utilized for a terminal illness or long-term care.
Most Important Policies for Seniors
Medical Insurance
The first type of insurance seniors should have is medical insurance. This is important because you become more susceptible to health problems as you age. The increasing cost of medical care is also a concern for many seniors.
Since the implementation of the Affordable Care Act, also known as Obamacare, the law needs virtually all Americans to have some form of health insurance or face a tax penalty. Most seniors qualify for Medicare. Seniors still working and have employer-sponsored health insurance can stay on their plan.
It is also advisable to purchase a supplemental insurance policy to help cover costs not included in Medicare. Medicare doesn't cover 100% of medical expenses, and it doesn't cover long-term care.
Homeowners or Renters Insurance
These types of insurance protect against the loss of property and items and provide liability coverage. Seniors with valuable jewelry, art, or collectibles should consider getting a personal property floater to extend their coverage.
Mortgage lenders demand that homeowners maintain insurance, but it might be tempting to save money by canceling the coverage after the loan is paid off. However, it will be a costly mistake if a fire or other disaster destroys the home.
It's also important for retirees to understand how their renter insurance requirements change when they retire. Those who plan to entertain guests frequently or have expensive belongings should consider increasing their coverage.
Also, moving to different geographic locations may present new risks that aren't covered in your current policy, so be sure to update your insurer of any address changes.
Smart Alternatives
Beyond health insurance and homeowner coverage, several other types of insurance may benefit seniors.
Car Insurance
As we age, our driving skills can deteriorate. Additionally, many seniors no longer commute to work and only drive for pleasure. Like health insurance, car insurance is legally required in most states.
Get auto insurance quotes from multiple cities of Texas like Beaumont, Laredo, Brownsville, Lubbock, Corpus Christi, McAllen, and many more before you move to a retirement community to get the best rates. You may also be able to get a discount for being a retired driver.
Umbrella Insurance
An umbrella policy can provide an extra layer of protection in the form of liability coverage. You don't need to be wealthy to need this type of coverage. Any senior sued for damages or held liable for an accident should consider an umbrella policy.
The amount of coverage you need will rely on the value of your assets. A good rule of thumb is to purchase umbrella insurance that would cover the cost of losing all your assets.
Conclusion
For most retirees, insurance is an unnecessary expense. But there are scenarios where being underinsured can have devastating consequences. By understanding the types of insurance seniors need, you can ensure you're properly protected. It's a complex topic, so be sure to talk to an insurance agent and get a homeowner's insurance quote to understand your risks and coverage options fully. Take your decision after carefully analyzing your requirements and the cost of premiums.
business
About the author
Get an insurance quote from the most trusted homeowners insurance company - TX Insurance Quotes.
Reader insights
Be the first to share your insights about this piece.
Add your insights