Top Cost Factors To Consider While Hiring Software Developers.
Read here about the factors that you need to consider while hiring software developers.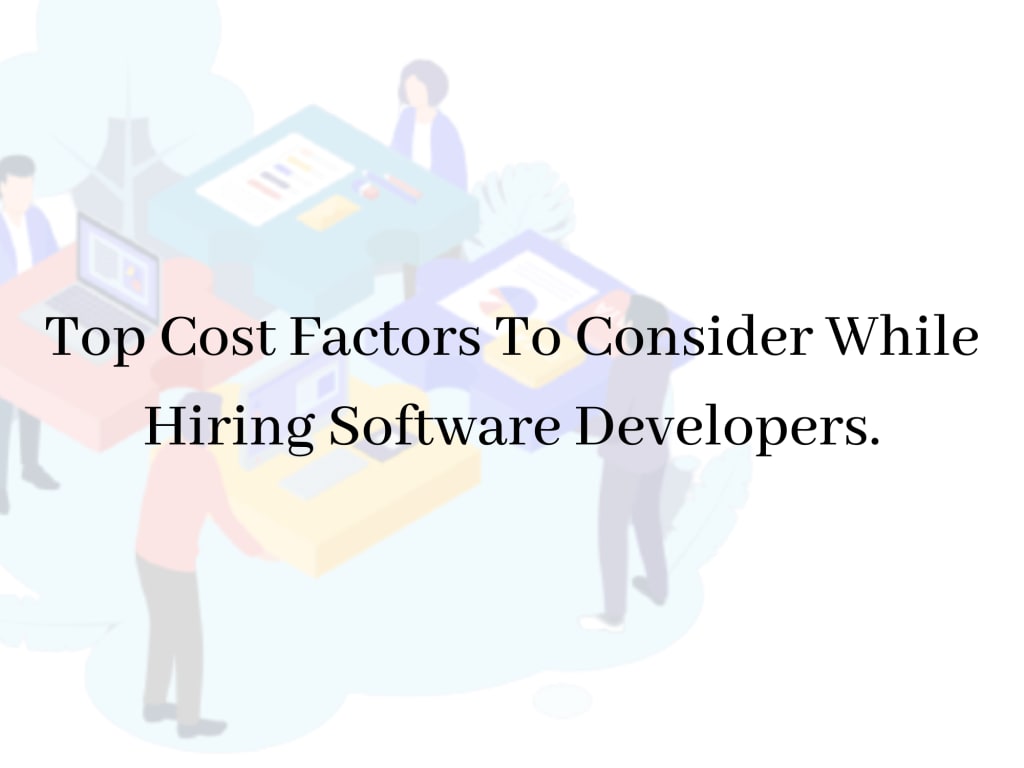 Year by year, technology will be upgraded. Within that, the demand of the technology expert or person is also increasing. We all know if the demand is high, then the hiring cost for a software developer will also be a boost. But the price is always dependent on the complexity of your software development project.
In general, the world has following the standard price basis per/hour for any specific technology. But in some cases, if the software development is having an incredible experience and has quality expertise in Blockchain, IoT, and Artificial Intelligence, the developer will indeed be asked for more price.
What type of software developer you required is also plays a crucial role, Full-time Howance software developer. We all know if we have a small project in hand, then, in that case, only a part-time software developer is beneficial.
But if you have large and complex projects in hand, then hiring a full-time software developer is essential.
Let's understand how it cost and the factors that impact hiring a software developer.
Cost Factors - hire a software developer.
When you are going to hire a software developer, there are many cost factors that you need to consider. We need to look at specific skills we require, experience, technology trends, and industry demands. It is obvious that your project will be as good as a software developer. But a good project always demands reasonable costs.
Let's check out
1. Type of Software: Common Platform Vs. Specialized Platform
Your software development budget is always dependent on the type of software you want to develop. Suppose you want to develop your project or software with the latest technology like AI-powered with advanced capabilities; it is not surprising that you need to pay a high price for that.
If you want to develop gaming software, it is more costly compare to website development. Some enterprise applications with multiple features are more expensive than mobile applications.
If you are having an IoT application, it requires a high knowledge developer to perform efficiently while capturing data. So, it obvious that developers who can work on IoT will ask for more amount.
Different categories of software, demand different prices.
Let's look on.
2. Scope of the Software Development Project
Selecting only one when you have two great options is a tough task. That what we actually do here.
When you start hiring a software developer, you can get to know that cost depends on the technical knowledge, language skills, experience, and location of the software developer. It's obvious that software developers having experience in back-end technologies will ask high pay than software developers having front-end skills.
Software developer with skills like PHP, CMS, Wordpress, and HTML - you will get it very easily and fairly. But if you are doing any project on C++ and Kotlin then you have to pay high for these languages.
Java Developer (BPM) - $40.00/hr
Java and Kotlin Developer - $45.00/hr
Here, we need to take note that for Android application development, kotlin announced as an official language recently. Software developers having knowledge of both will add great value to your project.
Senior Java Software Developer - $65.00/hr
We can clearly see that, if the developer well experienced in Java with a specialization in Back-end technologies then he can ask for a high amount.
When you are doing software development, it involves the various categories of stages and each category needs some amount of time and work. As per the standard process, we first do the designing part, second, we will do the coding part, and finally, we will go for testing bugs. Development requires step by step process, which is aligned with the hiring requirements.
APIs, application size, databases, and hosting environment are the scope categories that will affect the cost of software development.
3. Time and Location
Nowadays - the IT industry is no more location-centric. Technologies are continuously upgraded and so on experience and talent. Geographical boundaries are no more limitation for IT organizations. They are doing work from anywhere to reduce the cost.
Someone from America can hire a software developer in India or any of the preferable country. And most surprisingly you will get a software developer at a lower cost from India.
Yes, beyond geographical boundaries you might have to face certain challenges like a different time zone, the language barrier but they always ensure quality software development.
4. Hiring Software Developers Vs Outsourcing
For your small projects, what you can do is, simply hire part-time developers with having required skills and create your own team for the project. Building your own team required enough time and energy and you also need to be well aware of technical knowledge.
But if you have enough experience in technical hiring, then build your own team can be an easy task.
But suppose you are an organization, that to a startup based and you have some complex and large project to do, then building your own team can end up becoming so costly. The only cost-effective solution is to Hire developers for startup from a dedicated software development company.
Tips for Hiring an Outsourcing Team
Do the proper research for an outsourcing company and its background.
Identify Technical Expertise.
Focus on the service value they are delivering before and after the completion of the project.
First, you need to identify the scope of your project, such as:
Timeline
Maintenance
Billing
Handling
Assistance
Conclusion
So, as we discussed there are some factors which you need to consider while hiring a software developer in India. If you don't have enough hiring experience then you just need to take the outsourcing services.