Top 10 Key Elements of Digital Marketing
Major Factors of Digital Marketing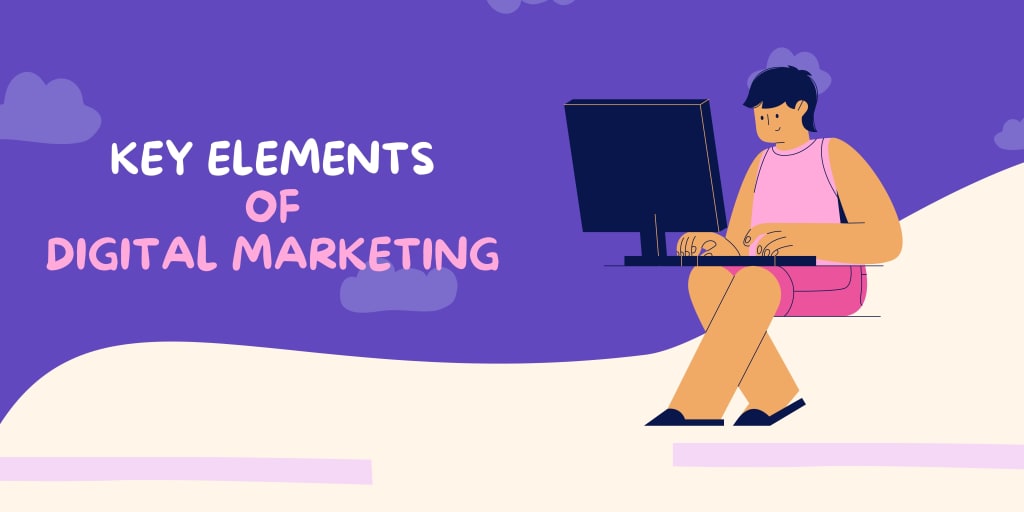 Today, customers give more priority to online research before taking any product or service. Hence, users prefer to get complete information about the product and service before taking it. Therefore, many enterprises have started implementing online marketing strategies to make the most of it. In this blog, I have shared some significant elements of digital marketing that can enhance your businesses overall performance:
Key Elements of Digital Marketing
Website Design: Website design is the first point of attracting and engaging users that drives them to become regular consumers of businesses. Hence, the website must have good features like navigational structure, mobile-friendly design, eye-catchy color combination, etc. It's a fact that if the website design is not user-friendly, the business has to suffer a lot. Therefore, if an enterprise wants to drive leads, the website needs to be designed beautifully by experienced website designers.
Website Development: It plays a significant role in digital marketing. If there is a slight deficiency in the website. Then no site can perform well in the search engine. Therefore, success requires a strategic approach. Apart from the code, there are many other things that developers need to take care of: website URL structure, functionality, internal linking, etc. It ensures that online users spend more time on the website. Hence, it is essential to hire top website developers for effective results.
ORM: ORM (Online Reputation Management) means to monitor, maintain and improve the business, person, product reputation online. For every business, reputation is always a high priority. If someone creates a negative image for a website then, it is rectified with the help of ORM. It's a perfect solution for Startups & Mid-size businesses to adopt ORM as a marketing strategy if they want to compete with the big brands. It will establish your business reputation in the market and influence people to choose your products or services.
SEO: The foundation of SEO depends on how beautifully the website is crafted and developed. When a marketing expert plans digital marketing strategies, SEO plays a leading role in it. SEO boosts website organic traffic and ranking in online search results. It is a long-term strategy. Hence, a professional SEO agency is required to tackle online marketing challenges.
Social Media Marketing: As we know, billions of people use social media platforms to connect. Hence, it's a significant component for businesses to reach out to potential customers and build strong relationships with enterprises. These types of platforms allow users to connect directly with enterprises so that you can understand the thoughts and opinions of online users. As a result, it will help you build trust in your viewers and motivate them to convert to loyal customers. This is how social media works for businesses.
Content Marketing: Content marketing becomes more imperative when we talk about boosting organic traffic for websites with the help of SEO strategy. With the assistance of high-quality content, you can target business-related keywords and provide brief information to online users about your business products and services. It will help you to drive high-quality traffic and leads for your website.
Pay Per Click (PPC) Advertising: Paying for click is an exceptional marketing strategy for those enterprises who want quick results. And you can use both PPC and SEO strategies simultaneously if you need to enhance organic traffic, ranking, and leads. PPC advertising is a perfect way to get qualified leads. To drive qualified leads, PPC Advertising is an excellent way but, you need to track the performance of Ad campaigns to avoid the wastage of money. Therefore, you need to get PPC services from a team of experienced people.
Email Marketing: Another major factor for successful digital marketing campaigns. Email marketing campaigns enable you to connect with potential clients to send information about your products and services. Enterprises can send many kinds of emails like newsletters, sponsorship emails, re-engagement emails, lead nurturing emails, transactional emails, etc.
Mobile Marketing: In mobile marketing scenarios, ads appear on mobile devices like smartphones, tablets, or mobile devices. With the help of mobile marketing, digital marketing service providers promote products and services so that potential customers receive information in real-time, wherever they are. Mobile marketing strategy includes text messages, app downloading, reviews on app stores, etc.
Affiliate Marketing: It's a process of advertising the products and brands of another person or organization. Affiliate marketing consists of three parties known as Advertiser, Publisher & Consumer. If you set up an affiliate marketing campaign, you will earn money on a commission basis after the product has sold out. But, you need a digital marketing expert to manage the campaign.
As a blogger, I would like to say that you must design and develop the website beautifully before you execute the online marketing plans. But, you require the assistance of a digital marketing service provider to drive traffic and leads.
advice
Well I'm a graduate and working with "TrendyPuff" as a Digital Marketing Manger, have more than 6 years of experience. I assure you my digital marketing service fulfills your business desires.