This is How Much I Have Made On Vocal Media As a Writer
My Vocal Media earnings proof as a writer Plus how to Make Bonuses on Vocal Media.
If you have been following me, then you definitely know that I also love to write for Vocal media, and sometimes I just repost my Medium article on Vocal Media.
It is an alternative to Medium. Here is a Quick overview according to my own personal experience.
Stay with me because I will show you Why I love to write for Vocal and Why I also recommend you to create an account with Vocal Media and make extra cash every single month.
It is easy to use.
You don't need to have good English writing skills.
It works worldwide.
When I went back into my Vocal Media account It has $30.20 which is good. here is the proof.

In the above screenshot, you can see that I have only made $0.20 from Reads.
And other money I make from Bonuses. Yes, and this is the only reason I love to write for Vocal Media.
$5 Bonus after writing 5 stories
$5 Bonus after liking other creator stories
$10 Vocal Bonus when you Try to Join Vocal Media membership.
$10 Bonus when you completed 10 stories on Vocal Media
Upcoming Bonus $50 after writing 50 stories.
As I tell you that It is easy to use platforms just create an account and then start writing stories on it.
But remember, the length of your stories should be 600 words long.
Don't forget to work on it- And If you're already a writer on Vocal must share with us your journey. Thank you!
I Earned $116.94 with 66 Stories in September on Medium
2 Lessons I learned on Medium.
This was my 13 Months on Medium.
When I started publishing stories on Medium, trust me I didn't know that It is a long-term business, and in the future, it might open many doors for me as a writer.
Yes, as a writer you can make money in many ways such as writing for a company, writing for yourself, etc.
Here on Medium almost after 13 months of consistent writing, reading, and engaging right now I'm 80% happy with my progress.
Why 80%?
Because I'm not a native writer. I mean English is not my first language and sometimes I feel it hard to write something but still improve each and every single day.
After working for Medium finally, I discovered my passion for writing. I feel great as a writer. But 2 Lessons I learned on Medium.
Honesty is the key to success. either a writer or influencer
2. The more you engage the more reads, and views you will receive.
Here is a September Medium earning proof.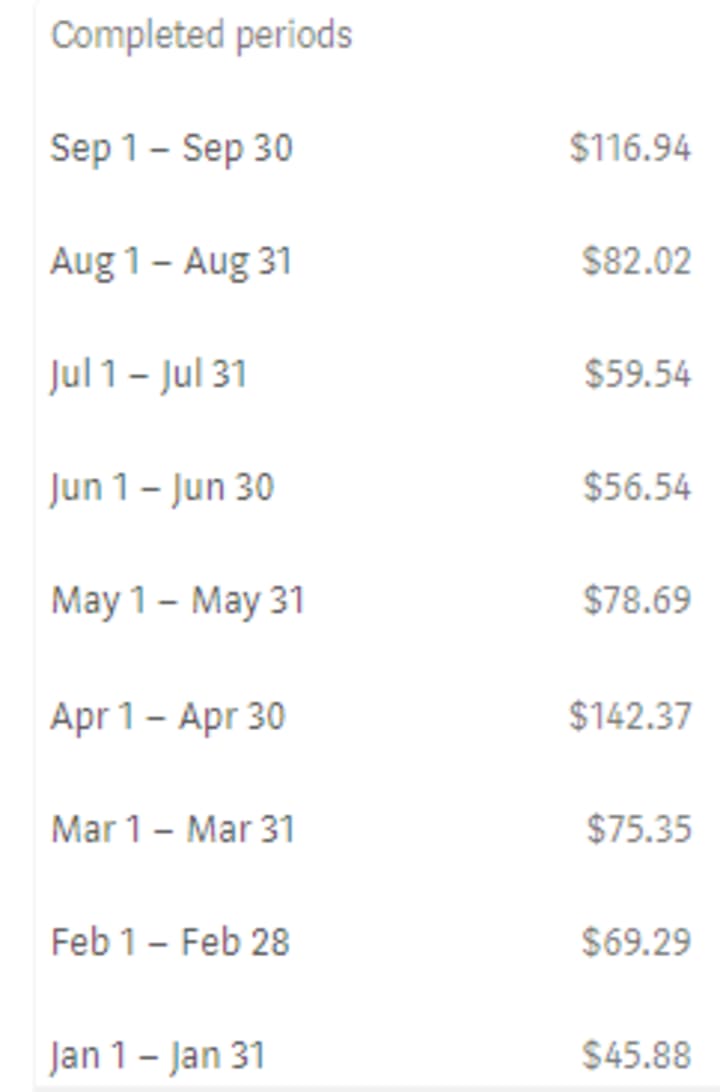 Today, I'm very happy that I have more than 5k followers on Medium who supported each other. And also thank you to everybody who followed me and read my stories each time.
What is your Medium income in the Month of September? Are you happy with it or not? Thanks for reading and have a great day today best wishes.
This is How Much Money I Have Made On Medium in the 13 Months.
66 articles in 30 days. My results plus earnings that I have made on Medium in the month of September.
This is not just a story, Where I'm not going to share with you my own Medium earnings, Journey, and also a real way how to make a consistent and good amount of money on Medium.
You probably noticed that
No doubt, I'm the only guy who shares their Medium earnings, and success stories each and every single month in different shapes like a Medium article and a YouTube Video.
why why why, As I mentioned earlier,
I want to be honest with you, Definitely, my main purpose is making money on Medium with the help of the Medium partner program.
You can also start this process it is simple and easy and I think everyone can do this I will explain how? keep reading!
And the second one is to help other people just like to start an extra side hustle and make money online with Medium.
You noticed that every writer wants to go viral and usually, they tried different methods such as sharing some success stories which is good personally I like to read each and every single day.
So, this was the little introduction that I shared with you now go directly to the topic which is how much income I generate from Medium in the month of September
The short answer is $116.94 and this is my 13 months on Medium.
Here is the proof.

Yes, $116,94 is my total earnings from Medium in the month of September.
Personally, as a writer, the other best thing I like on Medium is a referred Member,
For example: Below is my referral link to Medium it means when you click on this link it cost you $5 a month and $50 a year then I make a small amount of commission but no extra charge to you.
Because engagement is necessary on this platform and if you want to get unlimited access on Medium then you need to have access of the Medium membership program.
Now, as a reader how you can start your writing business on Medium? That means turn your reading interest into a professional and extra side hustle.
First of all, This is the only thing you need to know first before start writing for Medium.
It is not an overnight Millionaire secret. It is a real business and you know every real and legit business takes some time, some techniques, some hard.
However, Here is the step-by-step overview to start working with Medium and start making money online.
First of all, motivate yourself to write this is the easiest and fastest way to write more and more content.
About the Creator
Best Blogging, Affiliate Marketing, Online Business, and Writing Tips Official blog- asadeducate.com
Reader insights
Be the first to share your insights about this piece.
Add your insights