THIS Book Will Help You Finish Your Novel
Sometimes you need help and 'The Story Cure' has it.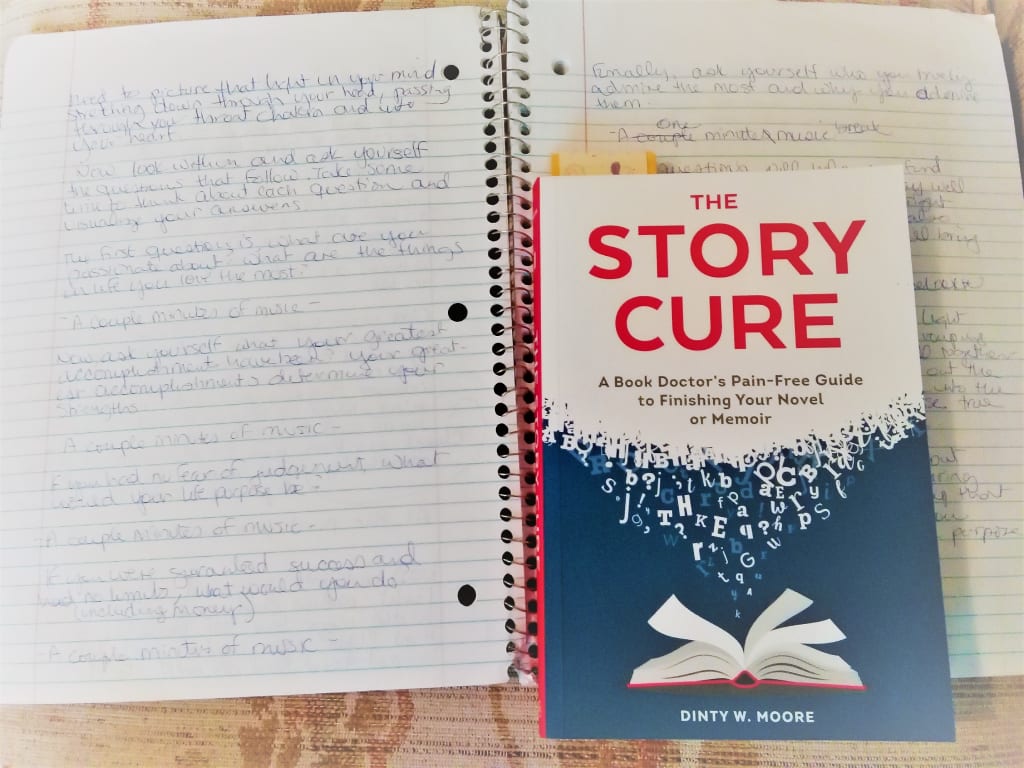 As an author, you know it's not always easy to complete a book. There are many things that can stand in your way, not the least of which being life in general. It doesn't matter if it's your first book or your hundredth book, and it doesn't matter if it's a memoir or a work of complete fiction, plenty of writers have books they've been working on longer than they needed to. These books could be in print if you just had a cure for whatever issue is holding you up. That's where Dinty W. Moore's The Story Cure comes in handy. This book is a tool and a motivational guide to get you to a complete novel!
So, how does the author of this book have the authority to tell you how to successfully finish your book so you can get it out to the world? Well, this isn't his first book on writing and he is the director of Ohio University's BA, MA, and Ph.D. in creative writing programs. That seems like enough of a résumé to get you to listen, especially if you need help and no one else is offering it. This help comes with a $14.99 cover price, but that's pretty darn reasonable.
I loved this book and it is laid out in a way that makes it easy to read and follow. You don't even have to read it from cover to cover if you don't want to (though I recommend you do anyway). You can skip to the sections that fit your personal issues with getting your book finished.
While I think writer's block is a complete myth, it's covered in this book. Whether you just can't think of what to write or you're stumped on plot or character development, this book can assist you in figuring things out and getting on with typing up all of that info until it creates a book for you.
My favorite thing about this book, and what has helped me the most from its pages, are the writing prompts and spaces that offer me the chance to write out ideas and force me into creativity. Of course, I am not writing in the book itself (that's a sin). Instead, I have a notebook that I also use to write ideas, quotes, poems, short stories, and other random things that come to me as a writer.
The book is filled with wit and humor, which is apparently a trait of this writer (this is the first of his works I've read, but I definitely want to check out more of his stuff as this book has been a great help to me on a couple writing projects I've continually put on the back burner for one reason or another).
If you are struggling to get your book done, pick this one up and use it. It doesn't matter what your issue is. On the back of the cover it claims to help with the following writer's issues:
Lack of inspiration
Flat plot
Weak characterization
Invisible setting
Silent voice
Wobbly structure
Too many words
Too few words
And there's more once you start flipping the pages. I even found it to be motivational when it comes to my article writing as well. As a writer and/or an author it never hurts to take some time to brush up on your skills, learn something new, or look for help when you're struggling. You wouldn't write a book about serial killers without doing some research on serial killers first, would you? So why write another book without making sure you have a little help getting it right? Even if you think your previous books are awesome, that doesn't mean there's no more room for improvement!
"I received this book from Blogging for Books for this review."
book review