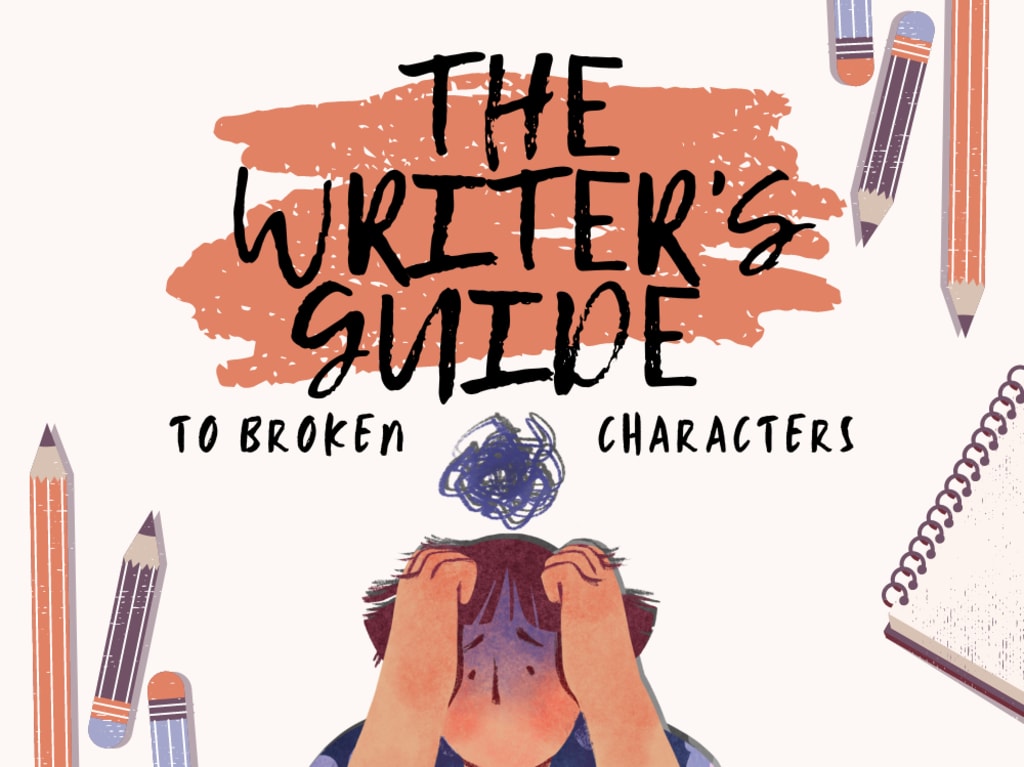 Are you looking to write a story with a broken character in it but unsure how? Consider this your guide.
Related: Let's Talk About: Writing Light-Haired Villains
What is a Broken Character?
What does it mean when a character is broken? (Like, as in shattered shards of glass on the ground?)
Broken characters are those who face a serious conflict (or conflicts) in a story and face internal lows as a result. They are most commonly shaken by other elements of the plot/story that lead to cognitive dissonance and general questioning of the self.
Of course, isn't just this characteristic that influences their overall personality—what truly makes a broken character includes how they react to their circumstances, how they cope, and how they proceed (growth, stagnation, regression, etc.).
Broken characters are a great way to enhance a good conflict in a story, whether that be between characters or an internal struggle between just one.
Also a totally legitimate coping skill, thank you very much. (Via @lynmri on Tiktok)
Important Questions to Ask Yourself When Writing Broken Characters
How does the character act differently as a result?
In what ways does your character's brokenness help and/or hurt them? When building a story around this character, keep in mind what their typical actions are like—and how their struggles may play a role in them.
How has society affected this character's view of themselves?
Many times, a broken character's conflict can extend to the world around them. Look at the big picture—consider the world you have built for this character to live in and what makes it so unique to the story, and then connect it to your character on a more personal level.
What other characteristics about this character make their brokenness more apparent?
Juxtaposition and contrast are your best friends. Whether writing, reading, watching, whatever—people love characters that are multifaceted, and sometimes that means that different parts of a character's personality will contradict/clash with each other. Don't shy away from this—rather, use it to your advantage, as your character is special because of all their parts: good, bad, and (sometimes) slightly insane.
Example Broken Character Writing Prompts
1.
"After everything, it had to be you. Of course you had to be the one to screw this all up when you knew I wasn't looking and would have no defense. But you didn't care." (Via @lynmri on Pinterest)
2.
"If you had asked me years ago, I would have said yes." (Via @lynmri on Pinterest)
Helpful Tips for Writing a Broken Character
Know your character for who they are as a whole.
Just remember that a broken character doesn't always have to be fixed, and a character's weakness is not always a negative! As you work through your story, your character should be one that we feel, one that we grow to understand.
Get creative in your storytelling.
Not every character's hurt looks the same. To make your broken character one readers have never seen before, mess around with the other elements of your story (ex. setting, point of view, theme, etc.) and give your character a life that goes beyond descriptions or dialogue.
Consider how they interact with others.
Who is this character closest to? To whom do they feel most disconnected? What relationships do they value most/least? Answering these types of questions about your character can uncover how other characters are involved within the conflict.
On the other hand, you can isolate your character from the rest, making them undergo their struggles totally alone—see how it goes!
Got your own tips and tricks for writing broken characters? Share them in the comments!
Reader insights
Be the first to share your insights about this piece.
Add your insights