The Wolf of Gulf World: Wait, There's More?
Ever since I first published an investigative piece on a morally corruptive dolphin-trainer-turned TikTok star Cierra Huffman, I have discovered more truths about Ms.Huffman's motives and what had really happened to all the money she raised for her fundraisers.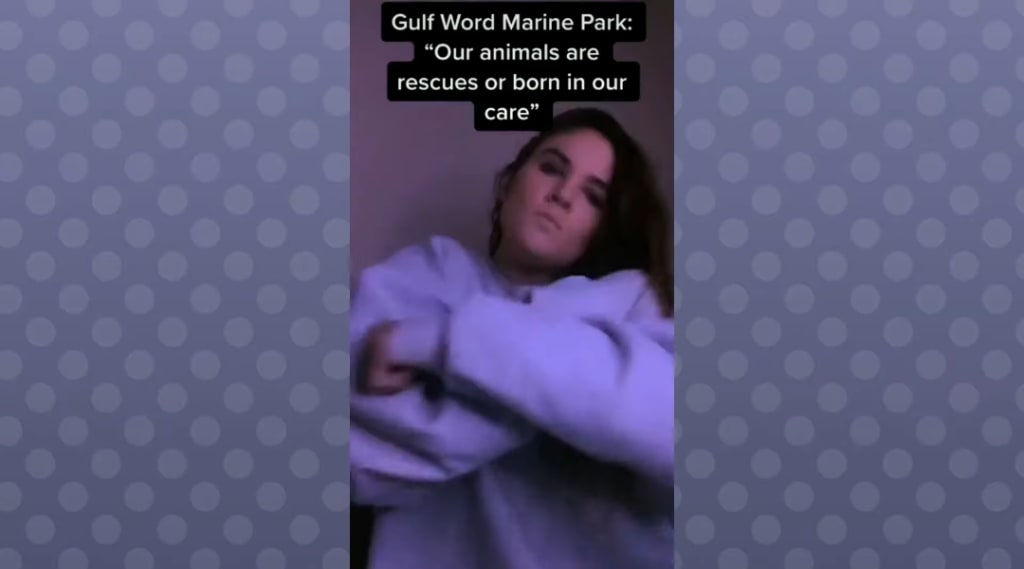 Cierra Huffman's TikTok "performance" during a "Live" stream she did on Gulf World's animals.
On February 13th, 2020, I published an article on Vocal titled "The Wolf of Gulf World", which was an article that investigated the case of Cierra Huffman, the dolphin trainer who, all of the sudden, became a TikTok star with a desire to go on the "Ellen" show with the intent to one day work for her. Upon the article's publication, I received a lot of positive feedback from the marine mammal community about how people like her could potentially be a danger to the zoo and aquarium community in general. In addition, Gulf World has since filed a cease and desist order against Ms. Huffman even though she was still continuing to make false accusations against the facility and its animal care team.
[What remained unanswered was what happened to all the money Cierra raised on TikTok for various causes like her non-existent sloth conservation trip to Costa Rica and a false fundraiser to purchase new enrichment devices for Gulf World's resident dolphins.
While Ms. Huffman continued to claim that her fundraisers all "flopped", Rhegan Nichole, a marine mammal specialist at Gulf World actually revealed some light on what really happened to the money that she raised on TikTok. In a post on her own Facebook page, Nichole, who was a former friend and roommate to Ms. Huffman, opened up about what it was like to have personally known her in the time she was living with her. She revealed that the real reason Ms. Huffman was fired at the beginning of March 2019 was because of the fact that she had decided that having blue as her "main" hair color for her mermaid TikTok videos was more important than continuing to work with the animals she had claimed to have loved as much as Gamora loved her beloved Peter Quill. Ms. Nichole went on to talk about how Ms. Huffman's blue hair dye would constantly leak into the animal habitats, putting the health and safety of all the dolphins, seals, and sea lions she was supposed to care for at risk.
Then, when it came to the money situation, Cierra began to use her social media accounts, including her TikTok page, to raise money in order to pay for rent and bills during the remaining two months she was living with Ms. Nichole despite no longer having a job that paid. As it turned out, Ms. Huffman created fake charity efforts for various causes such as hurricane relief efforts, and for the animals she continued to claim she was still working with despite having to have already been terminated at that point. Ms. Nichole confirmed that the money she got from selling bracelets that were supposed to go into helping hurricane survivors ended up being used to pay for rent. She then went on to ask her young followers on TikTok to give her money because the money she was raising for her fake charities was not enough to cover any of her bills, so Ms. Nichole was forced to pay the remainder for both of them on an animal trainer's salary, in which, keep in mind, she made more babysitting as a teen. This also confirms that the money she was raising for the Costa Rica trip that never happened also went into rent and bills along with her continued efforts to get on the "Ellen" show.
While I remain on the subject of Ms. Huffman's attempts to get on the "Ellen" show, there is one video she did as an attempt to get recognized by Ellen herself. In the video, which was titled "Day 192", Ms. Huffman claimed that she was only able to raise $250 for her non-existent sloth conservation trip to Costa Rica because TikTok took half of the profit made from the revenue. However, when I did some research on this claim, I was only able to find that such practice is usually applied to artists who use TikTok to create new music-based content due to copyright laws.
Anyway, back to Ms. Huffman's "Day 192" post, which has since been removed from her Instagram page, she can be seen depicted in what appears to be black face with her face being completely covered in black doodles and markings. If that was not disturbing enough, then it is the fact that she created a petition several months later that targeted Ellen and her producers.
Why did she make it? The answer is simply because she wanted Ellen to hire her by telling her how she had spent almost a year trying to gain a million followers on all of her social media accounts to follow her "dream" of going on the Ellen show and work for her. She only managed to get 170 people to sign the petition. This really shows how much of a crazed, obsessed fan Ms. Huffman really is when it comes to Ellen.
Ms. Huffman has told her critics that she would answer any question they may have regarding their concerns, but not only would she remove their comments, she would also block them from her social media accounts—usually without ever answering any of their questions.
Ms. Huffman has told her critics that she would answer any question they may have regarding their concerns, not only would she remove their comments she would also block them from her social media accounts, usually without ever answering any of their questions. This is because as more people call her out on her antics and question her motives, she continues to block them and not face the truth about her own actions and how it is hurting so many people in the zoo and aquarium community along the way. In fact, after the first article was posted, I did get blocked by Ms. Huffman's main account even though she continues to watch everything that I and other critics post regarding her continuing antics. She once referred to me as some sort of "savage" for continuing to call her out a few times in the past over her alleged fraud on a story for her "Generation Gypsy" page she uses to document her travels.
There is a reason why I wrote the original article in the first place. I wrote it because I got sick and tired of these disgruntled employees taking advantage of their own situation by slandering facilities, and trainers in the name of getting attention. I was also getting sick and tired of those very same people asking their fans, mainly young kids, to give them money, thinking that the money was going to be used to help both people and animals alike when in reality, it was never really the case, nor was it really their intention. Ms. Huffman can surely be described as someone who uses her social media platforms to make false claims about a facility that fired her for dress code violations by making claims about abuse and neglect while asking followers to give her money in the name of helping animals only for that money to be used to pay the bills, rent, and pursuing an unrealistic dream of working for The Ellen Show.
My only hope at this point is for Cierra to be held accountable for her actions and nothing more.
Sign the Petition at Change.org