The Virtual Wardrobe
Virtual Vignettes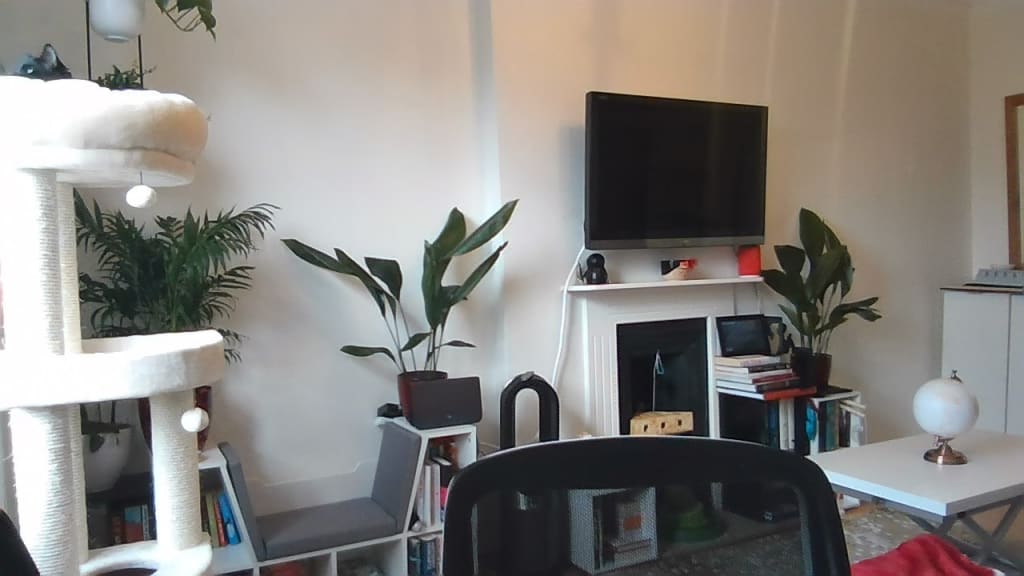 My visual frame - sans me
Most of us are going to complete a year of lockdown next month, a milestone that crept up on us while we have been dreaming of normality. However, one thing we were all aware of quite early on was that flexi-working was here to stay.
So, a hot topic of discussion – "the virtual wardrobe" has left me quite puzzled. Surely, it is not that difficult to remain professional when not at the office.
Recently, there have been articles in publications, polls on LinkedIN with heavy engagement from the community that show this is a very polarising topic. Loungewear has probably never garnered as much attention in the history of its existence!
Here are some observations gathered through the year on what always renders beautifully in a professional setting.
I find what you wear is less important that how you present yourself.
But first, a smile
A friendly expression is the best thing you can have on your face when at work. Keep it simple and pleasant with a hint of a smile on your face, or a poker face when relevant. This has most impact on how you are perceived and approached.
It is especially paramount when people cannot read your body language. Tuning into a meeting and seeing surly, grumpy faces is extremely off putting. It just sets the wrong tone and sends the unhappy message that you do not want to be there.
Perhaps you do not love, or even like your job, but being gainfully employed and occupied in 2020/2021 is something to be thankful for; and a reason to turn that frown upside down.
Be presentable
My morning ritual: I turn on my camera as I log into work and do a quick visual check. Would I be happy to answer an unscheduled video call? I take care to tidy the visual frame, hence ensuring I do not appear to be sitting in the midst of chaos.
Personally, I am not an advocate of logo t-shirts or hoodies as suitable business attire. The yardstick should be whether you would wear them to the office, if not, then avoid them at the home office.
I do feel, they're acceptable on a Friday if you're still following a "casual Friday" approach, which I am.
The bone of contention that seems to be around sweatpants is lost on me. Your bottoms are not visible on calls and have minimal impact unless you stand up on the call. Therefore, I can't understand the furore around them if they keep people comfortable.
Good hair, must care
Following on from the above, hair goes a long way in your presentability.
When people are only seeing your torso; hair and face is a big part of it.
Unkempt beards, uncombed hair is akin to untucked shirts or laddered tights.
Trim or comb those beards, make use of ponytails or up-dos. Just don't turn up looking like you've simply rolled out of bed, even if you have.
That said, self-haircuts during lockdown have had some brutal results, and we are all grateful for those who have taken a gentle joke or two at hair's expense!
Find a uniform
This eliminates the question of professional attire, making life a lot simpler. My winter one is inspired from Steve Jobs – a dark polo-neck, with a sweater on top on colder days. I invested in lounge trousers at the start of the pandemic in simple colours (black, grey and white) which pair well with the dark tops.
I add a dash of eyeliner, a tinge of colour to my lips, a spritz of perfume and a smile, and I'm all set. This simple ritual has the added benefit of helping me tune into work mood.
When it is warmer, the polo-neck will be replaced by knit-cotton shirts which I have found to be very comfortable as compared to stiffer materials. Sweaters will continue to form a part of the uniform thanks to the English summers.
Lastly, be engaged
We are all blessed to be part of meetings where our presence isn't strictly necessary as we may represent a team, or a department or may have one item on the 10-point agenda.
It is difficult to pay undivided attention in these situations but do keep your ear to the speakers and tune in when you feel your input may be required.
If you are multi-tasking, then try to not have your keyboards on display – tapping away is a sure-shot indicator that you are lost to the crowd, and it can be distracting for others.
The impact of your attendance is negative if you turn up attired for an interview, but elongate the meeting length because you were not mentally present.
Lockdown over!
Even when the cities do open up, we are looking to transition back to the office in a hybrid manner. Therefore, when you are at home, you do not want to seem unprofessional to those in the traditional office setting.
It will help to remember that you are still at work; and for once, location really will not matter!
advice
About the author
I lost my creativity in the adult world. Striving to find it, one funny story at a time.
Over the last year, watching a kitten gambol inspired me to rediscover a childhood love.
You can check my muse's limerick based Instagram @Pandora_poems.
Reader insights
Be the first to share your insights about this piece.
Add your insights