The Self-Checkout Solution?
Why Retailers Should Be Wary About Investing Too Heavily in Self-Service Technologies
Overview
The self-checkout is a sign of once again just how divided we are as a nation. For some of us, self-checkout is one of the greatest innovations of the past decade. A retail store that has self-checkout available means that you can shop - and pay - literally without having to come into contact with, let alone converse with, another human being if you so choose. And in the age of the coronavirus, even checking out with a cashier means communicating most times through masks (depending on what state you live in) and plexiglass. Self-checkout offers you speed and convenience, so long as one can follow the procedures precisely and not cause the system to "tilt."
On the other side stands an army of consumers who not only do not like using self-checkout, but who will actively avoid it if at all possible - which today in some retail locations, it is not. Within this group are people who take issue with a variety of "things" they dislike about the whole notion of self-service at the point of sale, whether that is the widespread belief that self-checkout costs cashiers their jobs or the feeling that a manned checkout is simply something that retailers should continue to offer to their customers.
As it turns out, some retail shoppers still really do actually enjoy speaking and interacting with cashiers (and vice versa). To them, working with a scanner is simply not an adequate substitute for the traditional human interaction that has been a part of retailing for over a century! And the problems consumers are having with self-checkouts have even become the target of comedians today.
The data analysis firm, CivicScience, recently concluded a major analysis on how Americans viewed self-checkout. And for major retailers that have invested heavily in such systems, the results point to one unmistakable conclusion: Americans are not yet sold on self-checkout! In this article, we will overview their findings about shoppers' preferences regarding the "man vs. machine" debate and then discuss the implications for retailers moving forward.
What Consumers Think About Self-Checkout Today
This is a case where the headline does indeed say it all. The title of the CivicScience piece is simply "One-Third of Americans Swear by Self-Checkout." The implication then is that the other two-thirds don't swear by it! And in fact, some may indeed actually swear at self-checkouts (hopefully, under their breath as badly behaved as some of our fellow citizens are prone to be out in public today!).
Consider Figure 1 (How American Consumers Feel When Presented With the Option of Using a Self-Checkout vs. a Cashier) below. It presents the results of a simple question the CivicScience researchers posed to over seven thousand Americans: "If both a self-checkout kiosk and a cashier are available at a store, which one do you prefer to check out with?" Yes, just over one-third (34%) of those shoppers surveyed did say that they would rather use the self-checkout option. A majority, 54%, stated that they would rather check-out with a cashier, while 12% had no preference.
Figure 1: How American Consumers Feel When Presented With the Option of Using a Self-Checkout vs. a Cashier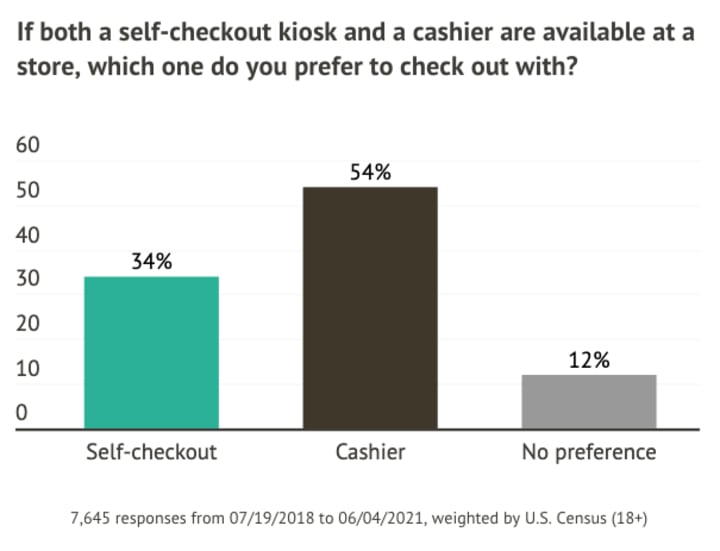 This is a very bad sign for the retail industry. For as much investment as has been made in outfitting stores with self-checkout options, CivicScience's survey found that the majority of consumers either wanted to use the human alternative or they had no preference. To have made such a strategic commitment and sizable investment in the self-service checkout concept over the past decade and more, this single finding has to be disturbing in the C-suites and beyond in many major retail organizations.
However, the bad news for retailers keeps coming in this CivicScience report. According to their research, those who do make use of self-checkout encounter errors (read this as a service failure)… routinely! In fact, the CivicScience researchers found that most of those making use of self-service checkout technology routinely encountered problems making use of the technology. As Figure 2 (Frequency of Errors When Using Self-Checkouts Requiring the Intervention of a Store Employee) shows, a majority of those who used self-service checkout options reported that they either very often (20%) or somewhat often (37%) had problems that rose to the level where a store employee had to actually intervene to help resolve the issue. And while one might assume that tech-savvy younger
Figure 2: Frequency of Errors When Using Self-Checkouts Requiring the Intervention of a Store Employee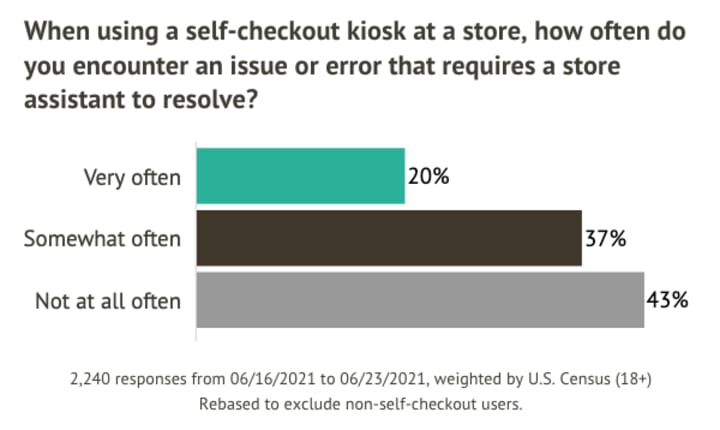 people might have less "issues" in using self-checkouts, exactly the opposite is true. As can be seen in Figure 3 (The Age Factor in Reporting Errors In Self-Service Checkouts), older consumers (those aged 55+) actually had the lowest reported error rate of any age demographic in the CivicScience research.
Figure 3: The Age Factor in Reporting Errors In Self-Service Checkouts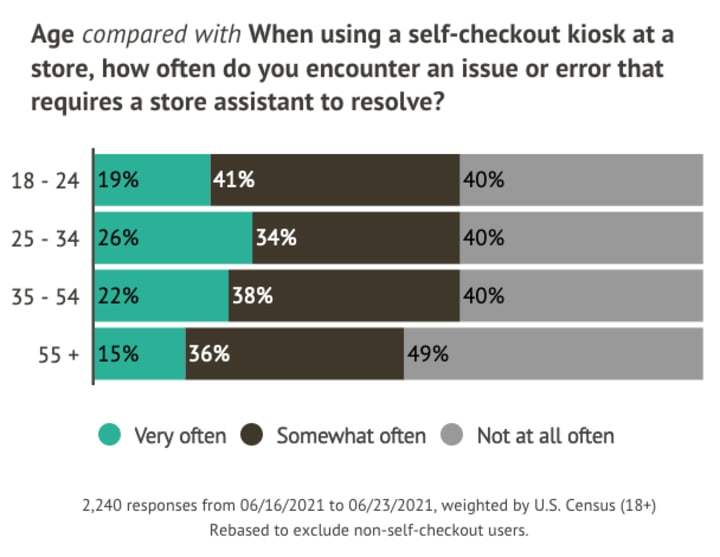 This would seem to indicate that errors - whether in scanning, manipulating, or paying for items - are present across all age groups at present. And it is especially concerning that the CivicScience findings do not indicate that experience and familiarity with self-service options tend to improve the situation. Taken together, this single graphic does not bode well, as it indicates that irrespective of age, customers find today's self-service checkout experience to be problematic. As such, it will remain difficult for retailers - of all types - to convince consumers that self-service kiosks are a "faster, better, cheaper" way of completing their retail transactions, no matter how much major retailers may have invested in such systems to date or how much they believe that self-checkout will inescapably be the future of in-person shopping.
Where Are Self-Checkouts Most Favorably Viewed by Consumers Today?
The CivicScience research shows that where self-checkout options are offered does matter a great deal to consumers, as the favorability of customers' reactions to having a self-service option varies significantly between differing categories of the retail world. In regards to exactly where are self-checkouts most favorably viewed by consumers today, the most favorable reaction from shoppers seems to be in the area of both grocery stores (See Figure 4 - Grocery Stores) and big box retailers, such as Walmart, Target, and BestBuy (See Figure 5 - Big Box Stores). Both of these categories of retailers received the highest favorability ratings from consumers, with 46% of shoppers who actually used the self-checkout options at stores of these types reporting that they actually did enjoy making use of the self-service option.
Figure 4 - Grocery Stores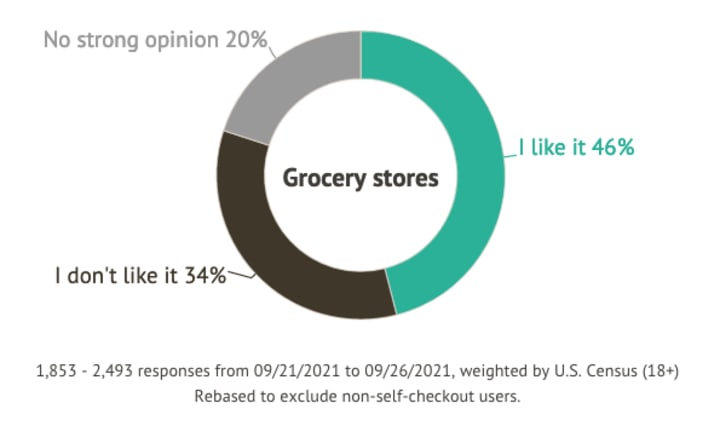 Figure 5 - Big Box Stores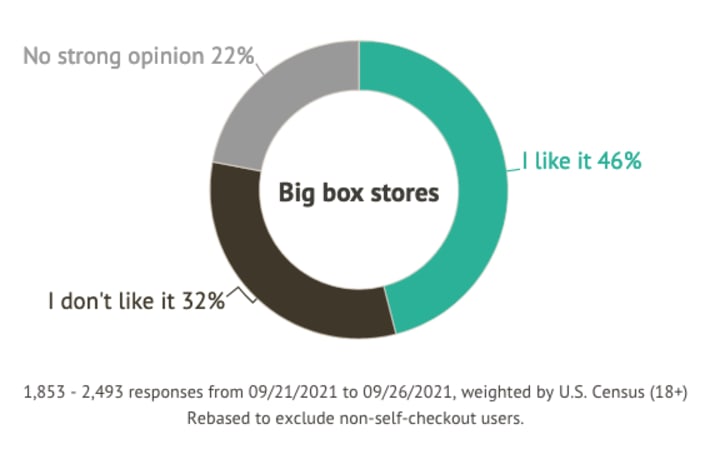 Next in line were home improvement stores, such as Home Depot and Lowe's, which garnered a 41% favorability rating from shoppers that made use of this checkout option (See Figure 6 - Home Improvement Stores). These were followed closely by membership clubs, stores such as Costco and Sam's Club, that had a 38% favorability rating from consumers who actually used self-checkouts there (See Figure 7 - Membership Clubs Stores).
Figure 6 - Home Improvement Stores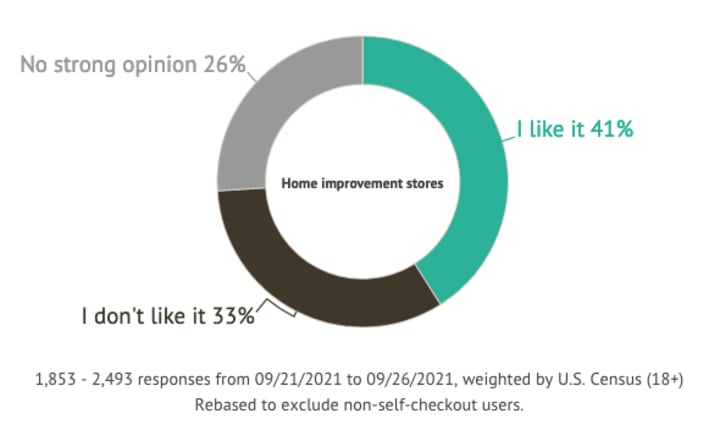 Figure 7 - Membership Clubs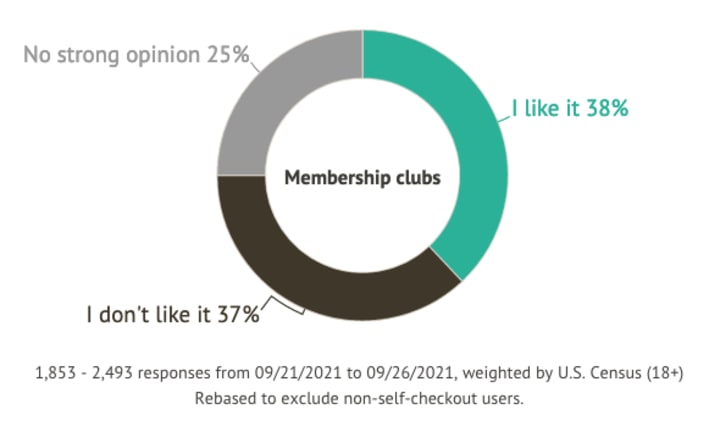 Finally, in what should be quite concerning numbers for the convenience store industry and major players within it such as 7-Eleven, Circle K, Wawa, and more, the retail location where customers had the least favorable rating for self-checkout options was where consumer convenience was the entire game! As can be seen in Figure 8 (Convenience Stores), just a third of all convenience store customers who had made use of their self-checkout functionality responded favorably to it. In fact, this was the only category of the retail world where consumers who had made use of self-service checkouts reported that they disliked it more so than those who said that they liked it! So, for these retailers, the CivicScience findings should be especially concerning, as many of their customers seem to perceive self-checkout to be most inconvenient.
Figure 8 - Convenience Stores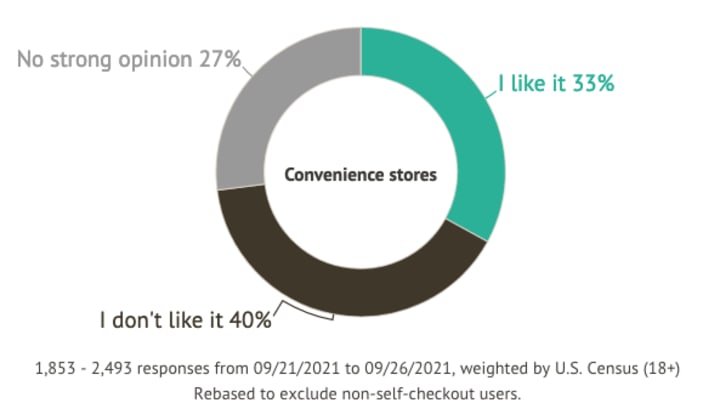 Analysis
So, how should we interpret what CivicScience found in this most recent survey of consumer sentiment toward self-checkouts in retail? In a word, it would be with caution. Despite most major retailers encouraging - yes, some would say forcing - their customers to make use of self-service checkouts, there is still - and likely will remain - a significant percentage of consumers who simply will avoid self-checkouts - and maybe avoid some retailers entirely if they perceive they have no "man vs. machine" option available to them. And yet, the trend is toward even more reliance on self-checkouts, with major retailers such as Walmart eliminating the possibility of checking-out with a cashier entirely.
Certainly, there are public policy concerns involved in all of this as a whole class of jobs - cashiers in this instance - seem poised to disappear…
As a management professor and consultant, I have been involved in efforts to bring RFID (radio frequency identification) to retail for some time. A decade ago, many of us thought that the "roll-through checkout" - where every item in a store would be tagged and consumer payment methods would simply be scanned as they walked through an RFID-equipped checkout - would be a reality today.
The Amazon-like stores - where everything from scanning your purchases to payments is contactless - are few and far between, and largely still limited still to Amazon today. And speaking as one who has been involved at the forefront of self-checkout technology for some time now, I can safely say that the present state of the technology has not nearly lived up to the hype.
And so while more and more retailers invest heavily in self-service checkout technology and increasingly tailor their stores to guide - or limit - their customers to self-checkout options, there remains a significant part of the American consumer base that is simply not buying into the self-checkout equation. Whether out of intention or simply due to past bad experiences with self-checkouts in general, a majority of the American public today still seems recalcitrant to embrace - even partially - the whole notion of retail self-service.
In the end then, this management consultant and professor must caution many in the retail community to be careful that they are not getting "ahead of their skis" when it comes to implementing self-checkout technologies, Certainly, the continuing labor shortage in retail will only serve to increase the pressure on retailers - both large and small alike - to see self-checkout as a viable substitute for cashiers who are increasingly difficult - and expensive - to find. However, retailers should bear in mind that the majority of American consumers today still prefer to have a human employee assist them through the checkout process as opposed to doing it on their own. And until those numbers markedly change, or really flip to where most consumers prefer to use self-checkout, retailers will be caught between swirling economic, technological, and consumer forces.
Thus, for most, if not all retailers today, the human element will - and should - remain part of the final step of the consumer buying process for some time to come. American retail strategies then, at least for what goes on within the four walls of the traditional store, need to continue to take into account the needs and shopping preferences of all consumers. And the fact of the matter is that in the "man vs. machine" debate, there is still a lot of consumer sentiment favoring the human touch today. This means that for at least the near term, retailers would be well advised to balance the push for self-service checkout technology with efforts to actually improve the customer experience by focusing on people issues as well.
++++++++++++++++++++++++++++++++++++++++++++++++++++
About David Wyld
David Wyld is a Professor of Strategic Management at Southeastern Louisiana University in Hammond, Louisiana. He is a management consultant, researcher/writer, publisher, executive educator, and experienced expert witness. You can view all of his work at https://authory.com/DavidWyld.
Social Media Links to David Wyld:
About the Creator
Professor, Consultant, Doer. Founder/Publisher of The IDEA Publishing (http://www.theideapublishing.com/) & Modern Business Press (http://www.modernbusinesspress.com)
Reader insights
Be the first to share your insights about this piece.
Add your insights