The SAS Radisson BLU Cardiff — How to Kill a Dying Man — A Personal Review Part 2
Pulling Back the Curtain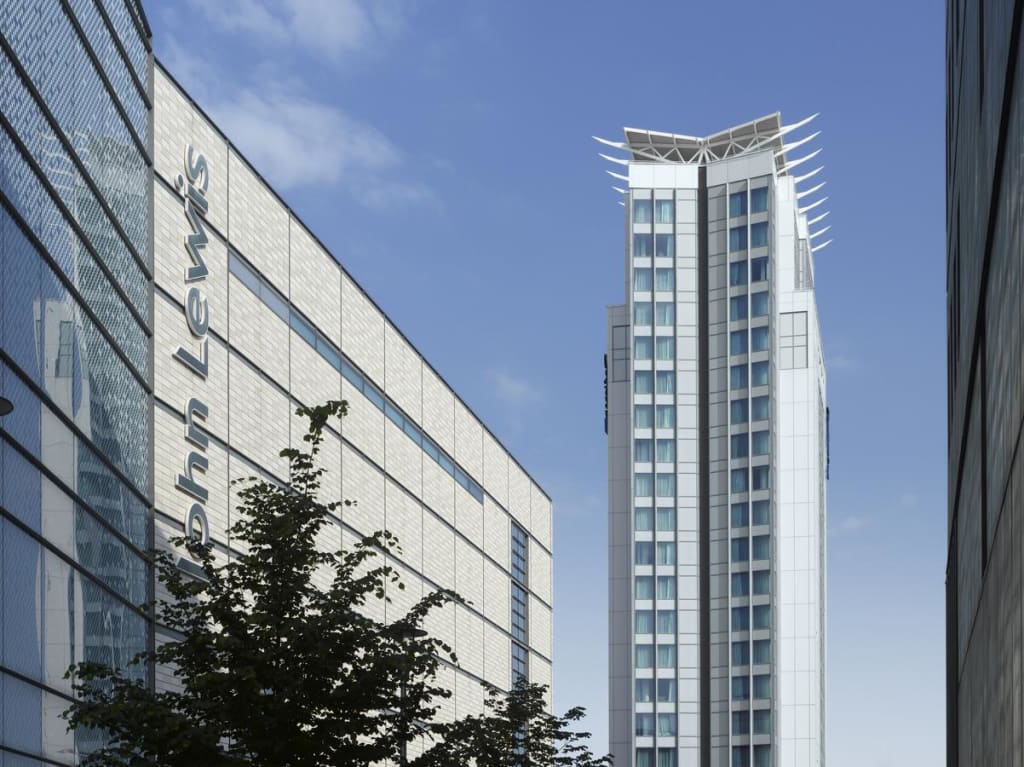 The SAS Radisson BLU Cardiff
I walked back from the Radisson Blu Cardiff still in shock from being fired. They had just destroyed my potential career with no care for the repercussions. Why should they care? Who am I to them? I was running everything through my mind. The past month was repeating on my synapses like mental indigestion. How was I going to pay the rent? What was my girlfriend going to say? I finally knew what it felt like to have been fired. I needed to know what had happened. Why was I the one to get the boot? What did I do? I thought about everybody I had interacted with but me knew who had wanted me out. The opening general manager for the SAS Radisson BLU Hotel Cardiff had been a German lady who had been brought in from the Radisson BLU's Liverpool hotel. She wasn't alone, she came with other German employees who had also been with her in Liverpool. Marlen was one of those allies, along with two other younger German receptionist who were obviously hungry for career opportunity. The GM had always acted strange around me.
A couple of weeks had passed and I was now stuck on benefits during the worst economic crisis of my lifetime. I had to sign on at the Central Cardiff Job Centre weekly and I was not having any luck finding work. As I walked down to the city centre I saw a familiar face in the distance. It was the other man that they had employed as Night Manager to work alongside me only 2 months earlier. His name was Kevin, and he was a kindly older fellow who had previously been working in the St. David's Cardiff Bay Hotel as Night Manager, before being convinced by Jason Bates to move to the opening Radisson BLU Hotel. Kevin looked mortified to see me. "Oh Johnny," he let out a sad sigh. "I'm so sorry for what they did to you" he said with an honest look.
"It's okay Kevin," I said to try and ease his conscience, "it was not meant to be." Kevin asked what had happened, so we stood on Penarth Road and I relived the whole affair.
"They lied to you!" said Kevin once I had told him my story, "they didn't have to get rid of anyone because of the flooding." I already knew that the SAS Radisson BLU Cardiff staff was lying to me. It was why I felt so angry about the whole polava. Kevin went on, "They're just trying to put their own people in charge." I wouldn't see Kevin again after this conversation, we never crossed paths, but his fate was explained to me a little later.
Within a week of the conversation I had with Kevin, they had pushed him out too. What they had done to me hadn't sat well with the team afterwards and it was a contributing factor to Kevin losing his position. I was amazed to be phoned by Jason. "Johnny we want you to come back in to interview you for the position of night manager again" he said optimistically. "Kevin's left and I really feel bad about what happened and I want to give you a second opportunity." I had no other options. I had no income and no dignity left, so what was there to lose. I went in for the second interview, but I could see that this was Jason trying to put right what once went wrong. The GM lingered in the background watching on. The interview was okay but without the enthusiasm that was within me a few months earlier. I found it hard to bring the same amount of energy. Poor Jason felt really bad about the whole situation and this guilt was blinding him to the facts.
I received no phone call for weeks and ended up phoning Jason to find out what was happening. Jason was horrified to hear my voice. "I am, again, so sorry," exclaimed Jason on the other end of the phone. "I told her to ring you herself!" He shouted down the phone in frustration.
"The GM installed her friends from the Liverpool Radisson BLU as night manager. It seemed like her plan all along. So I told her that she should ring you to explain as I wasn't happy about being the bearer of bad news for this reason. She promised me that she would contact you and offer you night auditor at our sister hotel across the road." The hotel across the road was the Park Inn Hotel by Radisson, which had been the Jury's Cardiff for many years. There were so many reasons I didn't want that position. Firstly, it was a demotion, but more importantly I knew loads of people who had worked there and it was considered as hell. I was angry with Jason Bates for the first time.
"So you convinced both Kevin and I to leave our previous employment only to lay us off in order to install the general manager's minions?" I shouted directly at him. Jason was an honest man and I could tell he was stuck in between a rock and a hard place on this.
"I'm so sorry Johnny, I feel completely embarrassed about the whole situation."
I didn't know what to do. I went from oozing confidence two months prior to a deep dark depression. I was put on fluoxetine, often referred to as Prozac, as the stress started to manifest in more physical ways. My fingers started feeling dry and then they would tingle in an unbearable way, constantly. I would spiral into madness. Every time I would venture out I would avoid passing The SAS Radisson BLU Cardiff. Then afterwards I would growl a little when my eyes would pass over the bland exterior of the Cardiff hotel. I made a promise to myself. I would not forget, I will eventually expose what happened to me and others. Then I became swept away in music, gigs, recording, producing, singing, screaming, and rock'n'roll. Within a few years I was playing my first festival and released my first album. The experience in the SAS Radisson BLU Cardiff had almost been completely forgotten.
But a year ago, I started writing articles. I had always skirted around blogs and bios, but I really wanted to use my investigation skills to expose bad behaviour. I wrote investigations into politics, crime, media, and more. Over the past years my work has been read by a quarter of a million people worldwide. I was asked a question by some readers of my work, "Why don't you investigate yourself?" And so here is where my journal entries begin. I have told you this story, and instead of investigating things far away from my own life, I intend to investigate parts of my own story. So now I've told you the first parts to this tale, my current investigation will be into the SAS Radisson BLU Cardiff. If you have also had a problem with this company then get in touch with me at [email protected] and tell me your experience. I will not name sources unless they choose to be open about their issues. My next installment will be on where the people involved in this debacle are now.