THE ROLE OF COLORS IS NOTABLE IN CUSTOM BOXES
Custom Box Packaging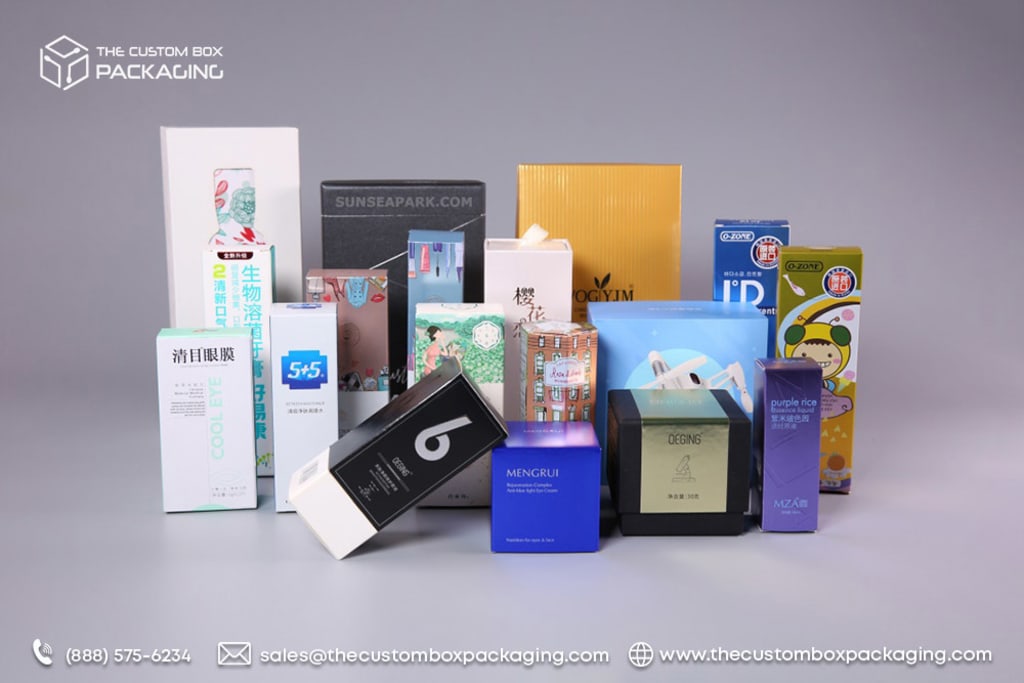 Color plays a significant role in product marketing. Color has been shown to increase brand recognition by 80%, and 85% of consumers cite color as a primary reason for purchasing a product. Some colours are so well-known that even if you don't see a logo or other sign of the brand, you can still recognize the company by looking at them. Think of the timeless blue Tiffany box, which is a symbol of luxury. In 1998, Tiffany & Co. registered their "Tiffany Blue" trademark. T-Mobile (magenta), UPS (deep brown), Wiffle Ball Bat (yellow), and 3M Post-Its (canary yellow) are among the other businesses that have successfully trademarked their colors.
Anyone walking by your merchandise will undoubtedly see it among the hundreds of other products. This is so that your Custom Boxes will have striking prints and designs. And these exceptional boxes are created to stand out from the other packaging boxes thanks to the combination of good colours. Further customization of these printed boxes includes numerous shapes, sizes, designs, and arrangements.
SELECTION OF COLOURS MATTERS
If you want to project a look that is more formal and formal, go with darker colours, lighter colours, pastels, or bright, bold colours to get attention. Retail analytics are provided by Flonomics to companies that want to learn more about how customers interact with their brands. They investigated how shoppers' purchasing habits are influenced by various colours. They discovered:
• The color red evoked feelings of awe, fervor, and vitality.
• Blue exuded confidence and dependability.
• Green was all about freshness, earthy emotions, and nature.
• Orange is a color for having fun.
• Additionally, yellow evoked a warm and sunny mood.
SELECT THE IDEAL COLOURS FOR YOUR CUSTOM BOXES
Black and white: are both associated with a straightforward design, which can lend credibility to a business in a competitive market. Black, in particular, is associated with authority, leading customers to consider the products to be their most dependable alternative. White is frequently associated with cleanliness, giving the impression that a product is high-end and spotless.
Red: A product will stand out and possibly even appear more appealing if it is coloured in a bright color like red. Red can be a great base color for food packaging because it is a common color for many of the freshest and most natural foods.
Green: This solid color could be chosen by a business that wants to portray its products as ethically sourced or friendly to the environment. A company will be able to better convey its commitment to environmental protection and sustainability through environmentally friendly packaging.
Brown: is yet another business-friendly, earth-friendly color option for shipping boxes. Because Brown Personalised Kraft Boxes are completely recyclable and can be repurposed with ease, sending goods in brown Kraft boxes is an effective strategy for a business to convey its concern for the environment.
Blue: Customers may frequently feel a sense of trust in a brand thanks to Blue. Darker blues are a good box color for businesses that target working professionals or older generations because they can make a product appear more serious. A lighter shade of blue is more enjoyable, making it ideal for speaking to more youthful clients.
Orange: Brands that want to convey passion, spontaneity, or youth will benefit from shipping boxes.
Pink and purple: Pink and purple are both associated with luxury and work well as high-end Product Packaging. Since pink is associated with femininity, it is an excellent color for beauty products like makeup and hair care.
Yellow: it is a bright, sunny color, and yellow makes people feel happy. Yellow is a great base color for packaging products that are shown to be affordable or appealing to younger customers.
Eventually, the shade of the transportation box that is best for your image involves closely-held conviction.
About the Creator
Get the best Quality Custom Printed Boxes. The Custom Box Packaging Offers for all kinds of boxes at affordable rates with free shipping and free design support. Get Affordable Wholesale Customized Boxes contact us now!
Reader insights
Be the first to share your insights about this piece.
Add your insights