The Metaapp: How Solving the Frustrations of Streaming Video Users is the Next Big Business Opportunity at the Intersection of the Worlds of Media, Entertainment, and Technology
Whoever Can Make Streaming Content Easier to Find and Streaming Platforms Easier to Navigate Between Will Create a Whole Lot of Value. Will It Be You?
Introduction
PSSSST! I've got a billion dollar idea! Check that, it may be a ten - or even tens - of billions of dollars idea! As a strategic management consultant and professor, I can safely say that this idea will pay HUGE dividends for whoever actually solves one of society's greatest problems today. Well now, it's not world peace or curing COVID for all time. However, it is an idea that addresses a very real problem that almost all of us experience on a daily basis. It is an idea that could improve dramatically - yes, in a very real way in the digital age in which we live - user experiences (UX) and heighten both customer satisfaction - and customer retention - for the corporate giants - Netflix, Disney (parent of both ESPN and Hulu), Alphabet (yes, otherwise known as the company formerly known as Google and the parent of YouTube), AT&T (parent company of HBO), Discovery and more - who feed the content machine that almost all of us access every day for our entertainment, news, and sports fixes.
So, let's first look at the problems associated with how video streaming works today, along with the remarkable growth that has occurred in this important sector of our economy that intersects the media, the entertainment industry, and the tech sector. Then, I'll share my idea for how to solve the "user interface" (UI) dilemma facing these giant companies that could make for a huge new business and market, and one that can improve how we consume video content in the future.
The Problems - and Opportunities - with Video Streaming Today
The problem is simple: It's too damn hard to navigate ANY one of the streaming services out there today to find the content that you are wanting to watch! In an era when businesses of all types and sizes are constantly focused on improving their user/customer experiences (CX), streaming apps are very hard to navigate, even for the most tech-savvy amongst us. A recent article on the subject ("Streaming Video Viewers Talk About 6 of Their Biggest UX Frustrations") put it bluntly:
"Consumers are increasingly feeling that, when it comes to the Streaming Wars, they are getting the short end of the stick. As more services launch, people are having to pay more to access the content they want. Worse yet, the experience offered by streaming services doesn't always merit the high costs. While many viewers are now paying as much as they did for cable (or more), they are having more experiential problems with online video."
And a January 2022 report from Accenture ("Streaming's Next Act") found consumer data to back up the anecdotal evidence that streaming users, while enjoying having a world of content at their fingertips, want the user experience to be far better than it is today, which cord cutters find to be "complicated, expensive, hard to use—and not all that personal." Among the findings from the large global survey conducted by this leading consulting firm were the fact that:
60% of consumers globally consider the process of navigating among different streaming services "a little" to "very" frustrating;
44% spend more than six minutes trying to find something they want to watch;
51% would be happy to let a video-on-demand service know more about them to make recommendations more relevant to them; and
56% of consumers globally said they'd like to be able to take their profile from one service to another to better personalize content.
Even more telling may be the fact that user frustration, combined with increasing prices for streaming services, are leading consumers to cut ties with the very services that provide them the content they want to watch - and pay for - away from traditional cable television. In fact, in the Accenture survey, a third of those surveyed said that "they will 'somewhat' or 'greatly' decrease spend on media and entertainment across subscriptions and one-time purchases in the next 12 months. With both Netflix raising its monthly subscription prices and Amazon increasing the cost of its annual Prime membership just within the past few weeks, one can imagine that the task of attracting and then retaining customers for all of the streaming services will become just that much harder when users are both frustrated with how they interact with these apps AND angered by having to pay more for the privilege.
Now this is not to say that the streaming industry is dying. That is far, far from the case. In fact, video streaming has been on a fast pace of growth by any measure (users, time spent in apps, content growth, etc.), but the bottom-line of revenue growth to date has been impressive (see Figure 1: US Video Streaming App Revenue - 2015-2020 below)...
Figure 1: US Video Streaming App Revenue - 2015-2020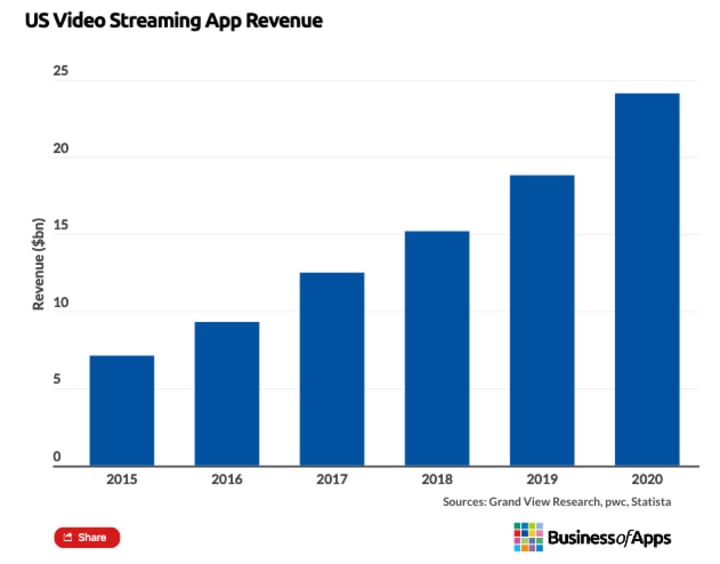 Source: David Curry, "Video Streaming App Revenue and Usage Statistics (2022)," Business of Apps, January 2022. (Used with permission)
… and the future shows no signs of the industry's growth slowing down anytime soon, as more and more video will be consumed via the major streaming apps (see Figure 2: Projected US Video Streaming App Revenue - 2020-2025 below), changing not just our viewing habits, but the structure and operations of the entire entertainment industry as well!
Figure 2: Projected US Video Streaming App Revenue - 2020-2025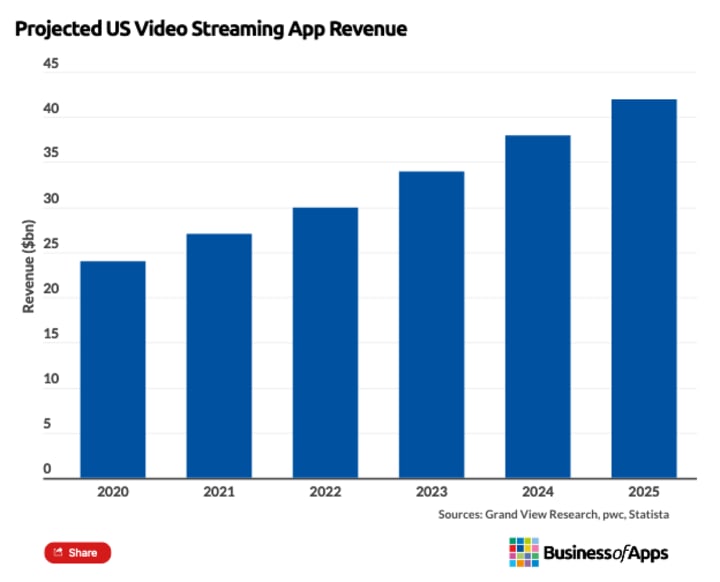 Source: David Curry, "Video Streaming App Revenue and Usage Statistics (2022)," Business of Apps, January 2022. (Used with permission)
And while of course, the COVID-19 pandemic was very good for all the streaming services (as TV watching in general boomed!), the growth of the industry in aggregate looks to continue apace, not just in America, but globally - with a forecasted growth rate worldwide of just under 20% annually! And consider this fact: Consumer data shows that we are fast approaching the point where the average U.S. household subscribes to four - or more - subscription video services!
So, when one combines all of this good news on the growth of video streaming services with the mounting user frustration with navigating in, let alone among and between, the streaming platforms, there is one major problem on the horizon for the major players in the streaming market today: How to make their apps more - some might say at all - user friendly!
The "Metaapp" Opportunity
Now, I am not naive enough to think that I am the only one thinking that there has to be a better way to interface and interact with streaming apps. I am sure that there are both big money players in the tech industry and just ordinary folks working late into the night trying to develop the solution to make the user experience both in searching for and viewing a particular TV show or movie easier and in discovering content that may be just what interests you!
While each of the streaming giants should be looking toward improving the user interface - and thus the customer experience - on their own individual apps (and likely each pouring almost unlimited resources into doing so). From my consulting perspective, that is a good - and absolutely necessary - first step for each of the players in the video streaming market. However, the billion - or many billions of dollars - opportunity that I see out there that is very necessary at present is for more of a "meta" solution to the problems we see in terms of video streaming apps today. And no, it does not involve Meta, the company formerly known as Facebook, nor does it in any way touch on the much-hyped Metaverse that the company is seeking to create…
Rather, what I see is a tremendous market opportunity for a company - or more likely several companies - to develop and then bring to market, for lack of a better term at the moment, a "Metaapp." This would be an app that one could use to do all of the virtual leg work that video streaming users do today - and yes, complain and grumble about in doing so - in trying to find a particular piece of content and/or items that might be of interest to them.
Clearly, the research into the minds of consumers shows that both navigating within a single app and trying to determine which app to even use based on where particular content is housed on the various apps out there today are huge, subscription canceling-level aggravations for many, many users! And as more and more new original content is produced and more and more legacy (a better word for "old") TV shows and movies are made available on the various streaming services, these issues will only get worse - both within and across the platforms. So, as we have seen with so many previous cases with technology, with consumer aggravation and angst comes a market opportunity. And clearly today, the streaming market is ripe for just such a Metaapp to make the process of finding what you want to watch - even if you don't know exactly what you want to watch - is a huge opportunity that is sitting out there at present, just ready for the right solution!
So in the end, I am not a coder or an app developer. I am "of a certain age," and I don't intend to learn how to do these things and I don't possess or have access to the capital to be able hire the tech people to make this happen myself. However, with my years of management consulting and teaching experience, I can safely say that the Metaapp is one of the biggest and best opportunities that I have seen develop in the whole history of the tech field! You have major companies that need a solution to a very real problem. You have a fast growing market, but one with consumer dissatisfaction that may pose a very real threat to that growth if not addressed. And if you can navigate the legal issues involved and potentially even gain the cooperation of even some, if not all, of the major streaming providers, to actually create a Metaapp that gains consumer acceptance and adoption as a gateway to better navigate streaming content, that company - and the people behind it and working for it - could be the next big thing in the tech and media worlds!
Now, the major streaming companies, like Netflix, Disney, Amazon, and Alphabet, have vast amounts of money to throw at the issue to try and tackle their own user interface/customer experience problems, These tech/media giants can, and surely will, develop vastly improved user interfaces to enhance their customer viewing - and navigating - experiences. But the real problem lies at the cross-platform level. There could be some "grand alliance" or joint venture between the major streaming companies to develop such a Metaapp. Alternatively, vast consolidation between these firms would mean that there would be more content under just a few major streaming apps than what we see at present. However in the end, while the individual companies can - and likely will - improve the workings of their own streaming apps, it is unlikely that a cooperative or an evolutionary answer will be the ultimate solution to the very real consumer frustrations with finding streaming content today.
Consumers would like to have one app - one portal through which they could go to in order to either find a particular TV show or movie they wanted to watch at the moment and or a series or film that they may not know about or thought of, but matches their viewing habits and interests to a "T." So, it would be beneficial to have the companies on board to create a seamless interface to go from the Metaapp portal to view the content on the appropriate streaming platform (and with the average American household having at least four video streaming subscriptions, this makes even more content available to them when combining the various wide - and deep - content libraries if the Metaapp functioned in this way!). However, even if one or more of the various streaming services choose not to participate in a Metaapp solution, such a Metaapp - even as a standalone app that would simply point you to where to view the content you are looking for - would still have great value to consumers.
So, it will likely be up to you - the entrepreneurs, the techies, and those who bring them together - to solve the conundrum that plagues both the video streaming services and their customers. If you can indeed solve the navigation problem for consumers, you can create a solution - and a company - that will be quite valuable in the marketplace today and tomorrow! It is definitely a billion dollar idea. Now, it is up to you to run with it (although if you'd like to involve me, get in touch)!
++++++++++++++++++++++++++++++++++++++++++++++++++++
About David Wyld
David Wyld is a Professor of Strategic Management at Southeastern Louisiana University in Hammond, Louisiana. He is a management consultant, researcher/writer, publisher, executive educator, and experienced expert witness. You can view all of his work at https://authory.com/DavidWyld.
Social Media Links to David Wyld:
About the Creator
Professor, Consultant, Doer. Founder/Publisher of The IDEA Publishing (http://www.theideapublishing.com/) & Modern Business Press (http://www.modernbusinesspress.com)
Reader insights
Be the first to share your insights about this piece.
Add your insights