The Commute
Realisation, Music, Being Present, and Evolving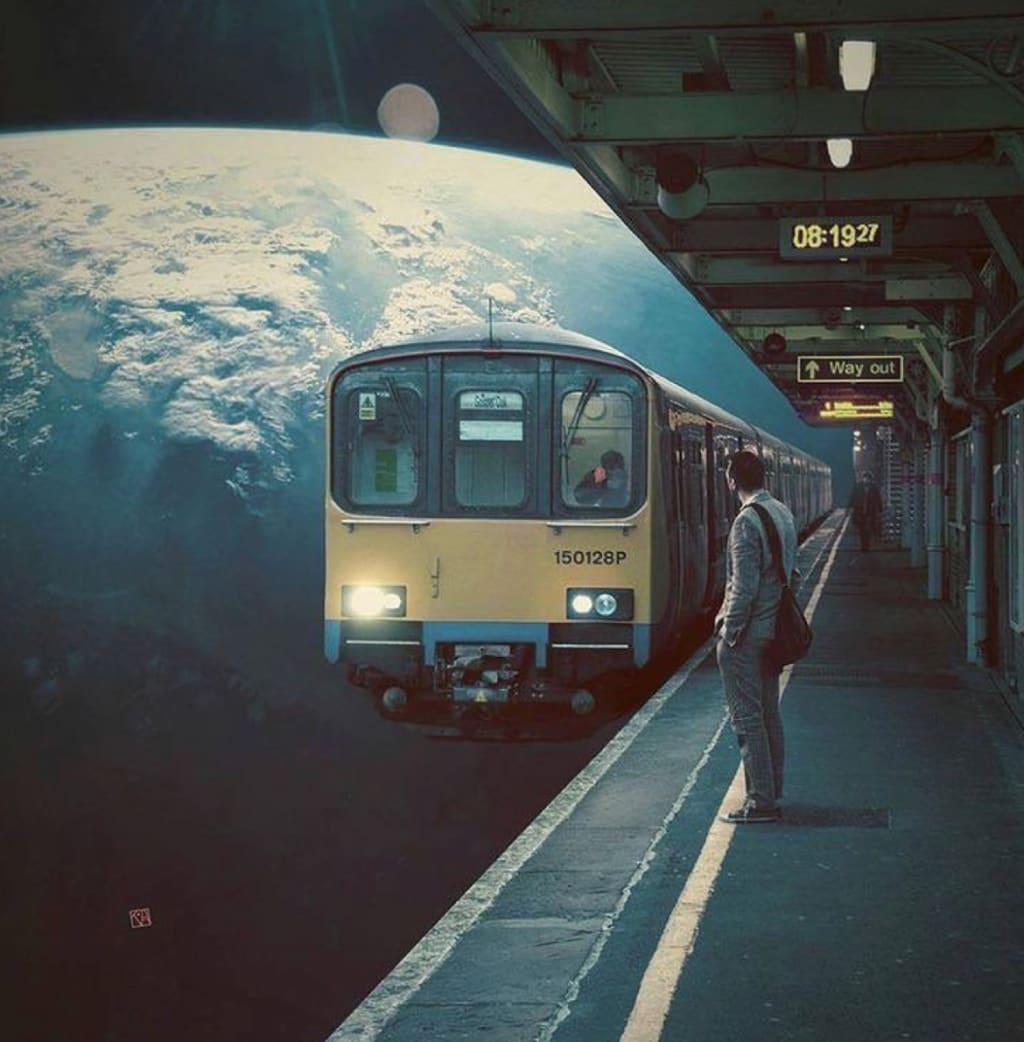 Another day, another alarm, another lovely work day. From East London to South London, three changes to go the commute. (Nowplaying - Frizz Price - Miles Away) I rather much enjoy the London Overground to the Underground, there's just that little bit of distance, which keeps me sane. To be packed like sardines each day would have me probably taking more boxing classes. I don't mind the occasional journey, neighbour having wandering eyes into my private conversations, while I type or search my favourite songs or book. I can't help but look at them smizing, or always catch someone already looking at me when I look up (spooky). Apparently when you make eye contact with someone you're meant to talk to them, and share vital information (blank stare), if only we smiled a little more. Everyone usually looks so depressed it rubs off, to the one beggar every journey having that rehearsed few lines as to why they need change, some seem like they really need while others have better trainers than me, hmm what fix is this change you're getting for. (I mean I do give sometimes, but the way this nine to five life with bills, tax, expenses are set up I may join you guys if I keep up the change giving). Meanwhile there's always someone passing lurgies (germs), coughing and sneezing without covering their mouth (my number one pet peeve. I can feel my throat closing up when this happens, if I roll my eyes any harder they will fall out my head) let's not forget the touching of railings after *cries in bacteria* Anti Bacterial gel people, ANTI BACTERIA GEL! The anxiety; it's that season. Deep breaths, my song selection is usually so perfect (to me), catches me when I feel like I'm over thinking (Nowplaying Jacquees - London), I wander off to my perfect scenario of how my day would start and of course everything goes my way at my time. Still coming to work having a longer break (A Monday off) (Nowplaying Normani x Wizkid - Checklist), more incentives and bigger check every 4 months (Nowplaying OT Genesis - Everybody Mad. You must know the famous Beyoncé Coachella routine to this song by now).
From East to West, too many changes, too many delays, too many thoughts to a job I can barely stand. I'm clearly in the wrong field of work, from starting off as a creative from university to job offers in a perfect PR role, to a 360 with health, and zero offers postgraduate. I was told how competitive it was to sell my soul to a company, there's nothing worse than coming across jobs advertised as one thing, then wasting your time going to an interview. I remember applying for a marketing Assistant job for a club that shall not be named and shamed! I thought this sounds right up my alley and I got an interview. I came prepared, ready to answer any question, memorized information about a company, dressed appropriately and groomed. I came in and was greeted by a gentleman who told me to take a seat. There sat a pretty lady here for the same role. I stayed cool and spoke to her casually, eventually another gentleman came in directed to sit with us. Ok more competition I thought. 15 minutes later four more people had joined the table, feeling slightly uneasy we all engaged in the role we were applying for. It was becoming clear that some were here for some sort of club promoter role.
I felt slightly at ease, less competition! Right? We get called in about half an hour later by a guy who was running late and was really out of breath, and mentioned he was hungover, "sorry for the delay let's go up everyone," he could barely say. Now as we all walk up, my intuition is screaming at me to speak up. I keep calm and sit with everyone else. Let's see what this is really about, looking dead in their eyes we all had to introduce ourselves. (I honestly hate this shit) thinking that I was having a one to one interview I go along and introduce myself, tell them what I've studied, my age, a small part of me that I wish to disclose. The usual sequence if you've worked in retail once upon a time you most likely had a group interview too. Now the role, my eyes lit up and ears opened up ready to hear everything. Now the role is for the club promoter and the people (eyes twitch ) interested will be the driving force for advertising and bringing customers directly to the club. Promoters get paid per guest brought through their own network of friends, and can easily make hundreds of pounds per night. I put my hand up, "so this is commission only?" He responded, "indeed it is but you can make hundreds per week and eventually per night eventually." ( At my age, at my big grown age, a graduate with some experience), I can see most of the candidates seem impressed apart from the lady that came in first; she applied for the role that was similar to mine. Hesitant to say something, I can see the confusion on her face. Ehem, excuse me, but this is not the role I applied for, it was advertised as a marketing assistant role, nothing about being on the street, and earning commission (I did that while I was about 18, i'll never do it again), you guys or whoever has falsely advertised this role and I won't be doing such job, thanks. I pushed my chair back and got my ass all the way out. I deserve better.
Train terminates, the irony at the station where I used to get off to go work in the area about three years ago. It was interesting working in media, however, I worked out they started me on below minimum wage, way below (the struggle was real) for a full time role, not to mention the CEO was a multi millionaire of a small company. Anyways back on my commute and there's more beggars than ever before, with their well crafted repeated message. Torn between giving money at times, to eyes watering from the stench of alcohol pouring from some of their pores. Packed trains and being pushed by little women (bare in mind I'm over six foot two). Constant delays and higher ticket fares. Yet my pay has no real increase when you get taxed like a bitch. I'm tired and the days just begun but I'm not a quitter I can't lose that easily I needed to vent not every journey is the same. Just that this one day had me questioning everything including myself.