The Birds & The Bees
Organizing life one piece at a time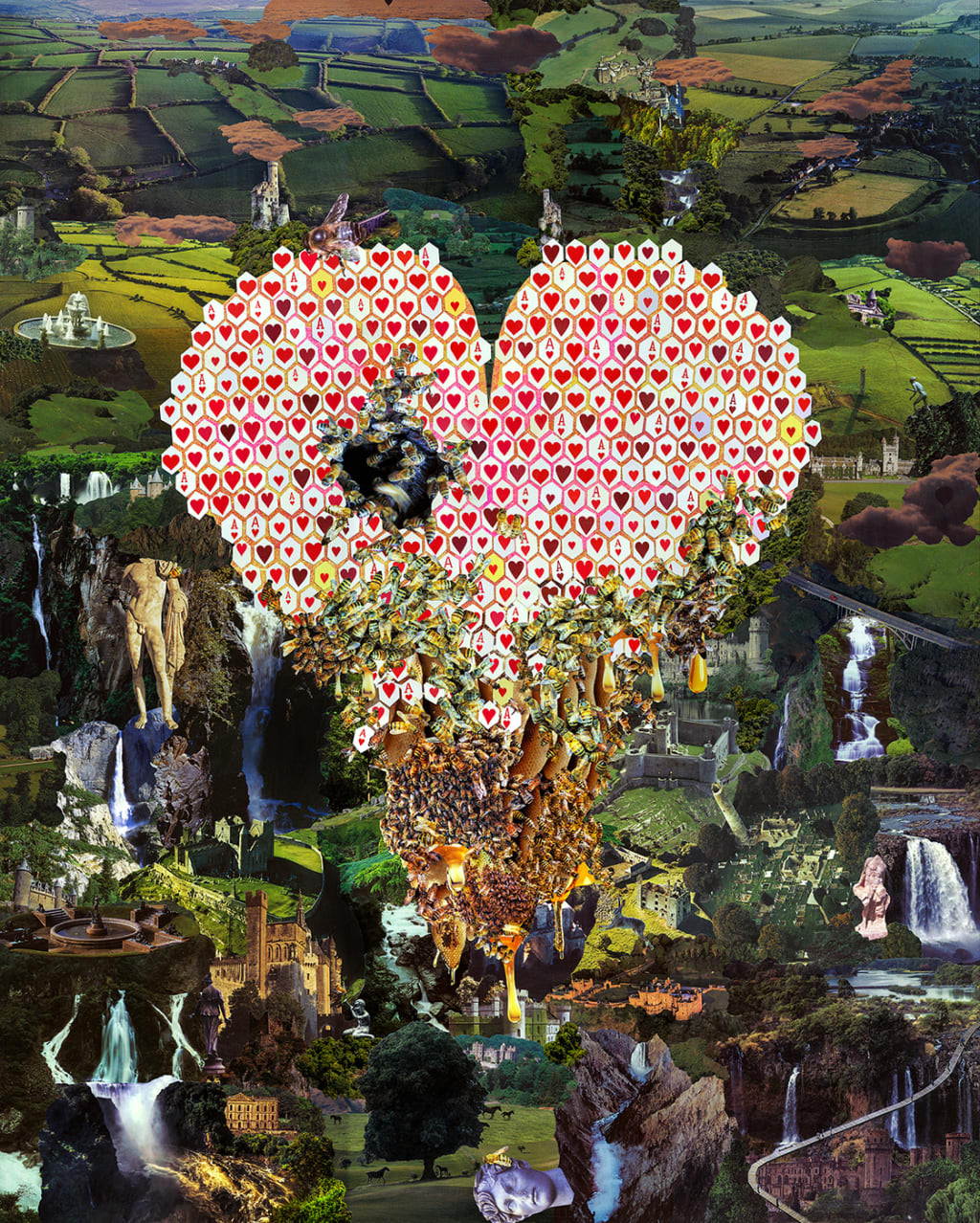 The Birds & The Bees: Heart (Hive)
No matter how much you think you are in control, life will always find a way to surprise you. I spent the past decade creating a life for myself in New York City. I lived in several questionable apartments until finding a halfway decent one in Park Slope during that time. I landed a stable full-time job in Manhattan as a photography office manager securing a salary, health benefits, a retirement plan in an office surrounded by creatives. I embodied the hustle of city life where there is never enough time, and anxiety and stress are the norms. Everything seemed okay. My head was finally above water, and I entered the numb, comfortable daily routine many New Yorkers inhabit.
In March 2020, the pandemic came along and disrupted everything. I lost my job, apartment, and, worst of all, my identity. I felt lost, confused, and out of place. The busy routine that had kept me distracted disappeared and left me questioning what my life had become and if I was happy. To save money, I ended up moving back into my childhood home with my father in the northern New Jersey countryside. There was no plan, just the need for safety and stability. It was a humbling change of pace - the exact opposite of the city bustle I had grown accustomed to. The isolation and immense amount of free time were foreign to me and took months of adjustment. I suddenly had time to exercise, sleep in, or do whatever I wanted to do. I was no longer on someone else's clock and had to create my own path. I decided to pick up my scissors and start cutting things up.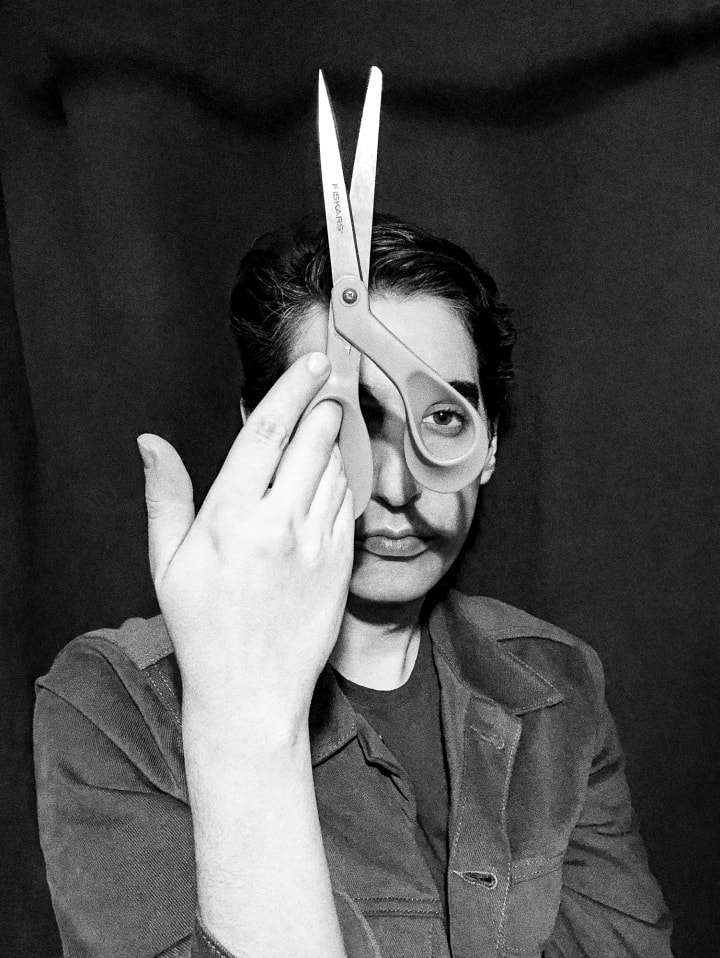 Collage is a fantastic medium and very accessible. You don't need to know how to draw or have years of training like a master painter. Supplies are not expensive. All you need is some glue, a good pair of scissors, some magazines and a lot of imagination. If a picture is worth a thousand words, then a collage is worth a million.
I began each day with a new routine of sifting through old books and magazines while listening to music. Having fun and feeling relaxed, I would cut out anything that caught my eye or inspired me. Something was refreshing about using my hand to guide the scissors across the page and tracing the edge of an object giving it a new form: no screens, clicking or scrolling, just intuitive motion. I started to amass collections of birds, hearts, bees, and butterflies. I was reacquainting myself with the nature of my youth. It became apparent there was an obvious need for beauty and affection in my life. If it weren't there in reality, I would make it myself.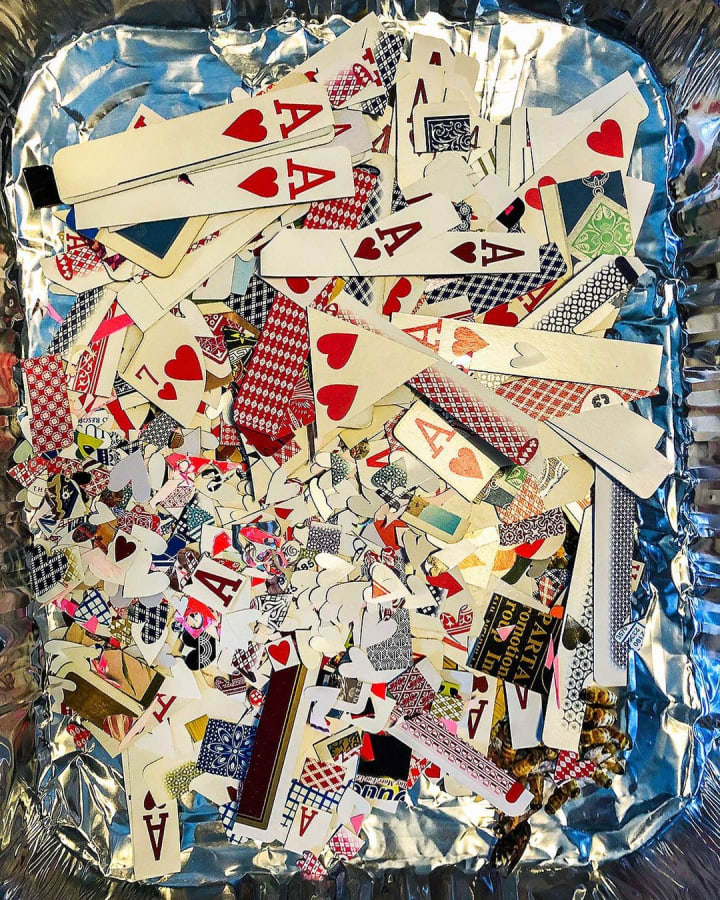 After organizing the clippings, I began to transform their meaning by aligning shapes through juxtapositions that created new narratives. Out of the chaos, order began to appear as lush landscapes full of fertile possibilities. The heart shape became present, sometimes floating in the sky, hovering above the grass, or getting lost in abstraction. After completing 12 large-scale pieces, 'The Birds & The Bees' theme made itself clear.
The artwork featured is titled "The Birds & The Bees: Heart (Hive)." The collage is 30x40 inches, is made out of hundreds of cutouts, and took two months to complete. The background is founded upon green pastures divided by rivers and waterfalls. I cut up the heart suit from a deck of cards into honeycomb hexagons that mimics the beehive pattern. Honey drips down behind buzzing bees, and weathered statues are scattered around. This collage is my favorite creation so far because it speaks to where I've been and where I hope to go.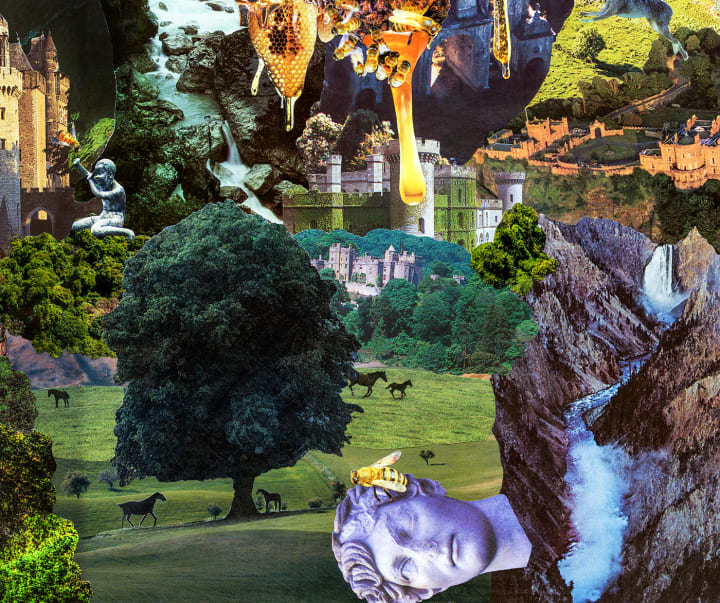 Life has brought me back to the place where it all began. It feels like a rebirth, a second chance to do things differently, with more intention. When collaging, I call on the courage to awake positive change in the art as well as my existence. The uncertainty of COVID has made me thankful to have family, creativity, health, and this opportunity to grow as an artist. The pandemic may be ending, but my journey as a creator is just beginning.