The Aviator Pup
If you love dogs, you'll love this.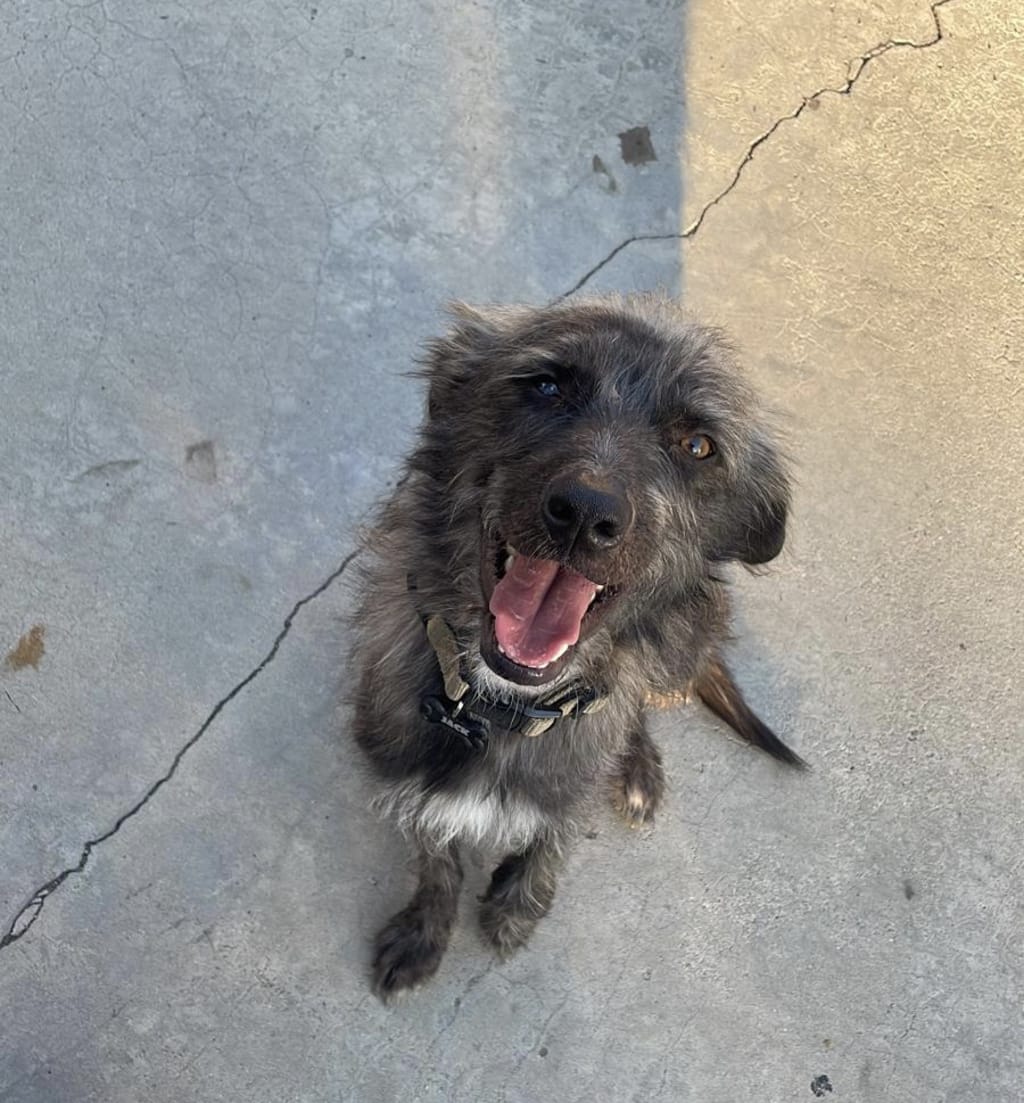 Months ago, I wrote a story about an adoption program we once had at our ranch while our son Ricky was in vet school.
He attended school at UABC University of Autonoma of Baja California School of Veterinary Medicine in Mexico. This is a rigorous 5 ½ year program and quite different in some ways from that of the vet schools in the U.S. Mainly because while learning surgical procedures, the students are required to work on live patients which they choose from the dog pound. After the patient's recovery period, some students keep their patients but most are returned to the pound.
I realize this doesn't sound appealing so far but please keep reading.
While there, he and his classmates were sent to the pound in Mexicali to pick a dog for the surgical procedure. Ricky didn't like this and neither did the other students so after the surgery, he brought the dogs to the ranch where we began the adoption program. We had a total of ten dogs at the ranch, over time, and all of them went to loving families.
* * * * *
As I bring you up to date, Ricky's fiancée, Stephanie, is studying Veterinary medicine at the same school in Mexicali. Now in her last year, she too is at the stage of her university career where she is learning surgical procedures on live patients.
About a month ago, Stephanie was assigned such a procedure. This meant a trip to the dog pound. Stephanie and Ricky have told me there are many mixed feelings when it's time to work on a patient in a surgical procedure. It's a combination of excitement wrapped in thick layers of nerves, preparation, empathy, and a tremendous sense of respect and responsibility toward the patient. If not for their patients, they wouldn't develop their skills as veterinarians that will save lives and it is only fair that these pups get the best treatments and life they possibly can.
* * *
A little back history on Ricky. Ricky has lost three dogs he loved very much. After 3-month-old Mezcal passed away, he vowed never to look for a dog again and that life would guide their meeting. He was sure the right dog would find him. Then he'd know it was meant to be.
It happened that Ricky was visiting Stephanie in Mexicali the weekend she received her assignment so they went together to look for her patient. On their way, Ricky caught a glimpse of a wiry-haired lump that resembled a dog so they decided to stop and take a look.
With a bit of food and kind words, a shy skinny dog emerged from underneath the parked car. Once they saw him, Stephanie inspected him further and they found evidence of a very horrid life.
Both hind limbs were oddly shaped. He had a bad limp on his front left foot, one bad eye, ticks, bite marks, and open wounds on his chest and elbows and to wrap it all up he was severely underweight. At this point, they knew he wasn't a surgical candidate but they decided to give this guy a try and find him a good home.
The next day, Stephanie took the dog to her professor for a pre-evaluation. He took one look and said no way. In fact, he even suggested euthanasia; that's how bad he looked. Stephanie couldn't hold back her tears between feeling so bad for the pup and hearing such grim news.
When she returned home from school that day they decided there was no way the pup would go back to living on the streets and he would get a full workup before drawing any conclusions. Ricky felt in his heart it was the right thing to do so he adopted him and named him Jack. He was determined to do everything he could to get him back in shape and find him a home.
Jack underwent numerous medical exams. Ultrasounds to check that his internal organs were functioning correctly, blood tests, many medicated baths for ticks and fleas, and a variety of x-rays. Sadly, Ricky discovered at one point in Jack's short three years of life he had had three broken legs while being homeless. I still can't understand how he managed to survive but the skin rubbed raw on his elbows and chest leads me to believe he dragged himself, hid, and slept when possible while his legs mended.
I met Jack for the first time a few weeks ago and I was shocked at how gentle and kind he was after everything he had endured. Jack is such a kind soul. Besides our beloved Minnie, I've never met such a sweet dog who would never so much as hurt a fly, as Jack. And oh, how he loves Ricky!
Every day they go to work together. Ricky makes his rounds seeing horses while Jack rides in the backseat in his comfy doggie bed with his food and water nearby. When they arrive to see a patient, Jack hops out of the truck and sleeps underneath Ricky's equipment table while Ricky works on a horse. Then off they go to the next appointment.
There's an expression in Spanish, "Se pega como una calcomania!" translated, which means that he sticks to him like a sticker. Jack never leaves Ricky's side.
Last weekend during the Thanksgiving holiday, Ricky took Jack to a top-notch vet and orthopedic surgeon here in Ensenada to see what could be done about his legs. Our entire family has known Dr. Solis for years and he was obviously happy to see Ricky.
Dr. Solis looked at his left rear leg which had a clean break but mended crooked. He said they could easily rebreak it again and set it correctly. After the rear leg healed he said Jack's front left, which had a painful knob around the ankle had formed due to another break. He said that leg would take more work but he was sure he could get Jack to a pain-free point which was a massive relief for Ricky.
In finishing this story, some of you know Ricky has just received his pilot's license. He's an official pilot now and so is Jack!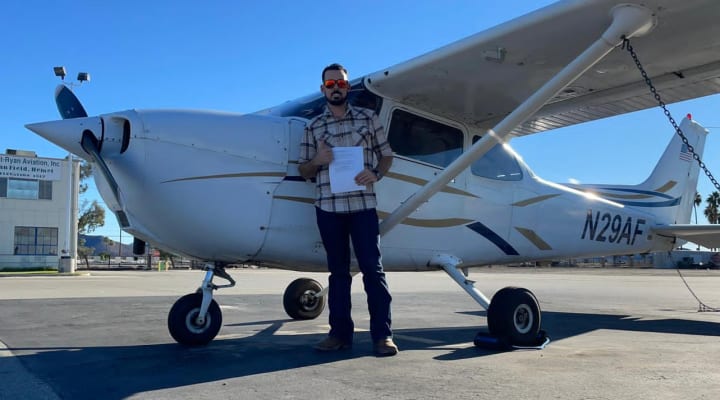 I'm about to cry as I write this but Jack loves Ricky so much, he goes wherever Ricky does. Jack is Ricky's copilot. For the first time, Ricky and Stephanie took Jack up into the clouds just before sunset. They said his eyes got real wide when he looked out the window and he couldn't stop looking. He loved it!
They did some airport hopping that day and wherever they landed people praised the happy little aviator with hearty affection while his tail swirled in circles like a propeller.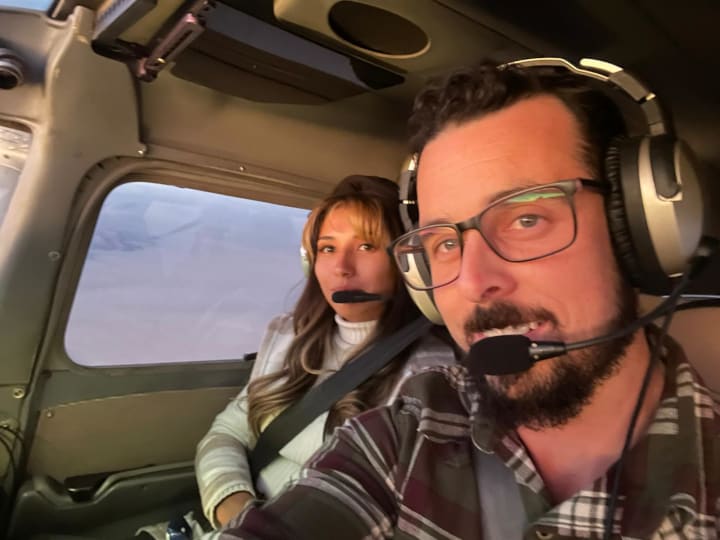 Jack and Ricky are forever friends. Jack knows he's found his home with Ricky, someone who will love and care for him unconditionally.
Jack's life was horrible and how fast things can change in this life we live. Jack is probably the luckiest dog in the world because Ricky and Stephanie found him.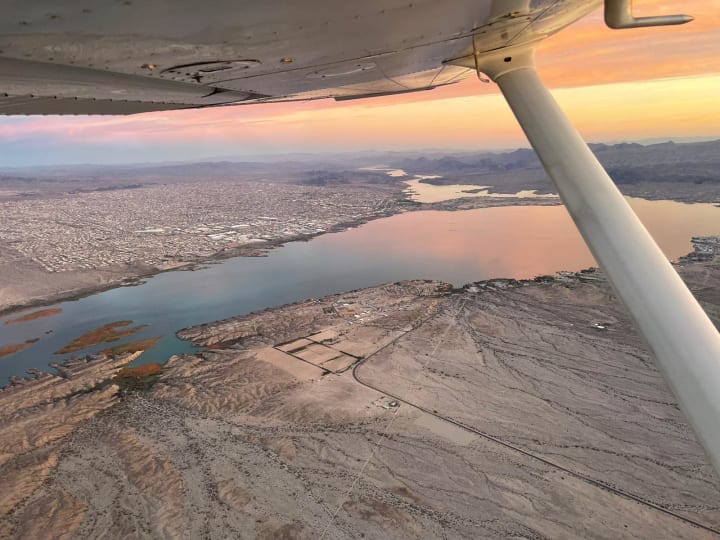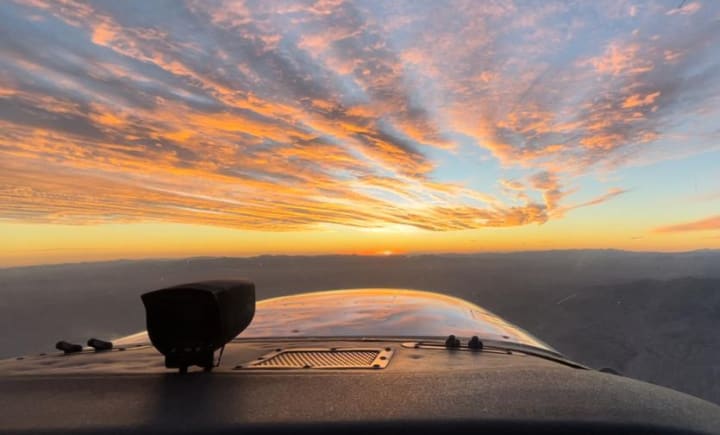 About the Creator
Writing is my source of peace. I write short stories: memoirs, fiction, and on matters of the soul.
Writing could have been a career for me but I let it slip away. It's never too late to start again. I hope you enjoy what you read here.
Reader insights
Outstanding
Excellent work. Looking forward to reading more!
Top insights
Heartfelt and relatable

The story invoked strong personal emotions

Excellent storytelling

Original narrative & well developed characters

On-point and relevant

Writing reflected the title & theme
Easy to read and follow

Well-structured & engaging content

Compelling and original writing

Creative use of language & vocab

Eye opening

Niche topic & fresh perspectives
Add your insights