Substack Alternatives: A Huge List of Sites Like Substack Where You Can Create a Newsletter And Make Money
Substack charges you 10% of every transaction between you and the reader and also has a weak SEO, here are some potential Substack alternatives where you can make money running a newsletter.
Substack Alternatives: A Huge List of Sites Like Substack Where You Can Create a Newsletter And Make Money / Picture created by the Author
What are some of the Substack alternatives where you can make money and start a newsletter? Of course, Substack is a good platform and they recently announced that they have over 1 million paid subscribers on the cumulative newsletter. But, as someone who has used Substack for a longer period of time and still using it for one of my small businesses, I think it has many features and business propositions for newsletter writers who want to start a paid newsletter.
There are many pros and cons of using Substack and you can find the list of the Substack alternatives where you
Substack like Sites: A list of sites where you can start a subscription business:
Papyrus
Ghost
Medium.com
Vocal Media
Quora
Memberful:
Letterdrop:
WordPress
Revue
Tiny letters
Mailchimp
Now, let's discuss each newsletter creating a platform
1. Papyrus:
Papyrus is a newsletter-making website where you have all the features that Substack has like getting a custom domain for $50 (one-time fee), unlimited email subscribers, 5% transaction fee between you and the reader, unlike Substack that charges a 10% transaction fee. The team behind Papyrus is a Google-based developers who could help you optimize your stories and help you getting more exposure.
For SEO, I think this is something most of the writers ignored but with right coding and infrastructure, your newsletter could be optimized for getting good search rankings. Stripe is one of the tool that most of the newsletter platforms are using so you need to connect your Stripe account in order to get paid. Join Papyrus here as a newsletter creator.
2. Ghost Newsletter building platform
Ghost is a Substack alternative as well as WordPress alternative. It is all depend upon you how you take it. Ghost is a not-for-profit organization and all its employees are working remotely. Ghost is completely different compared to Substack. For example; for creating a newsletter, you have to pay in advance and you don't have to give a percentage of your subscriptions to the company, you keep 100% of the money.
This type of business model is where you pay first and there are no hidden charges. One of the biggest problems Substack is facing is that the established creators with a good number of subscribers can easily move to Ghost and start a paid subscription newsletter and save a lot of money.
Following are some of the things you can do with your Ghost newsletter:
You can pay $11 to $31 a month or $100 to $350 a year and you get 100% of the money you make through subscriptions.
You the monthly or yearly payment, you can also get a custom domain and a lot of other features.
One of the best things about Ghost is that you can get to choose a range of themes or newsletter designs.
But, there is one serious con of using Ghost as that is it has a limit on the number of email subscribers. You can only have 1000 email subscribers and pay $350 a year for it but if you want to increase your limit of email subscribers, you need to pay even higher. Following is the range of the Ghost pricing with a limit of email subscribers.

If you want to check out and give Ghost a try, Sign-up through this link to get a 14-days free trial.
3. Medium:
Medium is another writing platform that lets you publish content on anything and has a range of features. The good thing about Medium is that it has a good SEO and also you get discovered by Medium members or the built-in audience in Medium. You can create a Medium publication to list down similar content. You can also submit your stories to other publications and get more viewership of your stories.
Medium is like a one-big giant Substack publication where anyone can join as a writer and make money based on the paying member read time. If you are interested to know more about Medium and want to make money here is an article; how to make money writing on Medium?
Here is a short comparison between Medium and Substack:
Substack doesn't guarantee you a discovery but on Medium your stories can get discovered easily.
It is easier to make money on Medium compared to Substack. You need to build an audience in order to make money on Substack.
The business model of Substack is way lucrative but at the same time needs more time and effort while on Medium, anyone can write a viral story and make thousands of dollars.
You can also have an email subscription feature on Medium where anyone can subscribe to get your stories.
If you are someone who is looking to Join Medium, consider joining Medium membership through my referral link: Join Medium membership to support me, or alternatively read this article to understand how Medium membership could help you in your Medium journey: Is Medium membership worth it?
4. Vocal Media:
If you love writing, Vocal Media is the platform that you should give a try. I just love this platform and Vocal has changed my life. I wish I know about Vocal earlier but still, I am very grateful that this platform exists. You can't start a subscription business on Vocal but it has very different plans for creators. You can make money through many ways like winning challenges, getting paid for reads, getting tips from your readers, and bonuses from Vocal staff.
On their Challenge page, you can find a number of challenges where you can take part. To take part in Vocal Challenges you need to be a Vocal+ member and you can Join Vocal+ through this link and get benefits like enrolling into any challenge, getting $6 per 1,000 reads, and paying a 2.9% fee on Tips compared to 6.9% when you aren't a Vocal+ member.
5. Memberful:
Memberful and Substack are competitors when it comes to newsletter subscriptions but Memberful has more to offer than just subscriptions. You can sell digital goods, Courses, sell physical goods, private newsletters, and build communities using the memberful infrastructure.
Memberful has different tiers of pricing. You can Join Memberful for free but you have to pay a 10% transaction fee which is more like Substack but have very limited features available for this plan. For $25/mo, you have to pay a 4.9% transaction fee and have all the features to make a perfect ecosystem of different products.
Is this pricing competitive enough? I don't think so. I think paying a 4.9% transaction fee when I am already paying $25 a month is a huge red flag for me to join this platform. If we compare the same features, we can easily build this whole thing on Ghost, and still, we don't have to pay a 4.9% transaction fee.
6. Revue:
Revue was acquired by Twitter and integrated into the Twitter ecosystem. You can add the Revue newsletter beneath your profile and let your viewers subscribe to you with a one-click solution. Here is how it look like;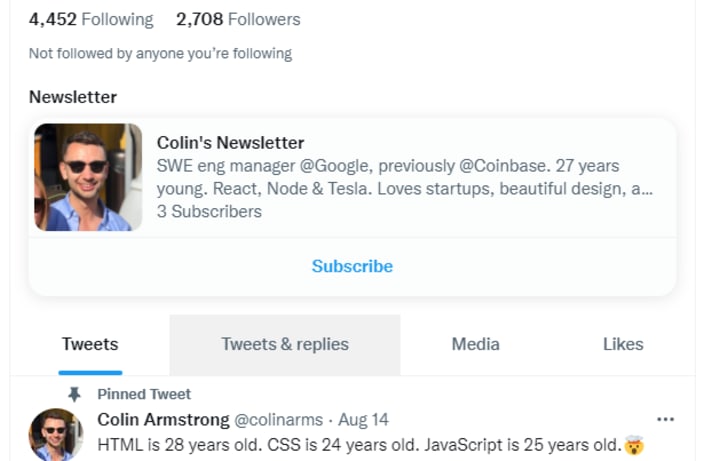 Revue is much like Substack or we can say a Substack alternative build on the Ghost blogging platform. You can also connect a custom domain with your Revue newsletter for free (Substack charges you a one-time fee of $50)
The big and the deciding factor when we compare Revue with Substack is the percentage of transaction fees. Substack charges you a 10% transaction fee while Revue charges you a 5% transaction fee on any transaction between you and the readers. You can read the complete comparison between Substack Vs Revue here.
7. TinyLetters:
Tinyletters is a product of Mailchimp teal and Mailchimp is one of the leading players in the email marketing space. It is sad that they miss one of the biggest markets for so long and they failed to capture the traction as Substack gets. But, the team behind Tinyletters is Mailchimp and you can have some Mailchimp powerful features like Stats of your audience and good email open rates.
Tinyletter is free for the first 5000 email subscribers after that you have to pay to use their services. Tinyletter is a free service and doesn't have any option to you to start a subscription business.
8. Letterdrop:
Letterdrop is a Ghost and Substack competitor. Letterdop is a paid tool that lets you start a subscription business, accommodate email subscribers but have a certain limit and if you want to have more email subscribers than the specified limits, you have to pay more. Letterdrop also lets you use a new feature in the newsletter industry called "Sponsorships" they have built-in integration for newsletter creators to let companies run a sponsorship on their newsletter and track the clicks and the impressions.
Letterdrop helps you as a newsletter creator to have the ability to start a paid newsletter, run sponsorship, and let businesses find you for freelance writing.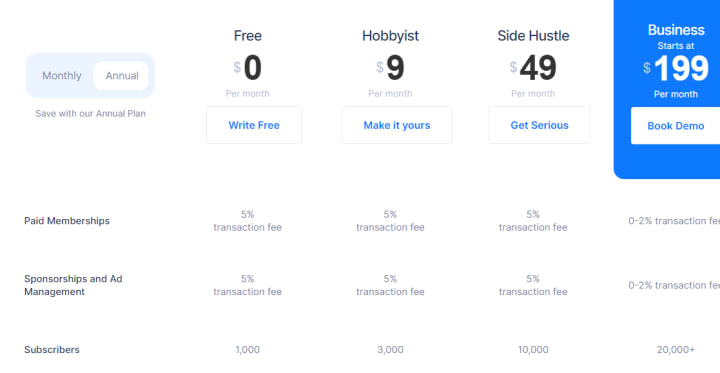 It is free to start writing on Letterdrop but you have to pay a 5% transaction fee and don't have the ability to connect a custom domain and only have a 1000 subscriber limit. For $9 a month, you can have 3,000 email subscribers and still pay a 5% transaction fee and have the ability to connect custom domains. You can view more features and options on their Pricing page here.
9. Mailchimp:
As we already discussed that Tinyletter is owned by Mailchimp but also Mailchimp has its own feature for running paid subscriptions right on your newsletter. Substack and Mailchimp are, in my opinion, the biggest competitors as both are competing for two things; more writers or creators and emails.
Mailchimp paid subscription feature is only available in a selected few countries and you also need Stripe eligibility in order to collect money and get paid.
10. Building a newsletter on WordPress:
How can you build a newsletter on WordPress? As we already discussed Memberful, you can use a memberful tool to start a paid newsletter on WordPress and build your blog as a Substack alternative.
Here is the step-by-step process;
Start a subscription plan with memberful.
Then, connect Memberful with your WordPress blog.
Add a paywall to your stories that you want to block from free users.
Boom!, you are ready to collect payments and start your newsletter on your WordPress blog.
Substack Vs Other Substack Alternatives: The deciding factors:
If you had to choose different Substack alternatives, what will be some criteria to keep in mind? I have listed some that will help you find the best Substack alternatives;
The Transaction fee: The biggest metric is the one that has more impact on you. The percentage of transaction fees is a very important metric as it could be a very big loss for you if you pay 10% of every transaction.
The SEO: Believe me or not but having good SEO could help you get more email subscribers and make more money. If you want to build a newsletter for search engines, make sure to connect a custom domain.
The limit on email subscribers: If there is a platform that limits you to a set of email subscribers, it is a huge red flag. I would never go with a platform that has a range of email subscribers for a
I hope this helps.