Steps To Follow For A Successful Startup
By: Dr. George Shapiro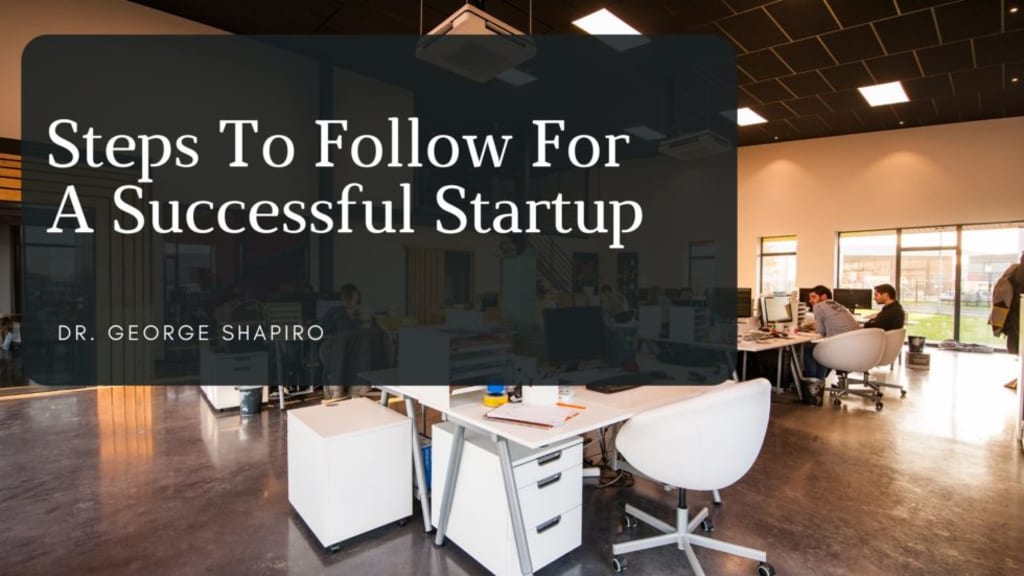 More people are starting businesses thanks to the tax cuts and credits provided by the Tax Act of 2018. A study done by LendingTree, more than 3.6 billion businesses will be created in 2020. These are the companies that thriving entrepreneurs should start thinking about. These business owners recommend doing these steps for your startup process to be a success.
1. Always Be Passionate
Being passionate about what you're doing and why you're doing it is important to keep a successful business. This will allow you to sustain the hard work required to start and maintain a successful business.
According to Jay Arcata, a partner at BX3, being passionate about your business will allow you to achieve tremendous success and fulfillment. He noted that having a passion for something will also help you maintain long-term success.
2. Experiment With Your Concept
Although good intuition is not enough to validate a product or idea, according to Shaun Price, the head of customer acquisition for MitoQ, a nutritional supplement company, you should also talk to your network before taking too much risk. Before you start working on a business plan, make sure you have a small-scale test of your idea. This allows you to iron out any potential issues before you take them to the next level.
3. Start Your Business Plan
A good business plan is very important when establishing a successful business. It will allow you to provide a detailed outline of how you will structure and operate the business.
According to Kevin Miller, a digital marketing agency co-founder, successful business stories usually start with intricate predictions and preparation based on industry knowledge. He also noted that most entrepreneurs generally study their competitors' needs and competition to devise a plan.
4. Hire Wisely
Despite the advice of many business experts, new entrepreneurs should still hire people based on their skills and not on the culture of their workplace. One of the most important factors that Gerald Lombardo, the co-founder of The Word Counter, considered when hiring people was the availability of the best talent on the market.
5. Make Goals
Having goals will help you measure how far you've come. Understanding your objectives will allow you to make informed decisions and manage your time.
A clear understanding of your goals will also help you focus on the important tasks. According to Carlos, the founder of The Navio Group, having a consistent goal will allow you to avoid getting distracted.
6. Find Your Niche
Having a narrow niche will allow you to reach out to more people interested in what you're selling. According to Biron Clark, the founder, and CEO of Career Sidekick, a job search site, if you don't have a strong foothold in a specific niche, then you might not be able to sustain a long-term profitable business.

For over 30 years, Dr. George Shapiro, MD, has been practicing medicine. He specializes in various medical disciplines, such as internal medicine, cardiovascular disease, and age management.
Dr. George Shapiro has been acknowledged for his dedication to the advancement of scientific research and his desire to be innovative. After graduating from Oneonta State University, he attended the University of California at San Diego. He then completed his medical degree at New York Medical College.
After completing his internal medicine residency at the Albert Einstein College of Medicine, he joined the faculty of Columbia University's College of Physicians and Surgeons. He then became a cardiovascular disease specialist.
He then became a part of the medical staff of Columbia University's Irving Medical Center. He was able to improve his skills in the treatment of congestive heart failure and heart transplantation. Each year, hundreds of individuals from all over the world apply to become a part of Columbia's prestigious cardiovascular medical program.
About the Creator
Dr. George Shapiro lives in Chicago and is an expert in cardiology. He specializes in Age Management Medicine. The treatments have been used by people worldwide and are wildly successful. To learn more about his work, visit his website.
Reader insights
Be the first to share your insights about this piece.
Add your insights