Stepping into the Co-CEO Seat
Why we're embracing a joint leadership model.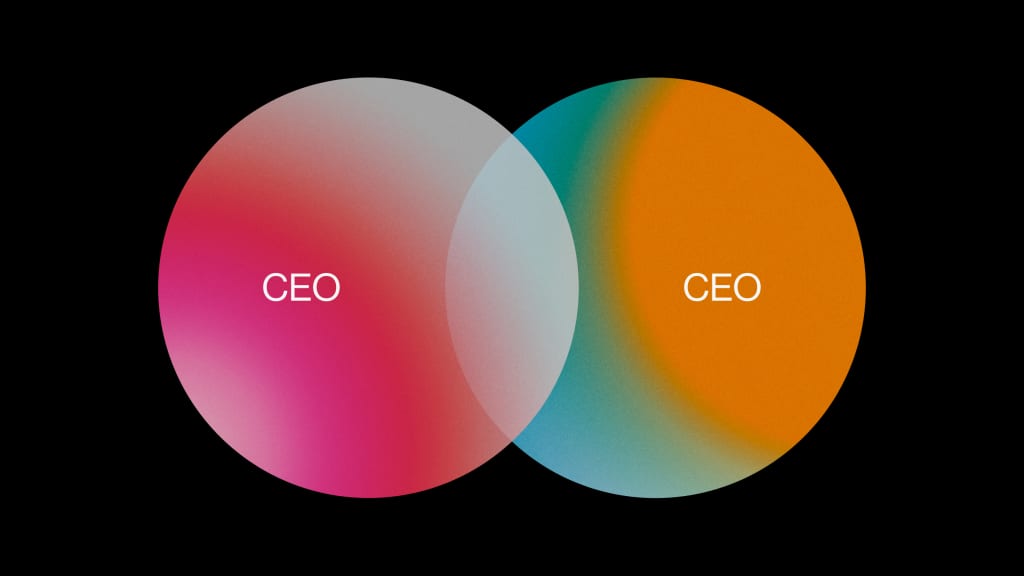 As someone who has been in 'the industry' as long as I have, I have borne witness to good teams, bad teams, mismanaged teams, productive teams, and everything in between. After nearly a full year as a member of the Creatd team (first as COO, and now as co-CEO and Board member) I can say that our team's most formidable quality is its openness to change; it's the way in which capabilities are reshaped to meet the evolving needs of our creators and other stakeholders, all while maintaining our core DNA and methodology in everything we do.
Creatd, after all, is in the unusual position of being a publicly-traded company that has the trappings–the energy, innovation, and rate of growth–more akin to a startup. This means that we are constantly working to strike the perfect balance and remain equal parts adaptable and rigorously compliant.
Just last week, we unveiled Creatd's newly refreshed structure, consisting of four distinct pillars, and, with them, four distinct revenue models. In fact, four differentiated revenue streams (and more still to come) are effectively like four different businesses. And as such, having different skill sets to operate four different businesses makes perfect sense. Looking ahead, both Jeremy and I are committed to expanding each of Creatd's four pillars in parallel; after all, the interconnectivity between our pillars is its edge. With that mandate in mind, it would frankly be impossible for one person to give sufficient attention to each of the components that fuel Creatd's flywheel. Simply put, what we're in the process of building is an undertaking too big for one man.
Speaking of 'Man'...
I would be remiss not to highlight Creatd's statistically high percentage of female representation throughout the company — nearly 70% at current levels. Eight of ten senior-level personnel are women, as well as half of our C-Suite (including Chelsea Pullano, who, incidentally, is also one of the youngest CFOs in place at a Nasdaq-listed company). I bring this up not to insinuate that our senior-level female team members require a female CEO to lead them. Nevertheless, it is no secret that by and large, women are grossly underrepresented in the C-suite, and even more so in CEO roles (excluding female-founded companies, which expectedly have a higher proportion of female CEOs). A 2021 study by corporate leadership data company, Equilar, revealed the still-dire state of gender neutrality on executive teams. According to publicly accessible data from top-performing U.S. corporations, only 7% of CEOs are female.
While there is no shortage of companies citing diversity as a top priority, this does not always translate into visible action. By taking this alternative approach to CEO-ship, Creatd can proudly say that it has moved the needle in the right direction. I am proud to be a part of that.
But the addition of a female CEO is worth more than just the statement it makes about our company or getting bragging rights for having taken a step toward diversity. It's about the tangible, measurable impact on businesses when they establish a female presence in their decision-making. HBR published a fascinating piece back in April, which posits that adding female members to a C-suite literally changes the way that company thinks.
I believe we have done a service to all of our stakeholders by doubling the skills, experiences, networks, and passions of its steward. Creatd's shift to the co-CEO model allows Jeremy to be more focused on strategy and funding, and to move our vision forward expeditiously, while my background in technology, brand partnerships, and customer experience and love of building teams and culture is in the detail of all we do.
From my earliest days at Creatd, I could feel I was part of something special — Jeremy Frommer, Creatd's original founder and CEO, built a company on a set of core values and operating principles–creator success, collective intelligence, flexibility, and innovation, among others – which to this day, are foundational to our continued growth and success. I couldn't be more honored to join Jeremy as co-CEO as we continue to execute on the great opportunity ahead of us.
business
About the author
CEO of Creatd (NASDAQ: CRTD) and Vocal. A mother first, media executive second and finally a lover of the oceans and nature.
Follow me on Linked In: https://www.linkedin.com/in/laurie-weisberg/
Reader insights
Be the first to share your insights about this piece.
Add your insights