Staff Augmentation vs. Project Outsourcing: Which One Should You Choose?
Read here that what can be the best for your organization: Staff Augmentation vs. Project Outsourcing.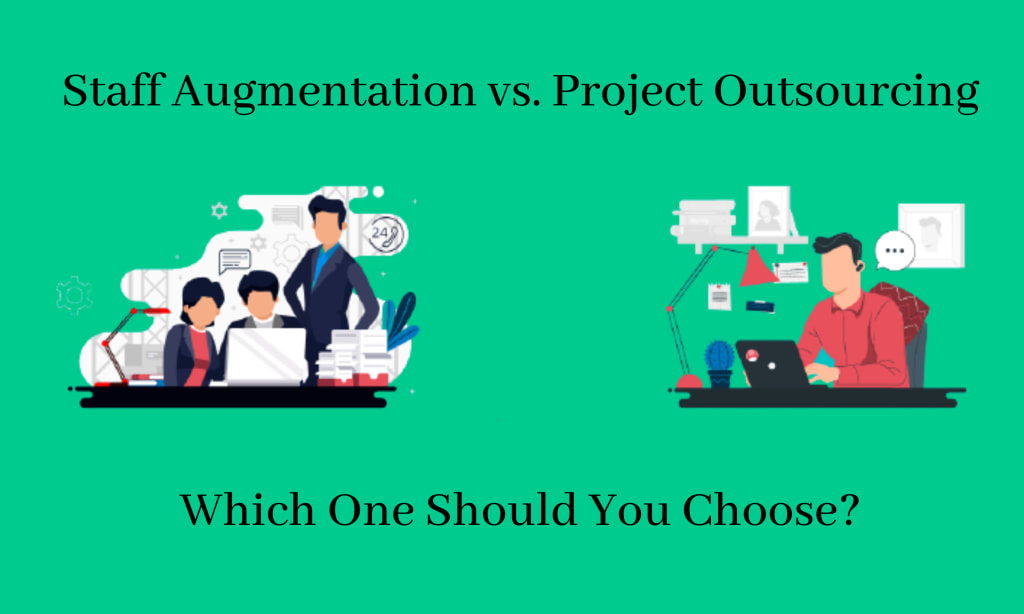 We all know that hiring in-housing is the traditional way of hiring, but today's world is not limited to hiring only one way. There are multiple hiring ways now, like Managed services, Staff augmentation, and software outsourcing. All forms of hiring are getting ample attention from the market day-by-day. But, which is the best for you?
Here, we will discuss the differences between Staff Augmentation vs. IT Outsourcing.
Staff Augmentation is the way to extend your business team, while outsourcing means giving your project to another service provider for execution.
Based on my experience, both are having some pros and cons. It depends on your project's requirements and needs, that which you have to choose. In this article, we will understand the critical features of both of the hiring ways to help you make an informed decision about which one you should need to choose.
What is Staff Augmentation?
The word "augment" simply means to add or modify something. In Staff Augmentation, what we do is we add the expertise or dedicated teams in our in-house team by hiring industry experts remotely.
Now assume you have one web development project. You hire Ruby on rails developers from one of the staff augmentation firms, who have expertise in Ruby on rails. Now by doing this, you end-up delivering quality work to your clients.
Don't be surprised, if you heard that with staff augmentation you can also set up your own remote development team.
What is Project Outsourcing (IT)?
Project outsourcing is a kind of solution-based model. In this model, You do not add the expertise in your in-house team; instead of that, you outsource the entire project or a significant part of your project with outsourcing project management services.
Let's again assume you have a mobile application development project to complete. In IT project outsourcing, you give this project or some portion of it - such as designing or developing another company, that provides you offshore services.
Key highlights - Staff Augmentation.
Here on, we are going to discuss the highlights of the Staff Augmentation.
You stay updated about the project execution.
This is one of the most important benefits of this model. You or your manager will continuously get all the updates of the project from time to time. You also have the information about your project's allocated tasks and deadlines to a remote team member.
In short, end to end execution of the project done under your supervision.
Dedicated Expertise
Just imagine yourself as a dedicated development company, and you hire expert developers for your work. And your work will take around six months to complete. But you hired developers for the entire year, so now you have to pay the developer a salary for sure. No matter if you have another work project or not.
But here, Staff augmentation gives you the advantage of only hiring a dedicated developer at a time of your project's requirement.
The company assesses your project requirement.
The companies share your portfolios with their developers.
You can analyze them and choose the best according to you.
And your dream project begins.
Yeah, this model is as smooth as buying something online. You decided to buy something, and you choose the best available. In the same way, you selected the technology expert you required, and you choose the best developer for your project, and your project work starts with expertise.
Team Flexibility
In today's world, technologies are rapidly changing day by day; you will start feeling about increasing your in-housing team because of workload.
Sometimes what happens, you have a big project to work on and increase your in-house team's size. But after completing your project, you may not require those extra workers. What happens is that you hire a developer for one project, and you pay them for a long time.
Here, Staff augmentation will provide you the flexibility.
In this model, you can scale up and down your team as per your project requirements.
Passed-on Expertise
One of the best benefits of Staff augmentation is that you can work with industry experts. Moreover, your in-housing team will get lots of things to learn from them. And this will add an initial benefit to your in-house team's productivity.
Team Culture
An organization's culture is directly related to the branding of the organization. As good the culture of your organization, as you will get more attention from the industry. And your culture gives you the outline of the quality of work you are delivering in your expertise.
By building a remote team, you can maintain the quality of your culture throughout the world. As per the geographical need, you can hire a remote team based on that culture for better project execution.
Cost Benefits
Staff augmentation gives you one of the most significant benefits of cost.
You can hire a remote team with zero additional costs like administration and infrastructure. You can save a significant amount of money and maintain your project's quality with Staff augmentation.
Key highlights - IT Project Outsourcing
Now, we are going to discuss the highlights of IT Project Outsourcing.
The provider decides your project's execution.
One of the biggest highlights of project outsourcing is that, as a client, you have the right to decide the deadline of your project. But, the entire project work will be done under the control of your outsourcing partner.
Mixed Pricing Model
Pricing in project outsourcing is decided according to the expertise require in your project.
An IT project outsourcing company mostly follows two ways of pricing. One is you can pay according to the hourly basis. And second, you can fix the price for the entire project. According to the completion of your project, you have to pay. It sets multiple milestones, and you need to pay after reaching every milestone.
Shared Responsibility
In outsourcing, your outsourcing partner guides the project execution and completion. This is the benefits of outsourcing.
Now, you don't have a load of management responsibility. And since your IT outsourcing partner executes the entire project, you benefit from an end-quality shared responsibility.
Team Coordination
In the IT project outsourcing model, you can give your whole or significant development parts of your project to a single team in an IT outsourcing firm. So, one benefit of outsourcing is that you can get better team coordination and communication.
The Final Call
Hope after reading an article, you get a clear understanding about the main difference between project outsourcing and staff augmentation. In business project outsourcing you pay for your specific outcome and share the burden of responsibility with web development projects outsourcing companies. While with Staff augmentation, you purchase the entire team of development as per your project needs.
So, now the question is what to choose - Staff augmentation or IT project outsourcing?
This choice depends on your requirement. If you just want to complete your project somehow and don't bother about your project's quality, then surely go with outsourcing.
But, if you want to stay updated with your project execution, and are you someone looking for quality web & mobile application development? Or you would like to complete your project with the guidance of industry experts.
Go with the Staff augmentation model. In the market, many information technology staff augmentation services are available that deliver quality work and satisfaction continuously.
Contact the best Staff augmentation company for your project work and get the best quality from the market. This will surely help you to increase your branding and also gives you a boost in the industry.