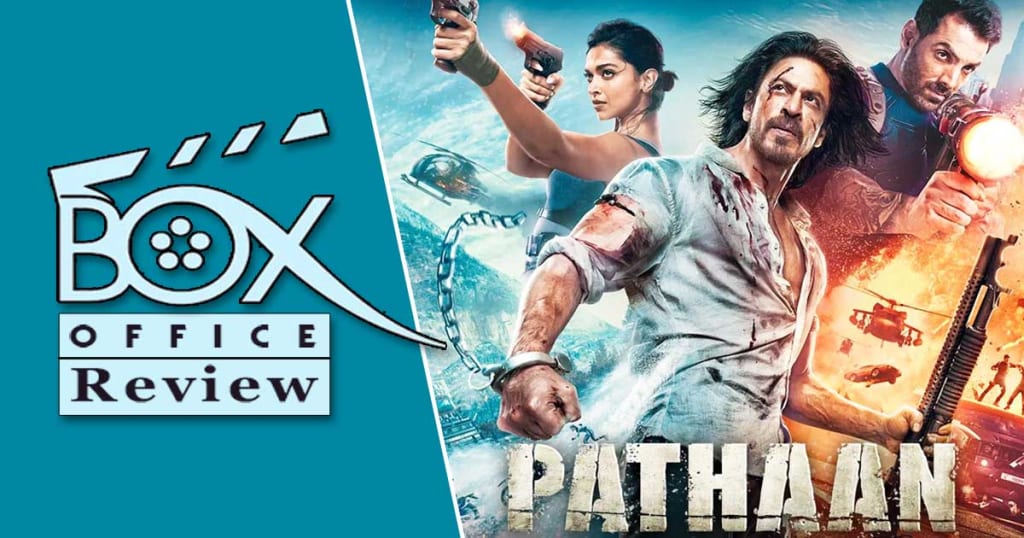 Shah Rukh Khan's Pathaan's box office performance has been better than expected on opening day reported that the film has made Rs 57 crore in India on day one, of which Rs 55 crore is from the Hindi version and the remaining Rs 2 crore from the dubbed Tamil and Telugu versions.
Pathaan is now the biggest-ever Hindi debut of all time, overtaking Hrithik Roshan-starrer War (Rs 53.3 crore), Aamir Khan's Thugs of Hindostan (Rs 52 crore) and the Hindi dub version of the Kannada film KGF: Chapter 2 (Rs 53.9 crore). Pathaan's Rs 57 crore debut is also higher than the Rs 53 crore that Avengers: Endgame made on its opening day in India, in multiple languages.
Watch Pathaan Trailer :
SRK's grand comeback to starring roles after a gap of over four years, and his first action film after a career playing hearthrobs, Pathaan is an action-spy film that also stars Deepika Padukone and John Abraham. Salman Khan appears in an extended cameo as his character from the Tiger movies, which are also a part of the new shared universe that YRF has set up.
Yash Raj Films added post-mid-night show for 12.30 am on Wednesday after receiving the historic response to Pathaan. Trade analyst Taran Adarsh had also said at least 300 shows were added right after the first show, to meet the public demand.
The response comes after days of protests against the film and calls to boycott its release. A few theatres in cities such as Indore and Faridabad faced protest and violence against Pathaan.
The most striking aspect of Pathaan, a masala entertainer at heart, is that it has the gumption to go beyond the parameters of a massy movie and produce sharp, insightful moments that serve as a commentary on pressing issues of the day. It is far more about humanity than about shallow patriotism, which, coming at a time when the Mumbai movie industry thrives on the othering and demonising of communities to further a dominant political narrative, is an act of courage that deserves to be celebrated. However, John Abraham as the very, very bad guy who has a score to settle with the nation he once served with distinction does not exude the level of menace that you would expect from a man wounded and incensed to the point of insanity.
Pathaan is in fact a far cry from Yash Raj Films' previous spy drama War, which was also directed by Siddharth Anand. Pathaan is neither jingoistic nor does it direct all its ire at one nation. It does open with a Pakistani general plotting a reprisal against India on the day of the revocation of Article 370, but the villain of the film is not a hate-spewing mullah but a venomous RAW agent gone rogue.
Action sequences are ambitious, stylized, sometimes innovative, sometimes intense, sometimes playful, and always chic. He tries to recreate the one-take entry sequence of Tiger Shroff with Shah Rukh here, but the effect is shaky — literally; Satchith Paulose's glossy cinematography has ants in its pants.
These sequences, even as they blare and bounce, are never tense. You never feel like the time is ticking. Twice in Pathaan there is a race against time, and in neither is the palpable existential angst felt. The edge of a seat is the part which will never be graced by a bum's imprint through the film. But that might be fine, because the deepest imprint the film wanted to have was in our hearts. And that, it did. Delightful cameo of Salman Khan — entering as Tiger who needs to save Pathaan — both refer to their age as an honest limitation
Reader insights
Be the first to share your insights about this piece.
Add your insights