Seven to Seventeen
A Short Story by Mendee Shaheen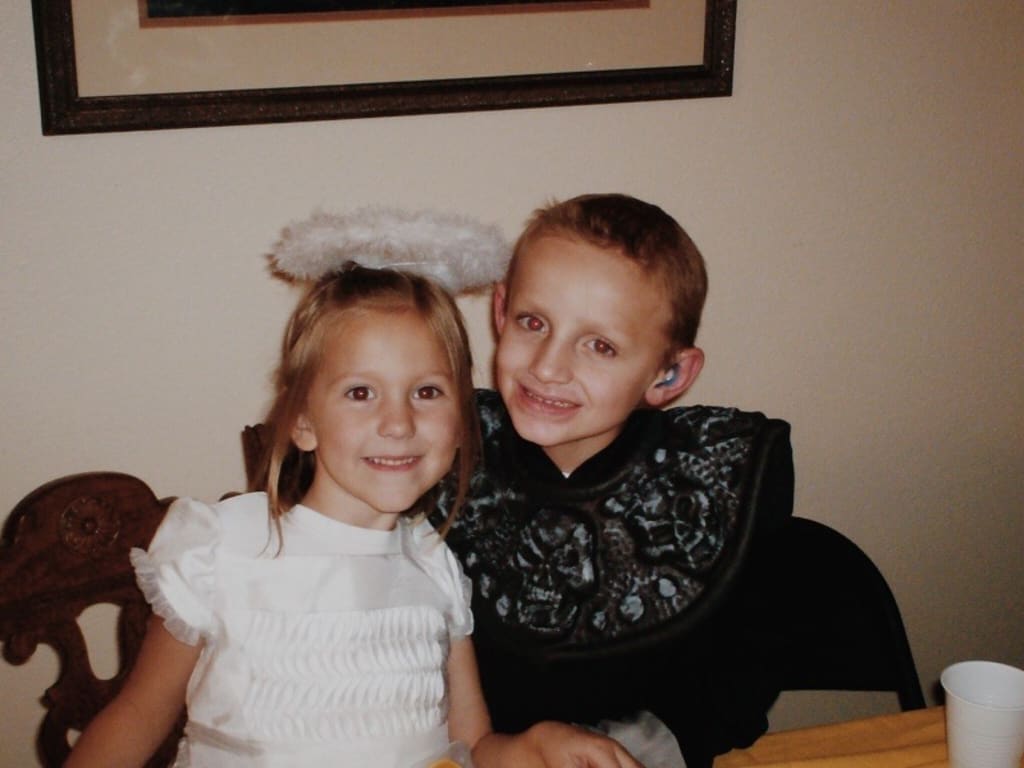 I've always liked to play doctor.
Ever since I was seven years old; Carefully listening to the silent beep in the background of the vital monitor, a youtube video my mother helped me find. Checking the IV, a plastic water bottle with a string tied to the end of it. Making sure my fluffy white dog, Louis, was getting enough fluids.
I made a surgical mask out of paper towels to cover my mouth and nose, readjusting the latex gloves used for washing the dishes. Beginning to work.
Taking my robot dog, unscrewing the bottom of the robot, I cleaned up the battery acid using q-tips and more paper towels. Exchanging old exploded batteries for new ones. Soon screwing the plastic cover back on to keep the batteries in place. In a seven-year-old's eyes, some expired batteries meant rushing the poor dog to the OR.
The tiresome surgery was over, the batteries were replaced just in time. A healthy stuffed animal laying on the couch, grateful for the new chance at life.
There was no greater feeling than saving a life. Knowing that my toy will be able to bark again, walk around, do a backflip. The usual.
Saving my toys was a regular occurrence. Almost daily, I would rush one of them to OR. Sometimes if I wanted a real challenge, two.
Years passed and I got to visit a hospital frequently, a childhood dream of mine. I realized that saving the stuffed animals was almost too easy. Too unrealistic. I began to grow up. Saving toys weren't going to do anyone any good. I stopped working on toys.
One night, when the night's breeze made the orange and brown leaves glide across the wind, I went to the hospital. I walked down the familiar halls illuminated by the bright fluorescent lights, arriving at a large grey door.
The door was opened by my mom revealing my best friend, cousin, and playmate, Ethan, sitting on the hospital bed.
We were closer than normal cousins considering I'm only a day younger than him.
Ethan had a bald head. I never really knew why. Maybe he didn't like his hair so he shaved it off, along with his eyebrows, and the hair on his arms. I was always told not to look at his head. I was told not to look at a lot of things.
My mother told me not to look at his head, the eye bags, the wires connected to him, the tube going in his nose, the sores on his lips, or the second tube in his nose. What was I supposed to look at then? He was covered in them.
Somehow through every visit, I was able to avoid the wires, the tubes, and the injuries. Only looking at his bright blue eyes. The only thing that didn't look sick.
I never understood what was wrong with him. Why he was in the hospital. Why I was asked to leave sometimes and could hear the cries through the door. Why he was always so tired. Why he had to get a wheelchair. Why the surgeries stopped. Why his eyes looked sad.
At a family Halloween party, two weeks before the actual holiday, I saw that everyone was crying. What was so bad about Halloween? It was my favorite holiday.
My mother pulled me aside and explained everything to the clueless ten-year-old girl, "Mendee, Ethan is sick." She ran her hand through my hair, moving it out of my confused face, "And he's really tired."
I glanced at Ethan, sitting in a wheelchair, sleeping. I knew he was sick. There was no way that was normal, "So what's wrong?" I asked. Rubbing the fabric of my Halloween costume in between my fingers, a habit I picked up.
"I'm so sorry, Mendee." She chokes out. Wrapping her arms around my small body.
Why was she sorry? If he's tired then he should sleep more. That's what I do when I'm sick.
She told me that the doctors tried their very best. Explaining why he never had hair from age five to ten. The last words I remember her saying were "cancer" and "hospice".
What was that supposed to mean? The doctors can't just let him figure out what was going on with him by himself. He's only ten. What was hospice? Have the doctors tried mixing all of the medicine together and giving it to him?
Two weeks later, Ethan died the day before Halloween.
I watched the casket surrounded by various flowers sit on the grass get ready to be lowered into the ground.
I want to be a doctor.
Obviously, Ethan's doctors didn't try hard enough. They could've saved him, they just didn't work hard enough.
I got to work.
For Christmas that year, instead of asking for another Barbie or a fifty-dollar bill from my Grandma, I asked her for the A-Z Encyclopedia that she owned.
While all the other cousins were playing with their cars, Barbies, or robotic dogs, I was sitting on the couch. Reading my Encyclopedia. Searching the book for the word "Neuroblastoma."
As even more years passed, other things changed.
I now hate Halloween. The favorite holiday filled with good memories for that ten-year-old girl turned into a holiday of pain, suffering, and loss. Halloween turned into the day where I turned all of the lights off in the house and put the bowl of candy on the doorstep. A sign saying Take One, taped above the bowl.
School was now more important than ever. I put schoolwork over everything in my life. Throughout Middle and High School, I took difficult classes. Keeping up with schoolwork as well as my own independent research. Nothing mattered more than that.
I didn't go outside much.
Focusing on school and keeping my grades up was the only way I would be able to get a scholarship to go to college.
High school was supposed to be the time of my life, my mother tells me often. Get your head out of that book. Go to a football game. It's time to be a teenager. You can study later.
Sometimes I wonder if she's right.
I went to a football game once, Sophomore year. I decided that studying was more beneficial.
This year, I got an email. The college I've decided to apply to Freshman year, wanted me to apply.
That day when I came home, I grabbed my transcripts, report card, or anything related to school, setting the stack of papers next to me on the table. Filling out the application. I selected my major, educational pathway, hopes for a career, etc.
From age seven to seventeen, I dedicated my life, which I should have been enjoying, to the sole purpose of saving someone who was already gone.
My cursor hovered over the red Submit button. I sat in that chair for ten minutes. Staring at the screen in disbelief. Clicking the submit button.
I'm going to be a doctor.
humanity
About the author
Reader insights
Outstanding
Excellent work. Looking forward to reading more!
Top insight
Heartfelt and relatable

The story invoked strong personal emotions
Add your insights