SEO Checklist for Magento Store
Professional Magento Development Services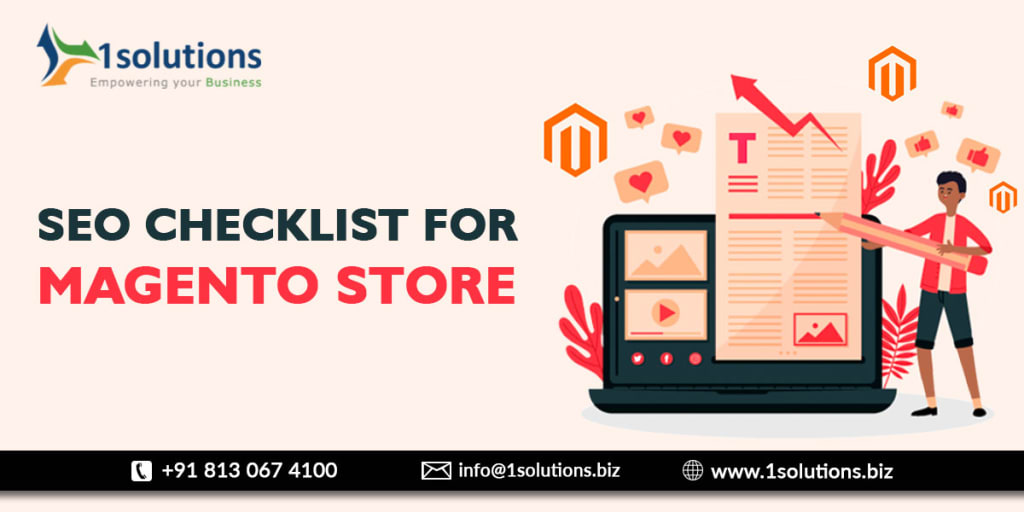 Setting up an online store takes a lot of time and work. When you first start out, it can also be hard to get people to your site and make sales.
To run a top eCommerce store that ranks and achieves the lofty goal of dominating e-commerce, you'll need a platform that works.
In this article, we'll talk about Magento, a big and popular e-commerce platform that will make it easy for you to set up your shop.
What's Magento?
Magento is a well-known e-commerce platform that is free and open source. It gives retailers and brands the best e-commerce services and cloud-based apps. It's one of a kind because you can use it for either its free open-source platform or Magento eCommerce.
It's easy to see why it's the best and most common choice for businesses that want to grow. There's little mystery as to why it's the default and best option for businesses looking to expand. Because of this, it can be hard to optimize your store for SEO.
What does this mean exactly?
If you don't know how to set up Magento for SEO, you might lose sales. So, today we'll talk about what you need to do to make your Magento-powered store SEO-friendly.
The Checklist for SEO in Magento
1- Optimize your URLs
SEO starts with the URL address, which is the most basic part of your site. Since Google's bots start crawling your URL first, it tells the search engine exactly what your page is about. If your URL is just a bunch of random words or numbers, it won't be easy to find.
When making your URL, think about the keyword phrase. That should be your URL's "slug." Your slug is the part of your URL that comes after your basic domain name. http://www.ecommercestore.com/slug is one example.
Your URL should also show how your site is set up. If, for example, your website is broken up into different categories, the URL should reflect that: https://www.ecommercestore.com/women/clothes/new-arrivals
In Magento 2, go to Setup and then Search Engine Optimization to do this. Then you can change your URL to show where the site is going.
2-Add canonical tags.
One of the most important things on your list is to turn on canonical tags for categories and goods. Google will punish pages that have the same information as other pages on the same site or from other sites. This can be hard for online stores, since many of their products can fit into more than one category.
But you should tell Google that you didn't copy something from another site. A canonical tag tells Google that the same information has been copied on purpose and that the original source has been cited.
So, if you have the same product in both its regular and sale categories, Google won't think it's duplicate content and punish you for it.
In the same settings you used to change your URLs, you can press the boxes that will automatically set up canonical tags for categories and meta descriptions.
3- Optimize the pictures of your products
We've all seen websites with pictures that aren't very good. The pictures didn't do much to show off the product and didn't look very good. When it comes to e-commerce success, the truth is that photos are everything. Product photos are one of the most important things for the success of your online store as a whole.
I'm sure you could think of a million different ways to make your photos SEO-friendly. Perhaps even more. But naming your images with keywords that describe them is a great way to customise them for SEO. To be exact, alt marks.
There is a way to improve the quality of your photos that may be the best. They are a great way to add more keywords to your site and have them picked up when crawlers go through it.
Compression is another way to improve an image. Most product photos are of high quality because they have high resolutions.
Even though this is good for users and viewers, a website will take longer to load if it has a high resolution.
So, how can you take better photos of your products? Images should be saved as.jpg files instead of.png files because.jpg files are smaller and won't slow down the website.
4- Give each of your Categories a title and a meta description.
Any digital marketer who knows what they're doing knows that titles and meta descriptions are important parts of a successful e-commerce shop.
Your meta descriptions and titles are just as critical as your content. They might not help you move up in the search results, but they can help you catch the eye of a searcher.
You can, of course, give Magento the job of writing down your information. You won't be able to use keywords that will make you stand out from the crowd, though.
5-Make sure you have the right H2 and H3 tags
Headings are one of those little-known but powerful secrets that can make or break your SEO. I'm sure you all know what headings are.
And that's where the problem lies. Even though we're all used to headings, we rarely think about what they mean.
When it comes to SEO for e-commerce, knowing the trade secrets of headings could put you on the map and make it easier for you to dominate.
But first and foremost, what is an H1?
A markup language called Hypertext Markup Language (HTML) is used to make web pages
With an H1 tag, you tell your browser how to look at the content. There are six different heading tags, and they are all set up in order of how big they are.
So, what's so important about H1 tags?
There must be a proper hierarchy for the search engine to know how to index the pages. Also, using keywords in your headings makes it easier for the search engine to figure out what your product pages are about.
Using H1, H2, and so on in your content will help you create this kind of hierarchy and make it easier for Google's robots to crawl your text.
6- Check how fast your site is.
Is speed really that important to the success of your e-commerce store?
Yes, you are correct.
When setting up your shop, the speed of your website is very important. Google says that the chance of a bounce goes up dramatically as page load times go up.
So, if you want to set up a successful e-commerce store, you need to focus on how fast your website is.
Conclusion
No matter what kind of e-commerce store you're starting, it's important to think about what you'll need to do to optimize it for SEO so that it works as well as possible.
This list of things to do might be a good place to start.
About the Creator
Atul Chaudhary is a passionate blogger and covers digital marketing, web designing and development topics. He is the founder of New Delhi, India based web agency 1Solutions. When is he not working,
Reader insights
Be the first to share your insights about this piece.
Add your insights