Sell Products For A Companies And Get Paid: A Step-by-Step Guide
How To Earn Money By Selling Other's People or Companies Products
So if you don't have your own product or services then how you can earn money online by selling other companies' products and get paid. It's like somebody else has the product or services and you go and sell it for them through your own sites and they give you a commission for that.
Why Selling For Other Companies And Get Paid
It's like be more challenging to create and sell your own products or services as a beginner because you never deliver a product, customer service and it can be quite a hurdle to earn money.
Then here is how you can learn and get experience on how to earn money by selling other companies products. The products are available at any time, just find the marketplace where the audience interested in that product or service and sell to them. Here earning depend upon your selling and marketing skill.
The more you sell products for a company, the more money you can earn as this job is commission-based. Usually, in some companies, the salesperson job is not a fixed salary but commissioned-based.
Online selling products for companies can be a full-time job if you can work in a flexible schedule. It just involves finding the best profitable product and show it to the audience, if they buy the product from it some portion of it goes to you.
There are many ways to sell products online like
1) Affiliate Marketing
2) Dropshipping
3) Wholesale
4) Direct Sales
Sell Products For Companies And Earn Through "Affiliate Marketing"
What Is Affiliate Marketing? The Best Definition By builtin.com
Affiliate marketing is an arrangement in which an affiliate, such as a publisher, earns a commission by promoting another company's products. The affiliate gets a piece of each sale that goes through its channel, and that process is tracked by specially coded links.
Affiliate marketing encourages anyone to get paid by selling other companies' products or services online. Just only sigh-up, select the profitable product and link it to your site blog or YouTube channel.
It's upon your selling skill to convince users to click on your affiliate link and purchase the products.
For example, I made a video called "Best Gaming Laptop 2021," and by using an affiliate link for gaming laptops, there's a better possibility that anyone will click on it.
You can find great affiliate products to sell from the following places.
Amazon
If your website or channel is on Tech then you'll love Amazon because it has the latest affiliate products.
Have you ever notice an arrow in the Amazon logo, indicating that everything from A to Z is available? Create the content on the latest tech news and link with the affiliate's latest products.
Why Amazon
1) Amazon is the biggest independent affiliate network and has more than 2.26B monthly visitors .
2) People confidently buy from Amazon and have trust in delivery service.
3) Commission rate increase by selling more.
ClickBank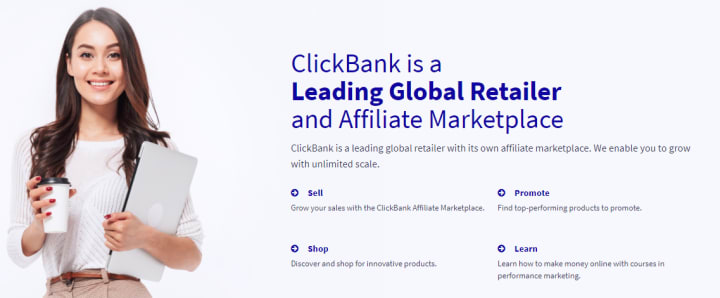 Clickbank is the main affiliate marketplace where product creators can list their products and affiliate marketers would sell them for a commission. This website offers a higher commission than Amazon. The best point here is your site would directly approve without any verification.
Why Click Bank
1) Offer commission from 10% to 80%
2) Thousands of products are available
3) Provide real-time data.
ShareASale
ShareASale is an affiliate network where companies seek affiliate marketers to help them market their products. Here, the seller will check your website if it's popular, then you will approve and provide you affiliate links.
Sell Products Of Other's Companies and Earn Through "Drop-Shipping"
Drop Shipping is a fulfillment model that allows you to buys products directly from supplier and manufacturer, and ship them directly to your customer.
In this model, you get paid by selling other companies' products on your own online store.
Dropshipping is similar to wholesale but here store doesn't have any products. You don't have any products in your shop when you start a drop shipping business; instead, you have a collection of other's products online, which may be from a major retailer or a manufacturer.
How Does Drop-Shipping Work
The only difference between dropshipping and wholesale model is that the selling persons don't have any inventory or own products. They sell the products of other big companies or retailers.
As a seller, you didn't invest in that products, just only purchase the products from a third party (retailer, manufacturer) at a low cost and sell them to the customer at an expensive price when needed to fulfill the order.
So let's see the drop shipping example in action, a customer comes to your store placed an order of products that cost $100. You then placed the same product order to the supplier let's say $60. The supplier then shipped that product directly to the customer. You earn $40 profit in this sale.
Instead of carrying inventory, buying the bulk of products from the supplier on a wholesale, shifting it to customer dropshipping supplier control all that for you.
Get Paid By Selling Other's Companies Product Through "Wholesale"
A wholesaler is someone or company that buys products in bulk from a manufacturer with the intent to resell to retailers at a high price. It functions as a connection between the manufacturer and the retailer.
Wholesalers obtain a large number of discounted goods from manufacturers, which they then resell to end-users through e-commerce sites or storefronts.
How To Find Supplier In WholeSale
In wholesale find a profitable supplier might be quite challenging, the best way to find the supplier is to attend trade shows, it would allow you to meet face to face with vendors.
Alternatively, do a Google search for the company's product that you would like to sell, visit their website, and submit an email about selling wholesale products.
However, visiting a trade show is more preferable than sending an email because it is easier to avoid an email than a face-to-face conference.
For instance, if you want to resell West Paw products, go to their site and click on retail space on the top right side.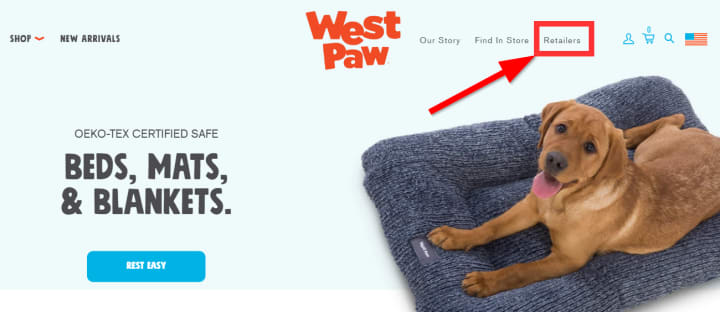 After clicking on retailers, it will take you to the customer sign-up page. Click on the Blue button "Apply To Become A Retailer" and a new window would appear which requires further information about your business.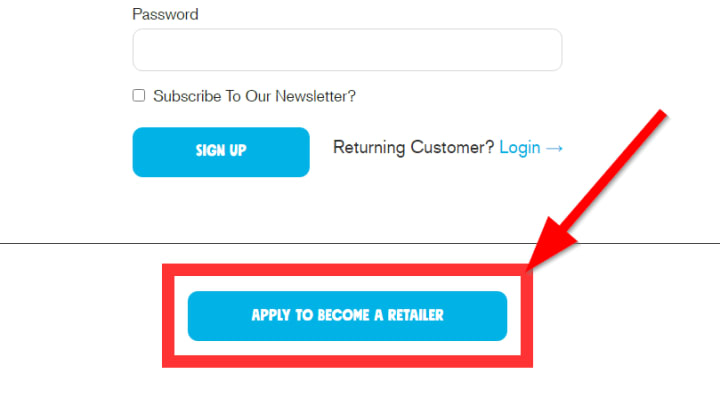 Sell Products Of Companies Through "Direct Sales" And Earn
When companies directly sell products to the ultimate customers in a non-retail environment. Meaning that no wholesaler, distributor, retailer between the company and the ultimate consumer. There is a direct link of the customer with the company.
Simply there is one person selling to another.
The products are directly reached the customer's home.
If you have selling expertise and confidence, then direct sales work is certainly better for you.
Read one of the best book "You Can Sell" by Shiv Khera if you want to improve your direct selling skills.
The following are some direct sales companies.
Amway
Amway is an American multi-level marketing company that sells health, beauty, and home care products.
The Anyway products are not available in stores, as a salesman or distributor you have to sell it to customers directly.
It is reported that there were about revenues of $8.4 billion in 2019 of Amway in direct sales.
Avon Products
Avon products are a direct sales company in the beauty, household, and personal care categories.
It's reported that in 2019 the total sale of Avon was $5.57 billion from just direct sales.
There are a lot more direct sales companies worldwide that you can find on Google.
If You Enjoy My Story Please Leave Heart and TIP !!
Read My Other Related Stories !!
Reader insights
Be the first to share your insights about this piece.
Add your insights