Search Engine Marketing And Its Types
Three main search engine marketing types around the globe.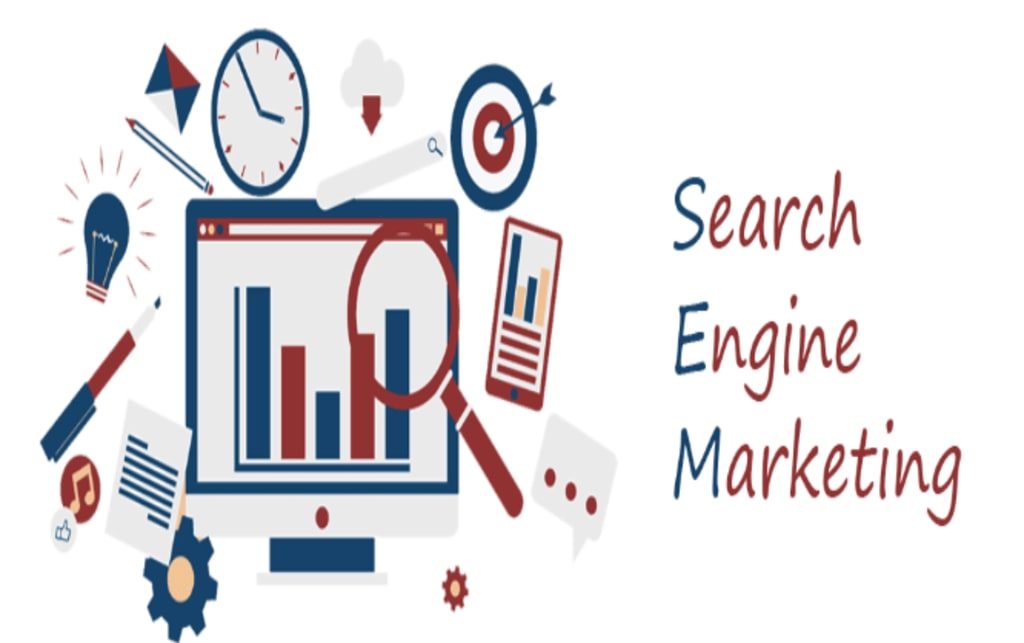 Search Engine Marketing
Search Engine Marketing (SEM) is the exercise of marketing a business using paid advertisements. It appears on search engine results pages (SERPs). Many advertisers bid on keywords where Google and Bing service users might enter when they look for a few products or services. This would provide the advertiser the opportunity for their ads to appear along with results for those search queries. These ads are pay-per-click ads that comes in many formats. Few are small and text-based ads while other ads like product listing ads which are more of a visual and product-based advertisement. It allows consumers to see important information at a glance like reviews, prices, etc. Digital Marketing Companies guide you with various search engine types that would create great visibility for your business.
The greatest strength of SEM is that it provides advertisers the chance to place their ads in front of inspired customers who can purchase at the precise moment. Search Engine Marketing is so effective and is an amazing way to grow your business. Keywords are the basis of SEM. When users enter keywords into search engines for their search, it should be a little surprise that keywords are the basis of SEM when it comes to advertising strategy. You will have to choose your keywords carefully, and before you choose it in your search engine marketing campaigns, you will need to conduct comprehensive research that becomes a part of the keyword search strategy. First, you require to identify keywords that apply to your business. It should likely to be used by customers when they search for your products and services. You can do this by using many available free keyword tools. You just need to enter a keyword that suits your business or service and see the keyword suggestion that displays.
As SEM is quite important for your business, you need to incorporate it in to your business. There are a few types of search engine marketing that would help you out to conduct the business.
The main three types of SEM that is aimed to help you get more visibility in search results.
Pay-per-click (PPC) or sponsored search results
These three are different in ways of what prompts your business or display content in the search results, how fast is your search result, and the main factor that inspire your ability to get the top ranking.
Pay-Per-Click (PPC) – PPC or Google Adwords is an online advertising form of Google. Advertisers bid on the various trigger words and phrases that stimuli their ads to display in the sponsored search results. Each time someone clicks on their ads, advertisers pay a fee. Advertisements that you post appear at the top or bottom, or sometimes both of a search result page. Google tags paid search results as 'ad' or 'sponsored'. There is a lot that goes to build a PPC. It starts from research, selecting the right keywords, organize those keywords into ad groups, sets up the landing page for PPC that are optimized for conversions. Search engines reward advertisers who can create relevant PPC by charging less for ad clicks. In case your landing pages are useful and pleasing to users, Google will charge you less per click that would lead to higher profits for your business. Once you are done with the configuration, scheduling, and budgeting of your ad, it will start to show up in the search results. The major influencing factors of PPC is Google's rating of the quality and the relevance of keywords and PPC ads. It determines the cost per click that gets multiplied by your maximum bid to find out your ad rank in the ad auction process. The major advantages of PPC are:
Paid search will be the first to be seen by the researchers
They quickly get started to display in search results
It is a great way to experiment, test and learn
With this, you can also target the geographic location of your search audience
Local SEO – Local SEO is a type of SEM, where it focuses to get your business listed to be shown up in Google map results. In this, there is no charge for clicks. This SEM gets displayed at the centre of the search engine results page and it gets seen due to the presence of a map. Local SEO is an efficient way to market your local business in the online presence. It helps businesses to promote their products and services at the exact time to the local customers when they are online. This is done in many methods. When you require a business to get displayed in local search results, the search query needs to indicate local intent that includes a local business category like restaurant, gas station, etc. The major influencing factors of local SEO is your Google My Business listing, where it must be verified, accurate, and complete. The business category that you choose must be appropriate.
The major advantages of local SEO are:
Best for local search
This SEM type is prominent in mobile device
It has greater visibility in online directories and on GPS devices
Usually less competition
Organic SEO – Organic SEO is a type of SEM that refers to methods that are used to get more ranking on a search engine results page in an unpaid search engine. Methods like backlinking, boosting keywords, and high-quality content can improve a site's page rank. A website that makes use of organic SEO will grow, adapt, and expand over time that is in response to reader's desires. Organic SEO gets displayed in the middle of the page and would be often sandwiched between paid and local search. The content of this organic SEO gets displayed in organic search results in four to six months and depends on budget, starting point, and the competition. The major influencing factors of this SEM type is the website architecture, content, backlinks, and competitors. The structure, design, structure, and coding of the website architecture are important, and Google would index your content before you start to show in the search results. Your website content must be applicable and should be high-quality content. This would ensure to get repeated visits and links.
The major advantages of organic are:
Organic SEO is considered reliable and they earn more for single clicks
It offers more flexibility
You would continue to get more results and continue to compound and grow over time