Scriptwriting Conventions
Dialogue #1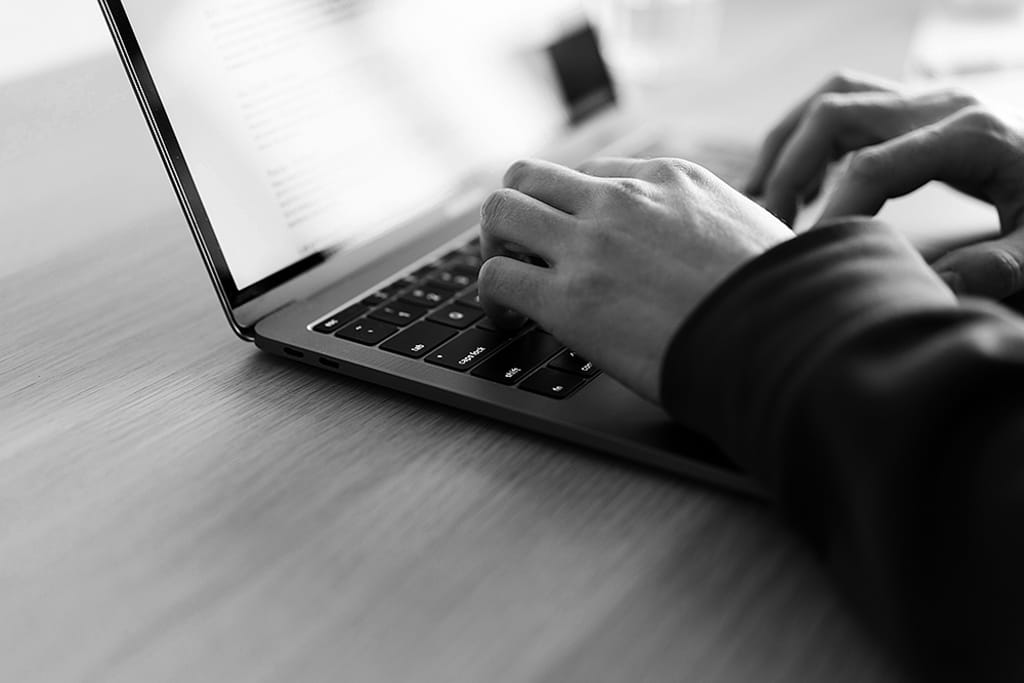 Tip 2: You don't need a Mac, nerdy glasses, and a soft cardigan to write scripts!
As a recap, last time we looked at an overview of scriptwriting, and started to look at the basic elements of the script. We stated that a script is quite different from any other form of writing and it's a tool that only lays out the bare bones of a production.
We are writing for the director, giving them a bare outline of the location, the situation, and adding dialogue to drive the story forward. Script writing is the polar opposite of creative writing, which thrives on creating rich vistas for the reader to immerse themselves in; a good script gives the director skeleton structure that they need to hang their own imagination on to give the viewer something that they can enjoy.
Unlike the author, the script writer can't do without the director anymore than the director can do without the script writer. Indeed, if a director decides that they want to make a film of a particular book, the first job (after acquiring the rights, naturally), is to get a script writer to deconstruct the book, and break it down into its most simplistic form, just so that they can make a film out of it while adding their own stamp.
So, as we discussed last time, scriptwriting uses specific software tools—typically Final Draft—which automatically formats as you go. And last time we discussed two of the major elements of a script, being Scene Headings and Action sequences. Now, let's have a look at the remaining major script element—dialogue.
Technically, dialogue takes the form of the character's name—first name, last name, nickname, whatever, just be consistent, and not try to change names in the script—and their spoken words. Both are centralised on the page, but your software package will handle that. Typically, dialogue will look like:
Johnny
Listen, I told you, I have
a case full of diamonds.
(Once again, the italics are just there to differentiate between the body text of the article and the elements of script—you wouldn't write dialogue or characters in italics).
So, we have Johnny talking about his diamonds. But he must be talking to someone (even if it is a voice in his head as part of a plot element), so we need to put that someone in. Sandra might reply;
Sandra
So where are these diamonds
now Johnny?
Johnny gives Sandra a withering look.
Johnny
Yeah, like I'm going to tell
you something like that.
We now have a conversation going. Note that there is a small piece of action element in there too just to add a bit of story; Johnny plainly doesn't trust Sandra. But this all changes if they are not in the same place, and they are actually speaking on the phone. The script would change thus;
Johnny
(into phone)
Listen, I told you, I have
a case full of diamonds.
Sandra (O.S.)
So where are these diamonds
now Johnny?
Johnny rolls his eyes.
Johnny
(into phone)
Yeah, like I'm going to tell
you something like that.
Wow, that's different; let's have a look at this in detail.
Johnny is now talking into the phone, and the action is in parenthesis below his name. Any action (angry, scared, holding gun etc.) is dealt with in this manner. We don't see Sandra, because she is on the end of a phone somewhere else. We can either, chose to do a scene cut (which is complex), or we can simply hear her voice over the phone, in which case she is Off Screen (O.S.). The O.S. command is always parenthesised after the person's name, to differentiate it from an action. We have also changed the action element, as he can no longer give her a withering look, but we still want to show that he is treating her with disdain, so he rolls his eyes instead.
So now we have a number of aspects that help drive our script forward. We have scene headings, actions, and the start of dialogue, and we can start to build up, but this really is only the basics, and there is much more to dialogue than this simple start. But for the sake of making this a good read, rather than a long-winded bore, we'll look further at these in the next article.
See you soon.