Pros & Cons
What's Better for Career Fulfillment: Freelance or Reg 9-5?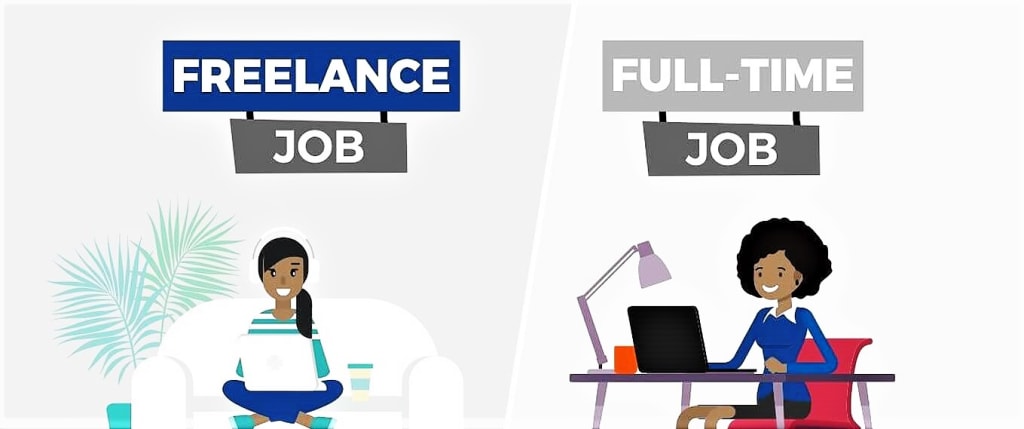 The year 2020 has made people realize that achieving career success is not limited to one way of being a professional. However, let's not count out traditional working as obsolete. Career fulfillment is subjective. There are different pathways to achieving your professional goals. By how can it be achieved for you? Should you continue pursuing a regular 9-5 job that offers you a little bit more stability? Or will you take the chance on working in the freelance/gig business?
Pros of Regular 9-5
1. Responsibility is standardized and easily defined. A digital marketer executes SEO/SEM, email, and social media marketing to generate revenue. A news reporter collects certain information to report to the public. A mail handler uses moving equipment to process and sort mail to deliver to your residence. See where I'm going with this? You, as the worker, have a clear set of responsibilities and expectations that gets done Monday-Friday.
2. Career growth is easily accessible. When you punch into work and see your coworkers and bosses in the office, you have direct access to take initiative in your work environment. I'm talking about showing up early and getting ahead on work, staying longer at meetings, and offering to help build a cross-functioning team to promote long-term strategic fit. What does this lead to? Promotions, increased skills, access to an industry-wide network, and useful recommendations. More opportunities to grow, increase the probability of higher earnings.
3. Stability is king. 2020 has been the year for unpredictable events. Election disparities, surviving a pandemic, and the stock market fails just to name a few. A major event happening in 2020 is the increased risk of not securing a job or internship as companies have had to rescind offers. From students to professionals looking to change careers, securing a job provides a heavy lift from what seems like a never-ending job search. One problem solved, less stress on your well-being.
Pros of Forward-Thinking Freelance
1. Flexibility. As a freelance content writer myself, making my own schedule to produce and optimize content helps my mind stay creative. I get to wake up on my own time, set my own hours, and stop whenever I want.
2. You are BOSS. Everyone secretly thinks about what could happen if you were to be your own boss. As a 9-5 professional, it's harder to achieve because there always be someone to answer to. But when you become a freelancer, you've already achieved it. 100% control 100% of the time.
3. You have control! You control the work you accomplish. Control over when and how that work gets done. Control over the resources you use to achieve your freelance goals. Because you have control, the work you do brings you a different kind of fulfillment.
Cons of 9-5
1. No flexibility in your work makes life stagnant. Time calls for work deadlines to be met and you feel yourself working extra, unpaid hours because you think it'll bring the rewards to make your career increasingly successful. However, you find yourself having less social and personal time and it's starting to affect your overall well-being. You are left with feelings of depression, anxiety, and lack of energy. If left unmanaged, career burnout will show up sooner than later.
2. You are EXPENDABLE! As soon as you gain a good decent job, everything seems fine and dandy, but what happens when you're at risk of losing that job? One thing is for certain, your job is on a posting board before you've had the time to clear out your office. Understand that at the end of the day, a business will be a business. If leadership decides to downsize, it will without considering employees' feelings. Remember: Nothing lasts forever and nothing has a 100% guarantee, even your employment.
Cons of the Freelance Life
1. Your work is what you make it. When you take on freelance full-time, your livelihood fully depends on it. You can take on 5 gigs making a net pay of $37oo from them and be good for the month, or you can struggle with the $370 earnings because you didn't apply yourself. If you're not active and consistent with your work, it can land you in deep financial trouble.
2. The taxes are crucial! This is an important lesson to pay attention to in the freelance business. Every quarter, freelancers are subjected to file self-employment taxes. Those taxes are mainly comprised of Medicare and Social-Security tax. Make sure you're keeping on top of this, or Uncle Sam will bite you in not so good places.
My Recommendations:
"I see and have been weighing out the benefits and losses of the standard 9-5 and freelance jobs. To be honest, I see myself aiming for both. My long-term goal consists of doing a primary full-time 40-hr per week job, then committing 8-10 hrs a week to freelance work. From there, I want to retire from corporate life and do full-time freelancing. For me, this is the path I want to take to achieve career fulfillment and build my financial freedom.
Understand this though: This is what I want to do! For you to attain your career fulfillment and overall well-being, you need to do what works for YOU. Your path is what you make it and you need to consider the options available to you. Whether you're completely 9-5, completely freelance, or split your time, make a decision that will give you the life you want!"
About the Creator
Writing about life experiences, personal finance and, career insights that impact the millennials and Gen Z culture.
Twitter:@business_period
IG:@thebusinessperiod
Medium: @thebusinessperiod
Reader insights
Be the first to share your insights about this piece.
Add your insights