People! We've Just Said Something 100 Times!
To celebrate our 100th Vocal post, we are taking a quick trip down memory lane, looking back at everything that has happened since our beginning - and there's much to discuss!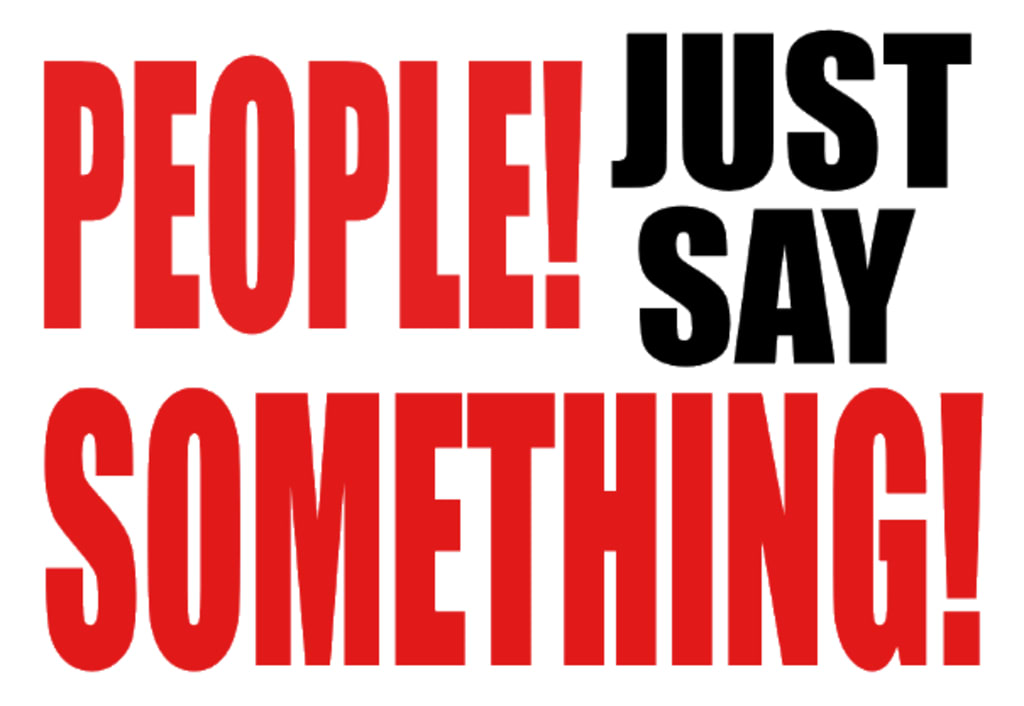 We are pleased to announce that this will be our 100th blog post here on Vocal! Looking back at our start on the platform, I never thought we would be here in under a year. So much has happened since our first post, both on the platform and as a writing collective. I want to share our journey to get to where we are today; projects and opportunities we never thought would be available to us since our start; how People! Just Say Something! and Vocal has allowed us to better ourselves as creatives; and what our next steps would be from this point. Reaching our first 100 blog milestone is exciting, and we are forever grateful for all the support and opportunities Vocal have provided us. So now, I invite you to take a seat with us and go down memory lane of our quirky, little duo we call People! Just Say Something!
We needed an outlet
In March of 2020, the United Kingdom government decided to place the country into its first lockdown. All non-essential shops were forced to shut to help stop the spread of the Coronavirus, which included galleries, theatres, anything that did not provide the basics people need to survive indoors. For creatives like ourselves, this meant that we were starved of expressing ourselves and pursuing projects in our chosen careers. We needed to release the thousands of thoughts that started to brew inside. I remembered an advert I saw on social media about a platform called Vocal, a blogging platform with various communities, each blogging about their chosen subjects while retaining the creative copyright to the author. After a long, hard think about the possibility of starting blogging, I decided to give it my best shot.
I kept it at the back of my head for a while before waking up one day with 'David, just say something!' ringing in my head. That morning was the day that People! Just Say Something! was born, a collaboration between my partner and me that allows anything and everything, as long as it begins with a desire to write and share whatever we want to say. The beginning was an experiment, and I didn't know how even to start writing a blog. After analysing other vocal members profiles, I decided to give it my best shot. Now, all I needed was to translate my thoughts into words and type the first word.
Finding our Voice
We made a lot of mistakes since the start and have learnt from them every time. I am glad that the biggest mistake was made very early on in the process. Stupidly, I felt that I had to blend into some particular format that each blogger followed, and if I did not follow this style, my work would not succeed as much as others. I could not have been more wrong! I tried to make my blog eccentric and overdramatic, taking notes from other blogs that followed a completely different set of guidelines aiming at a particular demographic. Once I read through the work, it was not my voice talking but some robotic, fake-happy automated noise. This was not how I wanted to pursue the project, so I took a leap of faith and wrote in my voice. The work I produced had me behind every word and was aimed at me; I just hoped that others would enjoy it along the way.
To my surprise, some did, and our 'style' was beginning to form. Even today, while writing our 100th post, we are still exploring the best way to represent ourselves in our writing. It's a constant battle of trial and error and ensures we learn from each mistake that arises. We now enjoy making mistakes and pushing ourselves to create in unusual circumstances (I am currently attempting to write 100 blogs in June, so that's a big push into the uncomfortable unknown!), so who knows what we will be like in the future. What we do know is our primary objective will stay the same. To find the most authentic, accurate, and honest way of translating what we think into what we say, no matter the format, style, or medium, is always the base for everything we create.
Vocal Spotlight
Since finding our voice on the platform, we were lucky enough to win two Vocal Challenges that allowed us to invest further into the project. Whatever funds that we gained went straight back into our work as we believe that investing and sacrificing at the beginning will, hopefully, provide greater returns in the end. Well, in this case, we were right!
On the 21st of April 2021, the Vocal team reached out to us with a fantastic opportunity. They stated that they enjoyed what we were creating and wished for us to be part of the Vocal Creators Spotlight, a personalised post made by the Vocal team that explores the platforms top creators. We proudly accepted and, after some interview-like questions, the post was created. This was a very proud moment for my partner and me. With the platform growing larger every month and hosting some phenomenal writers, gaining this title was special. It lit a fire that is driving us to push further than ever before. Looking back at where I started with a weird little blog talking about people's obsession with kale, knowing that our work is being viewed with praise, I still can't believe how much I love this collaboration project. We believe that the Vocal platform has so much potential for the future, and we want to be part of every step it takes. The only way is up!
The Future
The future is bright for People! Just Say Something!. We are thinking of quirky ideas every week, and many projects are waiting to begin. Even now, our first major push is to see if I can write 100 Vocal posts in one month, which is proving to be more challenging than I first thought. Also, from this small collaboration, something bigger began to take shape. AtlasPolo, our parent company, was born to add a much-needed structure to our work. This allows us to fluctuate between artistic formats that can support each other through set-aside funds, marketing help, promotions, and project collaborations. We are both highly versatile artists that wish to explore all forms of artistic expression, but most importantly, to support others on their journey. To build something substantial than People! Just Say Something! is our next ambitious goal that no doubt will take a long time to achieve, but we have found the spark to try. We are ready for the mistakes that will come with a pen at hand and notebook open. Our eyes are open, and our minds rattling with ideas, so why not come on board and join us on this crazy ride. I am sure you'll learn something quirky along the way.
Remember, if all else fails, just say something!
Thank you for taking the time to read our blog! If you enjoyed the content or learnt something along the way, please consider leaving a '<3' below! We would appreciate it if you could leave a small tip to support us in our mission to provide free, weekly infotainment for you to enjoy!
If you wish to begin your Vocal journey, join the Vocal+ programme to get more for your work! Earn more per view, withdraw your profits quicker, and gain access to Vocal+ Challenges with prizes to be won every week!
Use the link below and begin your Blogging career today!
https://vocal.media/vocal-plus?via=dawid
You're the reason we can continue doing what we love and making all of this possible. We are forever grateful for your support!
- The People!JSS! Team